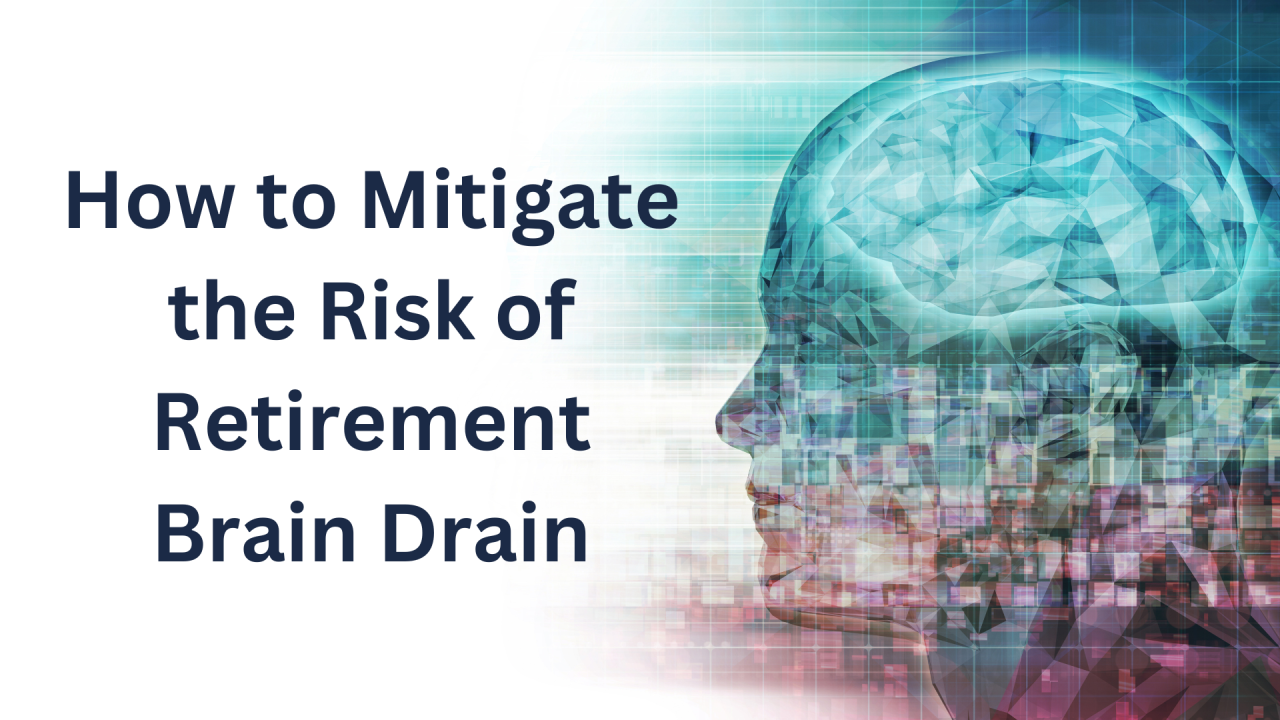 How to Mitigate the Risk of Retirement Brain Drain
Retiring professionals can take decades of experience with them when they leave, but finance leaders can take steps to prevent the loss of corporate knowledge.


In 2021, 37% of UK retirees accelerated retirement because of COVID-19, according to UK-based global investment company abrdn Plc. In the US, the number of retirees aged 55 and older grew by 3.5 million in 2020 and 2021, nearly twice as fast per year than between 2008 and 2019, according to the Pew Research Center in the US.
This loss of experienced workers can be a significant threat to a finance team for multiple reasons. Not only can turnover be costly and disruptive, but retiring professionals also take with them decades of experience. This ranges from knowledge about the organisation's inner workings to first-hand involvement in dealing with re-emerging threats such as higher inflation and the potential for a domestic or global recession, which may be an unfamiliar challenge to younger employees. It can leave finance teams less equipped to respond to both risks and opportunities.
Actions to deal with the risk of departures
However, organisations can take a number of steps to prevent or mitigate the problem.
Plan for transitions before they happen
Succession planning should be part of the corporate culture, said Amy West, CPA, CGMA, executive vice-president and CFO of AHRC New York City, an agency that works with people with developmental and intellectual disabilities. West, who is also chair of the AICPA & CIMA not-for-profit conference, suggested that succession planning, which is often undertaken for the CEO or board chair, should be done for any critical staff function throughout an organisation.
Before key players leave, "ideally, you have already been investing in the professional development of your employees," said Jason Flanders, global executive director of management resources practice at Robert Half, a global recruitment firm.
Succession planning includes allowing emerging leaders, when possible, to take on new roles and skills while their predecessors are still on the job. Jeffrey Parkison, CPA, CGMA, became director of treasury and financial planning and analysis at City Utilities, in the US city of Springfield, Missouri, three months before the outgoing director retired. During those three months, Parkison regularly met with the outgoing director to learn about his experiences, to ask questions, and to share ideas. As the organisation was undertaking a debt financing, the retiring director was able to walk Parkison through how it had been handled in the past.
People may feel threatened when their organisation plans for their departure, West said. But companies can reassure workers about important contributions they have made and explain that succession planning ensures they can share their experience and leadership abilities with following generations.
Reconsider the hierarchy
Following World War II, organisations were traditionally structured in chronological hierarchies — with young people coming in at a designated entry level and retiring after they had moved up the pyramid. Organisations should try to break out of that mid-20th-century pattern, advised Kim Chaplain, associate director for work at the Centre for Ageing Better in London. In fact, those entry-level jobs may be perfect for more experienced workers who are seeking to downsize their responsibilities as they head toward retirement.
To better match workers' preferences and abilities, an organisation might also consider mixing job content rather than having everyone at the same level in the hierarchy doing the same thing. "There should be more consideration of how work is packaged and how retiring workers want to work," Chaplain said. This can lead to a more agile hierarchy and greater retention of institutional knowledge.
Similarly, while the person next in line on the organisational chart usually fills an open slot, Flanders advised organisations not to overlook other promising employees. "Look for people who display the skills necessary to thrive in higher positions, regardless of their current title," he said. In addition, when a talented person moves up into a critical role, be aware of the talent gap that they leave behind and what it will take to fill it.
Rethink the value-add
Rather than focusing on an employee's departure, organisations can consider the chance to rethink their teams.
"While there is a loss of specialised expertise in the short term, some companies have taken the opportunity to restructure functions to more closely reflect what their customers want," said Chand Panditharatne, FCMA, CGMA, finance director at pharmaceutical company A. Menarini Australia Pty Ltd. in Sydney. "When a vacancy does occur, we must take a step back and evaluate rationally where the value-add is required," he said. "Organisations can look at the quiet heroes who may not have got a look-in before in a crowded field."
Document and share knowledge
At Volvo Financial Services in North Carolina in the US, finance team members kept a record of how projects are handled so that information was available to incoming team members or new leaders, said Alyssa May, formerly a finance manager at the company and now a finance business partner at H.B. Fuller, an adhesives producer in the US. "If someone has been involved, for example, in building a KPI dashboard or advising on an IT project, they are strongly encouraged to document how it was done," she said. That includes describing the goal, explaining whose work was affected, detailing how the project progressed, and listing any underlying assumptions, nuances, or exceptions to be aware of. That documentation is saved on a shared system, not on an individual employee's computer, and updated as needed.
Volvo Financial Services also cross-trains employees. "[We] made it part of the culture that we all [knew] how to do each other's tasks," May said. "The goal is that individual knowledge becomes business knowledge. Employees work as a team to mitigate losses."
Critical areas are emphasised. In the accounting and finance department, a new team member or someone taking over a job may shadow someone through the entire process of monthly close, for example.
Job rotation can also help workers expand their knowledge and experience, while mentoring can help them enhance soft skills, Flanders said.
Employing cross-functional teams is another way to retain knowledge about important tasks or projects. Parkison, for example, has led strategic planning efforts with City Utilities' director of information technology and chief legal counsel. He also serves on a health plan committee that includes representatives from human resources, legal, IT, and operations. Such teamwork can ensure that knowledge of a project's purpose and history does not reside solely in one department. In addition, his organisation reviews its cash balance target every three years. Disaster-and-contingency reserves are reviewed every five years. Cash balances are monitored monthly, but to maintain a more holistic, long-term view on a recurrent basis, the three- and five-year periods have been right for his organisation. Leaving too much time between reviews could mean that people with long-term knowledge of the organisation would not be involved.
Including a range of experience levels in such critical projects ensures the team will have some historical perspective as well as new ideas from more recent hires.
Ask for feedback
May recommended that if a finance team's leadership is not certain what options experienced workers are considering, it is a good idea to start a conversation to gauge their engagement and satisfaction. Reviewing compensation for valuable, experienced people is another smart step to ensure their pay remains competitive.
"You never want to learn what could have made someone happy in an exit interview," May said.
Focus on flexibility
Chaplain's organisation has found that experienced workers often leave because of a lack of flexibility, possibly driven by health issues, the need to care for relatives, or a desire for a less demanding schedule. When job postings mention flexibility and examples of what that means, they are more likely to appeal to both newer and more experienced people, she said.
Organisations should consider new ways to hold on to the talent they have. When faced with the retirement of a key person, they might consider offering them contract assignments or part-time work to hold on to their knowledge. And both new and veteran employees might respond to the chance to do something new and different. "I have seen opportunities being given to individuals to develop in areas they would otherwise have had no exposure to," Panditharatne said.
Address age bias
As workers grow older, their access to opportunities in the labour market can diminish because of age bias, Chaplain said. This can motivate people to retire early. At the same time, individuals may not seek out jobs or promotions because they assume they will not be chosen because of their age.
Organisations should review their employment data to see if they are losing older workers and use surveys or exit interviews to find out why. They can also review their recruitment and retention data to understand age demographics at different levels or teams. It's in their best interest to address bias if they find it, Chaplain said. "When organisations try to make hiring processes more age-friendly, they broaden their entire talent pool," she said.
Chaplain suggested that employers simply describe the job and what it involves. "By scrutinising their job adverts and removing age bias from the language they use, they improve recruiting across the board."
Set the right tone
The tone at the top is also an important element in holding on to people. If leaders of the organisation and the finance team can articulate a clear vision and strategy, it will be easier for employees to understand how best to work together to fill any gaps, May said.
When faced with the retirement of a key person, organisations might consider offering them contract assignments or part-time work to hold on to their knowledge.

(Source: www.fm-magazine.com, Anita Dennis, February 17 2023)