Welcome
Welcome to the NSAC Website!
What Is NSAC? The National Society of Accountants for Cooperatives(NSAC) is comprised of professionals actively involved with the financial management and planning of cooperative business. NSAC strives to provide accounting, tax and business education uniquely tailored to cooperatives, supports cooperatives in business interests, and offers networking and professional development opportunities.
What Members Say about NSAC
I am retiring at the end of the month and I will be staying in NSAC as a retired member. "It's been a good 30 years of active membership. I met lots of good people and received lots of valuable information. My replacement has already joined NSAC".
RP (Ron Peterson) Minnesota.
Upcoming Events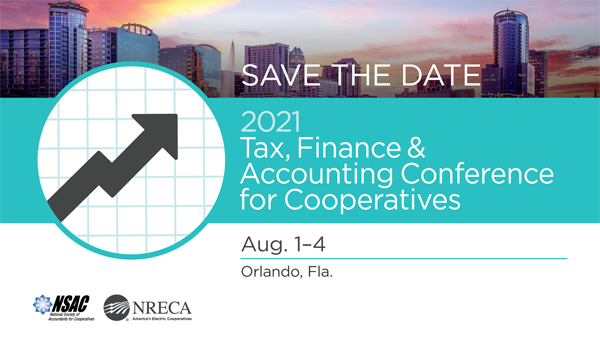 NSAC's educational teleconferences uniquely tailored for cooperatives
More Information >>
Order Recordings >>
Upcoming CLN Workshop(s):

Update and Review of the form 1099-PATR
December 10th, 2020
More Information >>


Year End Payroll Tax Update
December 15th, 2020
More Information >>


Finders Keepers- Retaining Top Talent
January 20th, 2021
More Information >>


Hand in the Cookie Jar?
February 17th, 2021
More Information >>


Latest News
Showcase These 5 Essential Skills to Show You're a Standout Remote Worker
Showing you have the essential skills needed to be an effective communicator in different areas can help you land the job you've been eyeing—especially if it's a remote position. Your...
Read More >>
Legalization: What's Ahead with Cannabis Accounting
Ballot initiatives relating to cannabis will be voted on in five states — Arizona, Mississippi, Montana, New Jersey and South Dakota — this November. Topics being considered are presented...
Read More >>
Testing FASB's Goodwill Impairment Model Through a Pandemic
Many have started to question the goodwill impairment model under FASB ASC 350-20 and whether it paints the most accurate financial picture in light of the COVID-19 pandemic. In September, the...
Read More >>
IRS Issues Details on W-2 Reporting on Payroll Tax Deferral
The Internal Revenue Service has posted instructions for both employers and employees about how to handle the Form W-2 reporting for the payroll tax deferral under President Trump's executive...
Read More >>
IRS Adjusts Tax Item Amounts for 2021 Due to Inflation
The Internal Revenue Service issued its annual inflation adjustments Monday for tax year 2021, revising more than 60 tax provisions, including tax rate schedules, standard deduction amounts and...
Read More >>
View News Archives >>