Welcome
Welcome to the NSAC Website!
What Is NSAC? The National Society of Accountants for Cooperatives(NSAC) is comprised of professionals actively involved with the financial management and planning of cooperative business. NSAC strives to provide accounting, tax and business education uniquely tailored to cooperatives, supports cooperatives in business interests, and offers networking and professional development opportunities.
What Members Say about NSAC
I am retiring at the end of the month and I will be staying in NSAC as a retired member. "It's been a good 30 years of active membership. I met lots of good people and received lots of valuable information. My replacement has already joined NSAC".
RP (Ron Peterson) Minnesota.
Upcoming Events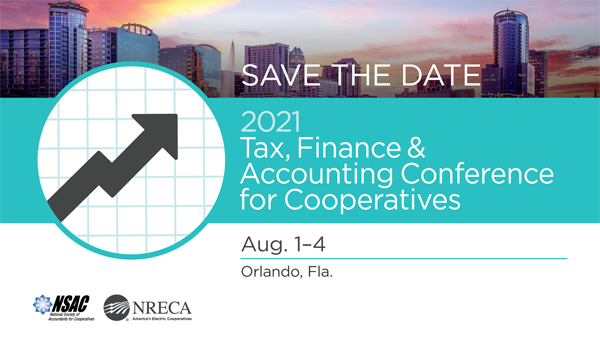 NSAC's educational teleconferences uniquely tailored for cooperatives
More Information >>
Order Recordings >>
Upcoming CLN Workshop(s):

Update! Regulatory Assets & Liabilities
October 7th, 2020
More Information >>


Update! PPP Loans and Forgiveness: A Cooperative Perspective
October 22nd, 2020
More Information >>


Family First Act
October 28th, 2020
More Information >>


Best Practices for Inventory Management
November 10th, 2020
More Information >>


Blowing up your Balance Sheet!
November 17th, 2020
More Information >>


Latest News
The Rise of Cybercrime in the Accounting Profession Continues
The July 15 tax filing deadline is finally behind you. Now is the perfect time to address the growing number of cyberattacks still taking place in the accounting industry.  Many accounting...
Read More >>
IRS Says Companies Are Responsible for Deferred Payroll Taxes
The Internal Revenue Service said companies will be responsible for collecting and paying back any deferred payroll taxes under a directive by President Donald Trump aimed at helping workers while...
Read More >>
Guidance Issued on Payroll Tax Deferral
The IRS issued much-anticipated guidance on the payroll tax deferral that was ordered by President Donald Trump in a presidential memorandum on Aug. 8 (Notice 2020-65). The notice allows employers to...
Read More >>
Will PPP Fraud Turn into the Next Wave of 'Liar's Loans'?
In April, Andrew Marnell of California applied for millions of dollars of loans in federal assistance through the Paycheck Protection Program. Based on his applications, Marnell received...
Read More >>
IRS Issues More Bonus Depreciation Rules
The IRS issued final regulations (T.D. 9916) providing guidance on additional first-year (bonus) depreciation under Sec. 168(k), which was amended by the law known as the Tax Cuts and Jobs Act, P.L....
Read More >>
View News Archives >>