Welcome
Welcome to the NSAC Website!
What Is NSAC? The National Society of Accountants for Cooperatives(NSAC) is comprised of professionals actively involved with the financial management and planning of cooperative business. NSAC strives to provide accounting, tax and business education uniquely tailored to cooperatives, supports cooperatives in business interests, and offers networking and professional development opportunities.
What Members Say about NSAC
I am retiring at the end of the month and I will be staying in NSAC as a retired member. "It's been a good 30 years of active membership. I met lots of good people and received lots of valuable information. My replacement has already joined NSAC".
RP (Ron Peterson) Minnesota.
Upcoming Events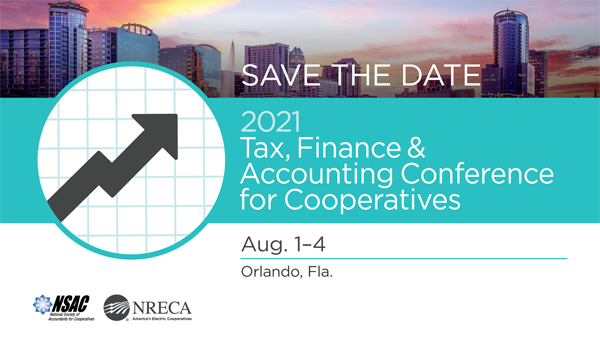 NSAC's educational teleconferences uniquely tailored for cooperatives
More Information >>
Order Recordings >>
Upcoming CLN Workshop(s):

Best Practices for Inventory Management
November 10th, 2020
More Information >>


Blowing up your Balance Sheet!
November 17th, 2020
More Information >>


Update! COVID - 19 Opening the Door to Fraud
December 1st, 2020
More Information >>


Latest News
Accounting and Financial Controllers Steer the Ship
Accounting and financial controllers are some of the hardest-working executives in an organization, but unfortunately, they are often overlooked. There are more than 250,000 controllers in the United...
Read More >>
Risk Alert: COVID-19 and the Return to Work
The emergence of the novel coronavirus quickly upended the way businesses, including accounting firms, around the United States operated. Shelter-in-place orders prompted millions to pivot nearly...
Read More >>
IRS Releases Final Rules on Business Meals and Entertainment
The IRS issued final regulations (T.D. 9925) implementing provisions of the law known as the Tax Cuts and Jobs Act (TCJA), P.L. 115-97, that disallow a business deduction for most entertainment...
Read More >>
Let's End the Debate: Automation Will Never Replace Accountants
Automation has brought significant changes to the accounting profession over the last decade. While some tools have made accountants' lives easier, others have chipped away at their roles as...
Read More >>
Continue to Focus on Accounting and Disclosures Related to the Pandemic
Entities need to continue to consider the effects of the COVID-19 pandemic and its economic fallout in their accounting and disclosures for the latest period, and their disclosures should evolve as...
Read More >>
View News Archives >>