Welcome
Welcome to the NSAC Website!
What Is NSAC? The National Society of Accountants for Cooperatives(NSAC) is comprised of professionals actively involved with the financial management and planning of cooperative business. NSAC strives to provide accounting, tax and business education uniquely tailored to cooperatives, supports cooperatives in business interests, and offers networking and professional development opportunities.
What Members Say about NSAC
I am retiring at the end of the month and I will be staying in NSAC as a retired member. "It's been a good 30 years of active membership. I met lots of good people and received lots of valuable information. My replacement has already joined NSAC".
RP (Ron Peterson) Minnesota.
Upcoming Events
TFACC 2020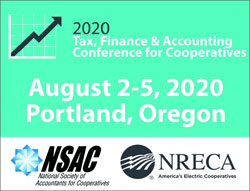 Save the Date
August 2-5, 2020
Hilton Downtown Portland, Or
Click here for more information
NSAC's educational teleconferences uniquely tailored for cooperatives
More Information >>
Order Recordings >>
Upcoming CLN Workshop(s):

Red Team Cyber Attacks
April 21st, 2020
More Information >>


Prepare to be Hacked
April 29th, 2020
More Information >>


Recognition that Works!
June 4th, 2020
More Information >>


Latest News
8 Questions Employers Should Ask About Coronavirus
The coronavirus outbreak that originated in Wuhan, China has spread to at least 65 countries and has sickened more than 89,000 people, with more than 3,000 deaths. Governments have shut borders and...
Read More >>
The Leader's Guide To Managing COVID-19 Panic
While it's not yet clear the extent to which COVID-19 will take its toll on our collective epidemiological, social, and economic health, it's becoming very clear that people are frightened and...
Read More >>
35 Questions for Coronavirus Planning
It's reasonable to be concerned about the spread of the coronavirus worldwide. But it's not the time to panic, especially for organizations, said Jennifer Elder, CPA/CFF, CGMA, a consultant and...
Read More >>
IRS Provides Guidance for April 15 Filing Delay
The IRS officially announced that, because of the ongoing coronavirus pandemic, tax returns due April 15 will not have to be filed until July 15 this year. Notice 2020-18 was released hours after...
Read More >>
Putting Financial Revisions and Restatements in Perspective
The state of the capital markets, and ultimately, corporate reporting, impacts every person in unique and significant ways — as consumers and investors. And no one cares more about the integrity...
Read More >>
View News Archives >>