Upcoming Events
2021 Tax Finance & Accounting Conference for Cooperatives (TFACC) offered in partnership with National Rural Electric Cooperative Association (NRECA) and NTCA–The Rural Broadband Association is the premier national conference for cooperative tax, finance and accounting professionals. This virtual program offers proven strategies, tools and resources to help your co-op increase efficiencies, improve financial controls, streamline regulatory compliance and make transactions manageable.
More Information
Join us via Zoom for the NSAC Atlantic Chapter 2021 Annual Meeting from June 14th-15th. Experts in the fields of Tax, Accounting, and Finance will cover topics such as: Federal Tax Updates, Financing Cooperatives Through Written Notices of Allocation and Per Unit Retains, and Governance: IT and Cyber Risk. There will also be a Late Bird Raffle Prize each day.
More Information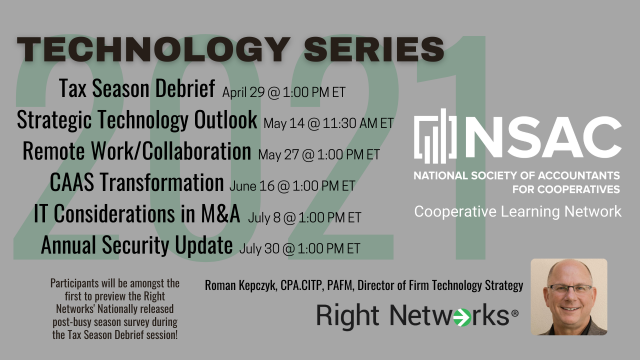 June 16 - July 30, 2021
The age of technology in accounting has truly arrived and impacts every aspect of an accounting department or firm. Don't miss this Technology Series that will include SIX educational 60-minute sessions presented by Roman Kepczyk, CPA.CITP, CGMA, PAFM, Director of Firm Technology Strategy with Right Networks. Topics include Your Tax Season Debrief, Strategic Technology Outlook, Remote Work / Collaboration, CAAS Transformation, IT Considerations in M&A, and an Annual Security Update.
More Information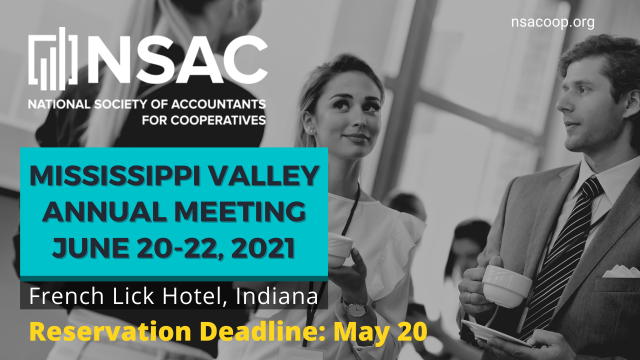 June 20 - 22, 2021
Now is the time to make your reservation for the Freind Lick Hotel in French Lick, IN for the Mississippi Valley Chapter Annual Meeting to be held June 20-22, 2021. Registration forms need to be returned no later than May 20, 2021. The deadline for hotel reservations is May 21, 2021.REGISTRATION PACKET In this packet, you will find the agenda for the meeting, hotel information, and the registration form outlining fees and room rates.Schedule for ...
More Information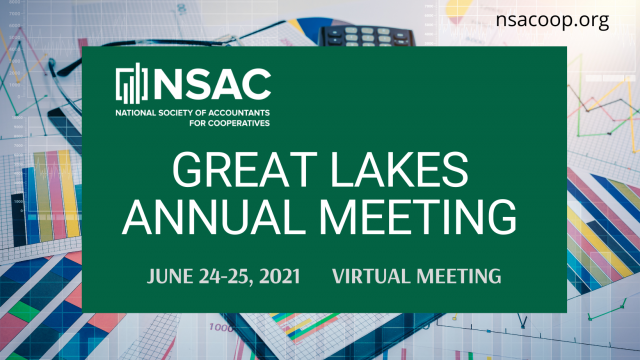 June 24 - 25, 2021
Please join us for the Great Lakes Chapter Annual Meeting, being held virtually from Thursday, June 24- Friday, June 25. The meeting will discuss tax and regulatory updates, and other important topics. CPE credit is also available. The daily outlines for both days are listed below: AGENDA (CPE: 8 Hours)Thursday, June 24 9:00 AM – 9:10 AM: Opening Remarks and Introductions 9:10 AM – 10:00 AM:
More Information