Upcoming Events
The Tax, Finance & Accounting Conference for Cooperatives is the premier annual conference for those professionals working working in this space. The complete program and registration for the 2021 event will be available the first week of April 2021.
More Information
This 60-minute session focuses on the improvements in the timeliness and efficiencies and will help attendees identify time saving and stress saving processes for month ending closings. The strategies and processes associated with month ending closings are vital routines that should be implemented and continually refined and improved within an organization. Participants will be able to take away several tips and time saving ideas from this ...
More Information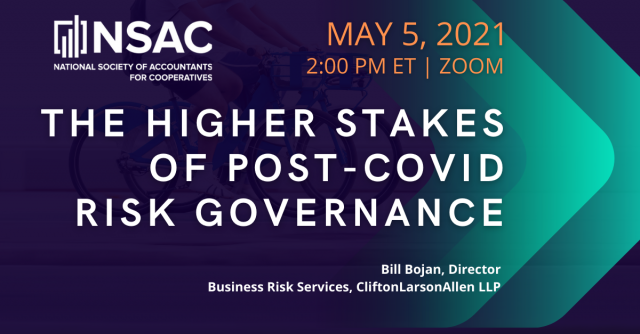 May 5, 2021
May 05, 20212:00 PM ET / 1:00 PM CT / 12:00 PM MT / 11:00 AM PT In this 60-minute zoom, you'll discover the importance of strong risk governance in successfully and safely navigating today's cooperative organizations. This requires good alignment and transparency between the board/trustees, management, and the monitoring disciplines of the organization. Sufficient connection and alignment must be maintained across governance, ...
More Information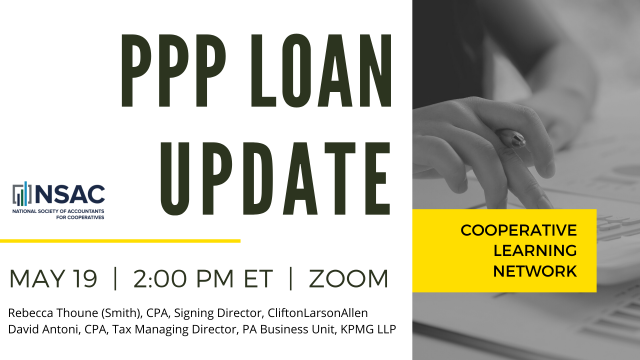 May 19, 2021
The Small Business Administration's Paycheck Protection Program (PPP) has been an important source of support during the COVID-19 pandemic, but it has led to many implementation questions among cooperatives and the CPAs who serve them. This 60-minute zoom will feature a discussion on 2nd draw loans, loan forgiveness, and updates on the PPP from the perspective of the cooperative community, including patronage considerations. During this session, participants will learn about 2nd draw loans and PPP loan forgiveness, the impact of PPP loan forgiveness on co-ops, and receive relevant updates about the Paycheck Protection Program.
More Information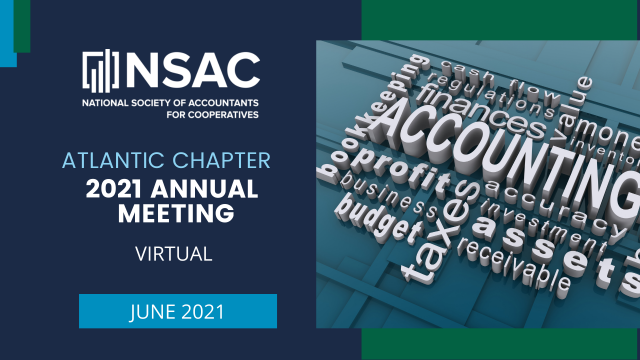 June 14 - 15, 2021
Due to the uncertainty surrounding COVID-19, including travel restrictions and caution for the safety and well-being of our attendees, the Atlantic Chapter 2021 Annual Meeting will be held in June as an all-virtual event. We look forward to delivering the same quality content and technical exchanges while ensuring health and safety. Details regarding the meeting and virtual platform will be coming soon. We will be back together in Charleston in ...
More Information