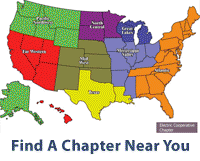 Membership in the National Society of Accountants for Cooperatives (NSAC) is open to individuals employed by or affiliated with a cooperative organization as well as those who are engaged in providing professional services for cooperatives and those who are otherwise engaged in the furtherance of cooperative principals.
When joining NSAC, one becomes a member of the both the national organization and one or more chapters. NSAC has one chapter that is national in scope, the Electric Cooperative Chapter (ECC). The ECC is dedicated to serving rural utility advisors. Other chapters of NSAC are organized geographically.
These regional organizations provide education and information of special interest to members. They are especially valuable to members as they add a more localized component to membership. Members may affiliate with the chapter(s) of their choice.