Embezzlement by Employees
Published on October 12, 2017
In the cult film "Office Space", workers at a technology company seek revenge for boring jobs and bad treatment by ripping off their employer via software that skims fractions of pennies with each transaction. Hilarity, guilt and accidental redemption ensue as the main character ultimately prepares to confess.
Such pennies, in a real-world scenario, can add up more and over longer stretches of time than most employers imagine, according to a study of about 400 employee theft cases reviewed by insurance firm Hiscox. The study, expanded for 2016 to include firms over 500 employees, is based on public data, including from U.S. courts.
The most damaging schemes involved small amounts of money swiped over years, even decades. Of companies studied last year, 29 percent of employee thefts took place over more than five years, with that percentage rising to 37 percent in financial services.
Vendor fraud produced the largest losses. Funds theft -- stealing cash or transferring money from bank deposits to an account controlled by the thief -- was the most common method, according to the study.
The average embezzlement and loss stretching over five years or more was $2.2 million, while those who stole for more than a decade siphoned an average of $5.4 million.
The longest-running theft Hiscox found stretched for nearly four decades. An Iowa credit union employee diverted $2.5 million from customer deposits into her own account, and that of her children, from 1978 until 2015. The credit union, which Hiscox didn't name, eventually had to liquidate.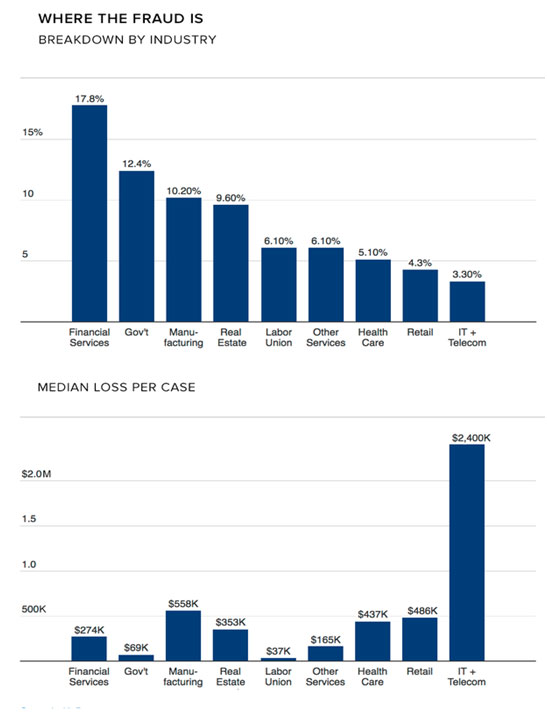 An analysis of 400 employee theft cases by insurance firm Hiscox found that financial services made up the biggest portion of fraud cases, but losses from fraud were largest in IT.
Another takeaway from the study: Thieves aren't who most company managers think. They tend to be "egotistical risk-takers" who are curious, smart and want detailed knowledge of how the company works.
Middle-aged employees in the accounting or finance area were the most likely to to steal from any company -- thieves have a median age of 48.
Signals someone might be stealing may come from those who "flaunt their wealth," according to the report, showing off a lifestyle that is beyond what their salary can buy, such as new cars every few months or extravagant jewelry.
Firms with less than 500 people were most vulnerable, accounting for 68 percent of those studied, the analysis showed.
The annual review, Hiscox's third, expanded for 2016 to almost 400 companies, and for the first time includes those with more than 500 employees. The wider pool showed consistency in the industries and types of theft with the "same types of warning signs."
(Source: AICPA - CPA Letter Daily - CBS Money Watch - August 24, 2017)