June 2017 Article Archives
Published on June 21, 2017
After every tax season, it's tempting to do some spring cleaning, which often includes a massive dump of recently filed tax data.
While many firms have migrated to paperless records, many still grapple with the issue of tax record retention. One of the most confusing questions clients ask their accountants is: what do I do with my tax records and how long do I need to keep them?
Keep in mind that compliance includes federal (IRS) guidelines as well as state guidelines, as there is often a difference in the statute of limitations for both. For example, while the IRS has a three-year statute, the state of California has a four-year statute. Being caught throwing out 2013 tax data this year (even though it was filed in 2014) could be a real issue in the case of a state audit.
Read More >>
Published on June 21, 2017
FASB in July will propose steps to make it easier for private companies to determine if they must consolidate onto their balance sheets a variable interest that they have in another entity that is under common control.
Under current rules, variable interest entities (VIEs) are types of capitalized businesses established in some cases to maintain financial assets, or provide an investment with financing. Companies use VIEs to avoid putting the whole firm in jeopardy. Because the VIE doesn't have enough capital to operate on its own, the company that has controlling interest must consolidate its financial statements to include the VIE.
Read More >>
Published on June 21, 2017
Five fundamental steps your company can follow to curb its chances of falling victim to a ransomware attack.
If there's a positive spin that can be placed on last month's ransomware attacks, it's that the topic of cybersecurity has finally emerged from the shadows and into the public eye. When 200,000 systems began to be infected across more than 150 countries on May 12, security became not just a matter for a few black-hat specialists and a wave of creative naming — from WannaCry to WanaCrypt0r and everything in between — it was suddenly everybody's business.
Read More >>
Published on June 21, 2017
As companies get ready for the new lease accounting standard, they're coming across a variety of complications and questions before the standard takes effect in the next few years.
Deloitte recently issued a publication with answers to some of the frequently asked questions its clients have encountered. It noted that companies are exploring system solutions to help with the standard, including upgrades and entirely new systems.
The new standard will take effect for public companies for fiscal years, and interim periods within those fiscal years, beginning after Dec. 15, 2018. For private companies, it will take effect for fiscal years beginning after Dec. 15, 2019, and for interim periods within fiscal years beginning after Dec. 15, 2020.
Read More >>
Published on June 21, 2017
Many businesses are slow-walking to implementing the revenue recognition standard, even as the effective date approaches next year.
KPMG polled a group of financial executives during a webcast in April asking them about their progress on adopting the revenue recognition standard. Their responses are highlighted below: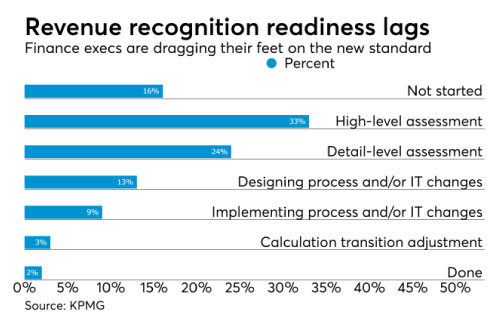 Just over half of the financial executives polled by KPMG (52 percent) said they feel their company has sufficient internal controls over the transition to the new rev rec standard, but 11 percent admitted they don't, while 37 percent were unsure.
Read More >>
Published on June 21, 2017
A new standard for hedge accounting that FASB expects to approve soon is designed to provide better information to investors and eliminate accounting obstacles that prevented some organizations from using hedge accounting.
All seven FASB members said during a public meeting that they plan to support the standard when the final ballot draft is issued in a few weeks. After FASB approves the standard on the written ballot, it is expected to be issued in mid-August.
Under current GAAP, ASC Topic 815, Derivatives and Hedging, provides special accounting rules for hedging activities. But the standard was written in 1998, and practice issues have evolved over time. Financial statement preparers told FASB that they had difficulties applying hedge accounting and that their risk management techniques are not aligned with the accounting under the current standard.
Read More >>