Work-life balance' top priority for millennials, global survey finds
Published on January 29, 2018
A new global survey via professional services network World Services Group found that among young professionals in North America (as well as the rest of the world), work-life balance was the biggest priority in their professional lives, beating out wealth and leadership opportunities.
The Generation Now Survey, which polled over 1,500 young professionals across 84 of the World Services Group's professional service firms, sought to dig deeper into the millennial workforce and find out what made a "generation that many understand to be different from those that have gone before it" tick.
"Our study's findings offer significant insight into this much-scrutinized and misunderstood generation," stated Ramón Moyano, chair of the World Services Group study and partner at Beccar Varela in Argentina. "There is a tremendous competitive advantage to appreciating and responding to millennial values, both in retaining talent and attracting clients with young leaders."
Among the findings in the report, young professionals in North America were found to:
Find "complexity of work and tasks performed" to be the most enjoyable aspect of their jobs, followed by "people" and "office culture." Alternatively, the "billable hour structure" and "billable hour targets" were reported to be the least enjoyable.

82 percent reported themselves to be happy in their jobs, with only 7 percent unhappy and 11 percent indifferent.

When asked what additions they'd most like to see implemented in their firms, "a clear path of [a] career development-mentor program" and "increased collaboration among team members throughout all levels of the firm" were the top responses.

72 percent agreed that their firm has "an ongoing strategy to evaluate and adapt to changing professionals and industry needs."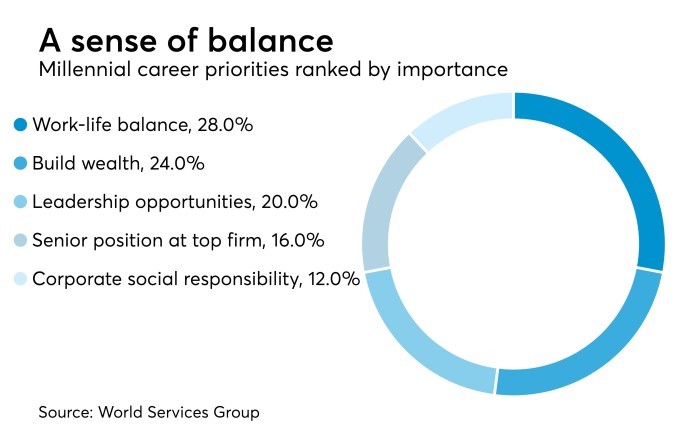 (Source:AccountingToday - Daily Edition - January 4, 2018)