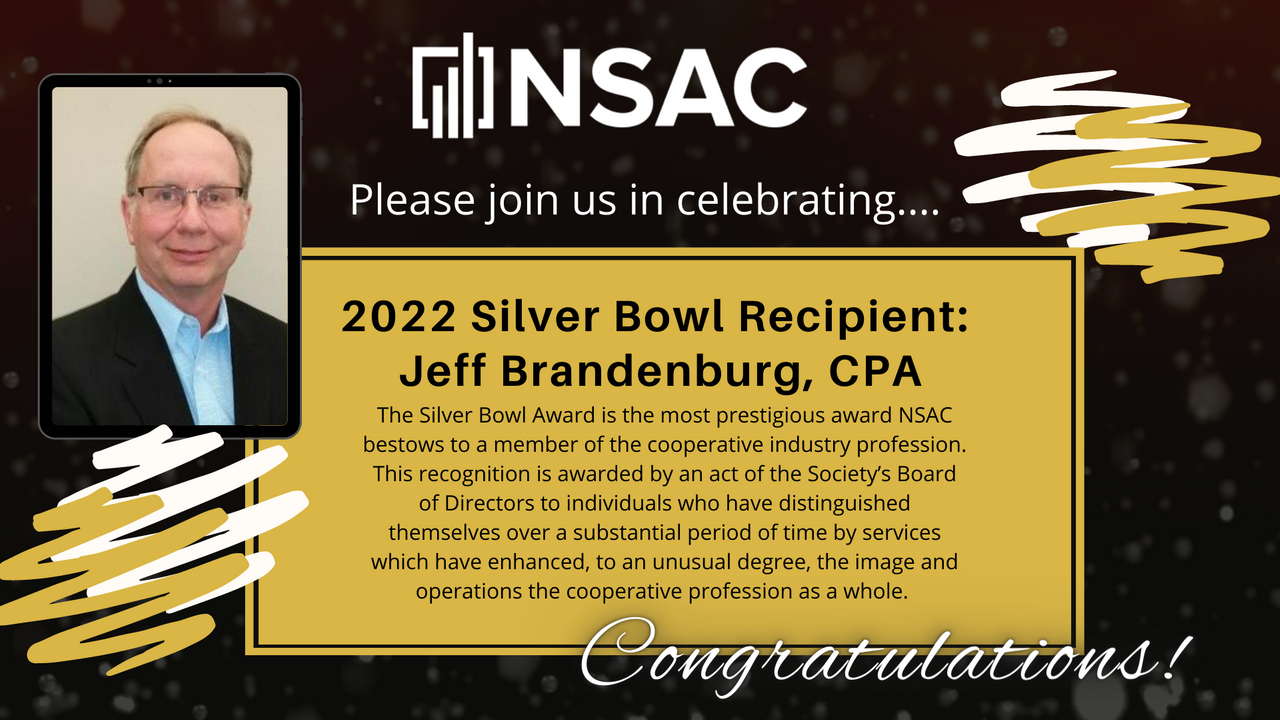 NSAC Presents 2022 Silver Bowl Award
SAN ANTONIO, TEXAS, August 2, 2022—During the 2022 Tax, Finance & Accounting Conference for Cooperatives, NSAC presented its annual Silver Bowl Award to deserving recipient, Jeff Brandenburg, CPA.
The Silver Bowl Award is the most prestigious award NSAC bestows to a member of the cooperative industry profession. This recognition is awarded by the Society's Board of Directors to individuals who have distinguished themselves over a substantial period of time by services which have enhanced the image and operations of the cooperative profession as a whole.
The Society awarded Jeff this honor due to his admirable leadership and dedication to the betterment of the cooperative industry. Jeff is a retired Principal at CliftonLarsonAllen (CLA) and became a loyal member of the NSAC in 1986. During his time as a member, Jeff has served as National President and represented the Great Lakes Chapter as a National Director and President. With nearly 40 years of experience in public accounting, he has played a substantial role in contributing his wealth of knowledge to the profession.
Friends and colleagues describe Jeff as being instrumental in the lives and careers of many people. Jeff has mentored others both personally and professionally, and has always maintained a commitment to the cooperative industry. Even if he didn't know the answer to a question, he would reach out the right resources, so others received the assistance they needed.
"He worked tirelessly at everything he did and when he was committed, you knew it was going to get done and it would be a quality product."
"He had a passion for helping others succeed, and that is what drove him to stay within public accounting for so long. You will hear many folks talking about helping people…Jeff lived it!"
Congratulations, Jeff! The NSAC is honored to present this award to you, and is beyond grateful for your commitment and service to the cooperative accounting industry.