Companies Making Slow Progress on Revenue Recognition Standard
Published on June 21, 2017
Many businesses are slow-walking to implementing the revenue recognition standard, even as the effective date approaches next year.
KPMG polled a group of financial executives during a webcast in April asking them about their progress on adopting the revenue recognition standard. Their responses are highlighted below: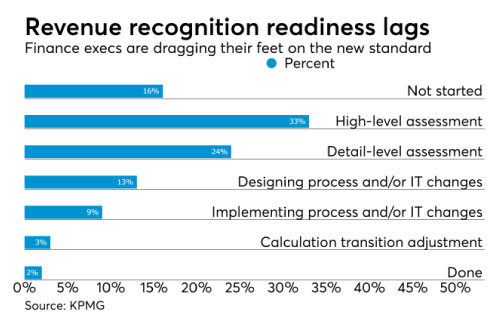 Just over half of the financial executives polled by KPMG (52 percent) said they feel their company has sufficient internal controls over the transition to the new rev rec standard, but 11 percent admitted they don't, while 37 percent were unsure.
Public companies are supposed to apply the new revenue standard to annual reporting periods beginning after Dec. 15, 2017, while private companies are to apply it to annual reporting periods beginning after Dec. 15, 2018.
A separate poll, released Wednesday by Deloitte, found that nearly 70 percent of respondents polled during a recent Deloitte-Bloomberg BNA revenue recognition conference said their organizations are still assessing how they will implement the new standard. Fifty-two percent of the survey respondents don't expect the new standard to have a material impact on their company's financial statements. In addition, 55 percent of the survey respondents admitted their company hasn't begun to assess internal controls from a revenue recognition standpoint, and 56 percent said their company has yet to establish a budget for implementation. Most of the respondents said their company is leveraging existing resources to implement the new standard, but 30 percent said they are hiring outside resources to help them manage all the accounting changes.
Another accounting firm, Baker Tilly Virchow Krause, LLP, conducted its own survey, which found that only 11 percent of respondents said their organizations have begun making accounting process and system changes to prepare for the revenue recognition standard.
Ernst & Young also released its own survey earlier this week. EY found 70 percent of companies do not yet have their revenue recognition programs complete, while 45 percent of companies implementing or upgrading to a new system are having difficulties and are concerned about not having a fully functioning system in place for the deadline.
(Source: AccountingToday - Daily Edition - June 8, 2017)