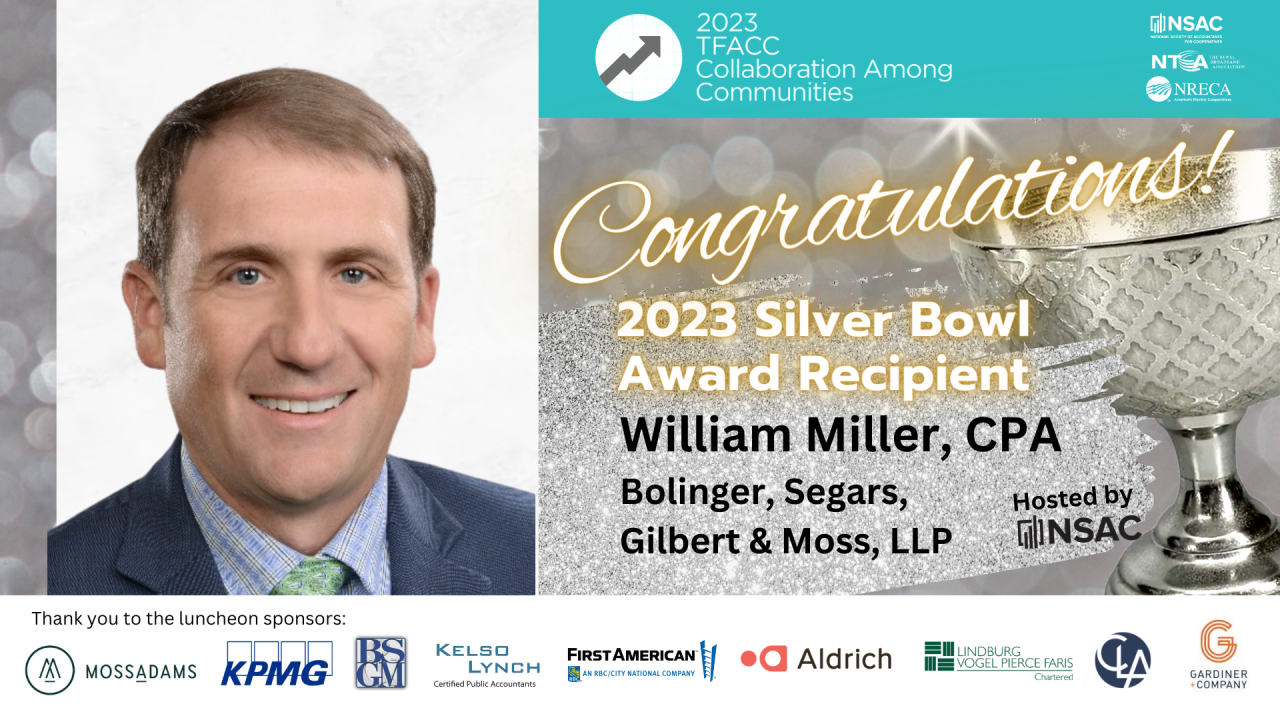 Bill Miller, Tax Partner at Bolinger, Segars, Gilbert & Moss, LLP presented with Silver Bowl Award
Portland, Oregon, July 25, 2023—At the 2023 Tax, Finance & Accounting Conference for Cooperatives (TFACC), Eric Krienert, National President for the National Society of Accountants for Cooperatives (NSAC), presented the esteemed Silver Bowl Award to Bill Miller, Tax Partner at Bolinger, Segars, Gilbert & Moss, LLP.
The significance of this award reverberates throughout the cooperative industry, recognizing exceptional individuals who have profoundly enriched the reputation and functionality of cooperative accounting as a whole.
Bill Miller's journey has been marked by unwavering commitment and exemplary leadership within the cooperative sector, rendering him a truly deserving recipient of this honor. He has served as the National President of NSAC, and his tenure on the board of directors spanned nearly a decade. Throughout these years, Bill was at the forefront of advancing cooperative accounting education within prominent organizations such as NRECA, NTCA, and NSAC.
We applaud Bill's invaluable contributions, acknowledging his pivotal role in elevating the cooperative industry. His tireless endeavors have not only optimized the profession's operations but have also fortified its public image.
While his achievements are too numerous to list, there is no shortage of kind words from his friends and colleagues.
Congratulations, Bill! The NSAC is deeply privileged to bestow this award upon you, expressing profound gratitude for your unwavering commitment and outstanding service to the cooperative accounting sector.