Accounting and Security: In Industry, the Twain Should Meet
Published on August 02, 2018
Industry accountants see accounting software and online bookkeeping software as the technologies that will have the greatest impact on the profession in the next five years. Closely following these are data analytics and cloud solutions. Security, however, takes a back seat.
This data was compiled from a survey conducted by BlackLine, which attempted to find out how company finance departments globally interact with technology, and how they are handling security concerns surrounding customer and company data.
Newer, buzzier technology like artificial intelligence, robotics and blockchain were met with some skepticism, with a small minority of respondents seeing them actually impacting the profession in the near term. However, just about a third of respondents see cybersecurity solutions as one of the technologies having an impact, but that lukewarm attitude towards data security is troubling.
Ninety-seven percent of accountants agreed that data is "very valuable" to their business; however, 29 percent said their finance department, in order to increase the security of financial data, should rely entirely on the IT department to ensure utmost data security across the company's network and systems. Only 25 percent of U.S. respondents said their finance department takes a highly proactive role in increasing the security of financial data, working with IT to make sure it pursues optimal data security.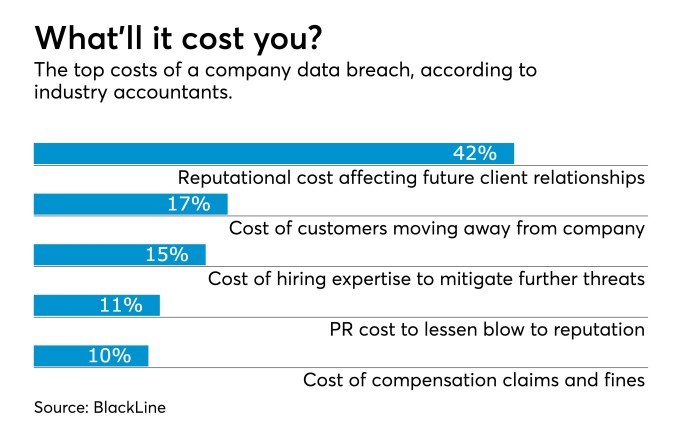 Accounting and bookkeeping software, variants of which have been in use for decades, are tools accountants see as within their domain. They perform accounting tasks, which accountants are trained in. Analytics and automation give accountants the opportunity to offer their clients value-added services, moving them into advisory roles. Security, however, feels like the IT professional's domain because accountants believe they are not trained in it as they are in the tasks of their profession.
While CFOs, controllers or company accountants may feel they're not qualified to take a more active role in security at their company, they understand the cost of a data breach: 42 percent of respondents to the survey think the greatest loss would be the reputational cost that might affect future customer relationships. Other top concerns were the cost of customers potentially moving away from the company (17 percent), the cost of hiring expertise to help mitigate any further threats (15 percent), and the cost of potential compensation claims and fines (10 percent).
BlackLine's survey was conducted by Censuswide and included 900 CFOs, finance directors and accountants around the world in large and midsized businesses.(Source: AccountingToday - Daily Edition - July 2, 2018)