August 2019 Article Archives
Published on August 20, 2019
The Treasury said it doesn't expect to make further changes to the redesign beyond some minor updates for inflation adjustments.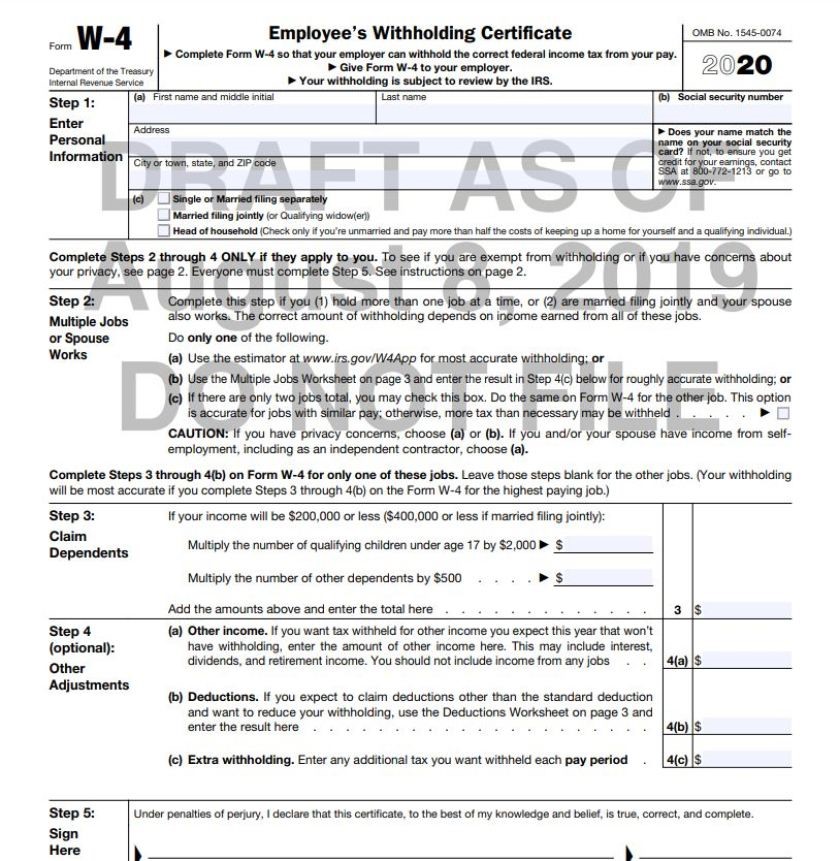 The redesigned Form W-4 employs a building block approach to replace complex worksheets with more straightforward questions that make it simpler for employees to figure a more accurate withholding. While it uses the same underlying information as the old design, the new form uses a more personalized, step-by-step approach to better accommodate individual taxpayer needs.
Read More >>
Published on August 20, 2019
Meat could be a target for higher taxes given criticism of the industry's role in climate change, deforestation and animal cruelty, according to a report by Fitch Solutions Macro Research.
The idea is still in its infancy and faces a lot of opposition from farming groups, but it's emerging as a trend in Western Europe, said the research group. If taxes gain traction, it could encourage more people to switch to poultry or plant-based protein and help drive the popularity of meat substitutes.
Read More >>
Published on August 20, 2019
Certain financial statement preparers would receive the benefit of effective date delays in FASB's accounting standards for leases, hedging, and credit losses under a proposal the board issued.
In response to preparers' concerns about overload while implementing these three significant standards, FASB proposed amending the effective dates.
"Private companies, not-for-profit organizations, and some small companies would benefit from additional time to apply major standards," FASB Chairman Russell Golden said in a news release. "This represents an important shift in the FASB's philosophy around effective dates, one we believe will support better overall implementation of these standards."
Read More >>
Published on August 20, 2019
The Financial Accounting Standards Board released a proposed accounting standards update with the goal of enhancing the guidance for financial instruments with the characteristics of liabilities and equity, including convertible instruments and derivatives.
The proposed update aims to improve the guidance for both convertible instruments and the derivatives scope exception for contracts in a company's own equity. It would reduce the number of accounting models for convertible debt instruments and convertible preferred stock. The proposal would also revise the derivatives scope exception guidance to reduce form-over-substance-based accounting conclusions driven by remote contingent events. It also would amend the related disclosure and earnings-per-share guidance.
Read More >>
Published on August 20, 2019
The Financial Accounting Standards Board is aiming to clarify the interaction between two of its accounting standards: the standard on recognition and measurement of financial instruments and the standard on equity method investments.
FASB issued a proposed accounting standards update after hearing questions from some of its stakeholders about how the two standards worked together. In 2016, FASB issued Accounting Standards Update No. 2016-01, "Financial Instruments — Overall (Subtopic 825-10): Recognition and Measurement of Financial Assets and Financial Liabilities," which added Topic 321, "Investments — Equity Securities." That addition made some targeted improvements to deal with certain aspects of accounting for financial instruments.
Read More >>
Published on August 20, 2019
As with any accounting standard shift, the new lease standard (ASC 842) brings momentous changes to accounting processes and financial reporting. While the main differences are well-known, I've taken a particular interest in the smaller nuances that live within the new standard. (Yes, I'm an accounting nerd and I love learning about and discussing all things related to leases!)
In this article, I'm sharing five of those intricacies that you may not know about the new lease standard, but that are critical to making the transition.
Read More >>