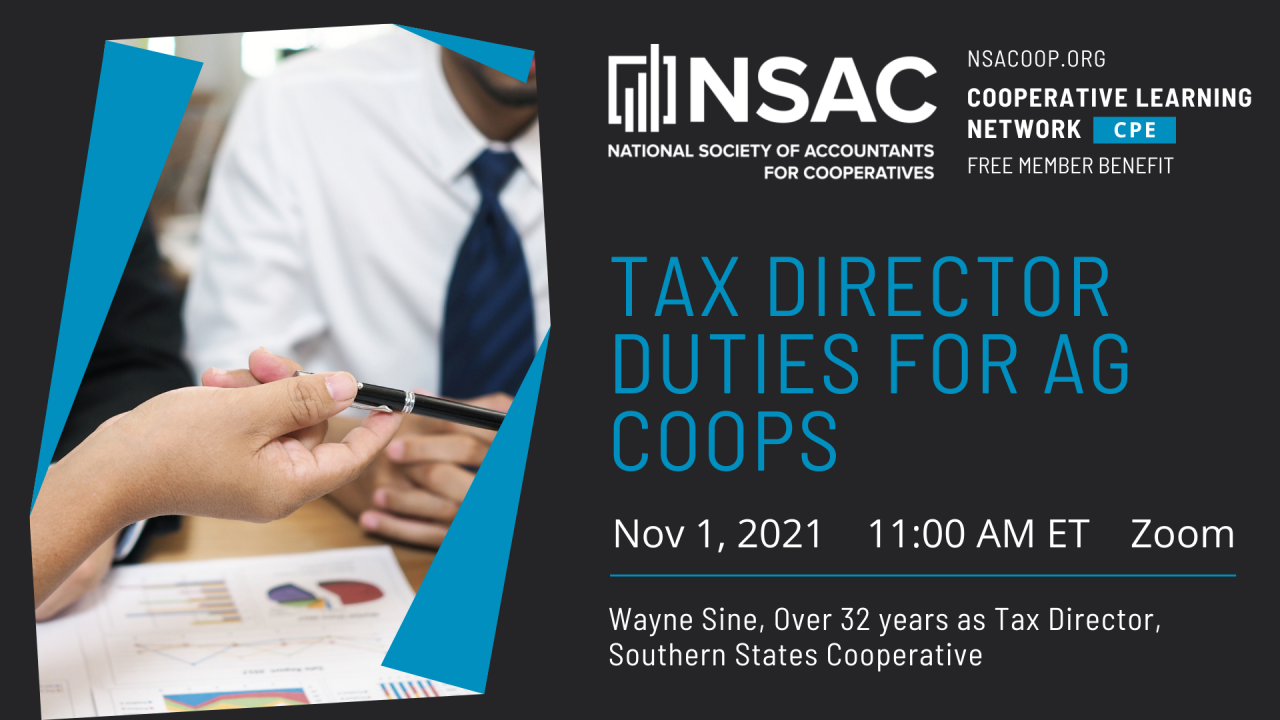 Tax Director Duties for Ag Coops: What Does a Tax Director Do?
November 1, 2021 2:00pm ET
Location Information:
Zoom

Cost(s): $0.00 NSAC Member / $56.00 Non-Member
CPE: 1 Credit Hour
Field of Study: Taxes
Do you want to know more about the roles and duties of a Tax Director working for an Agricultural Coop? Are you curious about how cooperative tax law applies specifically to farmer coops, and how this taxation impacts the amount and type of refund distributed? In this session, attendees will explore the unique set of tax rules that apply to famer owned cooperatives, and how these rules affect the overall role of a Tax Director at an AG Coop. This CLN will cover the specific types of taxes administered by in-house tax departments, what types of tax audits are typically encountered by AG Coops, and how advocacy can be used to affect tax legislation impacting coops. Participants will walk away with an understanding of the stipulations that exist within the agricultural industry, and how an AG Coop Tax Director executes strategic tax compliance and planning based on these specific tax implications.
Learning Objectives:
• To understand the various duties of an Ag Coop Tax Director
• To learn the specific types of taxes that are typically administered by in-house tax departments at Agricultural Coops
• To learn from the experiences and insights of a retired tax director with over 30 years of experience in Ag Coops
• To identify types of tax audits typically encountered by Ag Coops
• To learn when and how advocacy can be used to affect tax legislation impacting coops

Presenter and Moderator Bios
Presenter: Wayne Sine, CPA, Retired Tax Director, Southern States Cooperative
Wayne Sine is an experienced and highly knowledgeable professional in the field of Tax. Wayne Sine recently retired as Tax Director from his company, Southern States Cooperative. He has extensive experience working with agricultural cooperatives, and has been a long time member of the NSAC. He was extremely active during his time in the NSAC, serving as both past Chapter President of the Atlantic Chapter, and past Chair of the Tax Committee. Wayne's career is marked with several accomplishments, and he has always been involved in many organizations, spreading his knowledge. Wayne is a member of the Legal, Tax, and Accounting (LTA) Committee for the National Council of Farmer Cooperatives. He is also Past Chair of both the Tax Committee of the Virginia Chamber of Commerce and the Virginia Manufacturers Association. Wayne also served on the Tax Policy Committee at the Virginia Society of CPAs, and served as past Region Vice President for the Tax Executives Institute.

Moderator: Bill Erlenbush, CPA, NSAC Director of Education
Bill Erlenbush spent his entire career working in cooperative accounting at GROWMARK. His work experience includes all aspects of order control and billing, accounts receivable/payable, financial accounting, and tax. As compliance officer, he had responsibility for the administration of the compliance and ethics program at GROWMARK and its subsidiaries and retail divisions. In addition, he was been involved in negotiating major acquisitions for GROWMARK. His educational background includes a Bachelor of Science degree in Accountancy from the University of Illinois and an MBA from Illinois State University. He is a Certified Public Accountant. Bill is an active member in many industry, professional, and community organizations. He is past president of the Mclean County United Way Board of Directors as well as the past president of the Heartland Community College Foundation Board of Director.