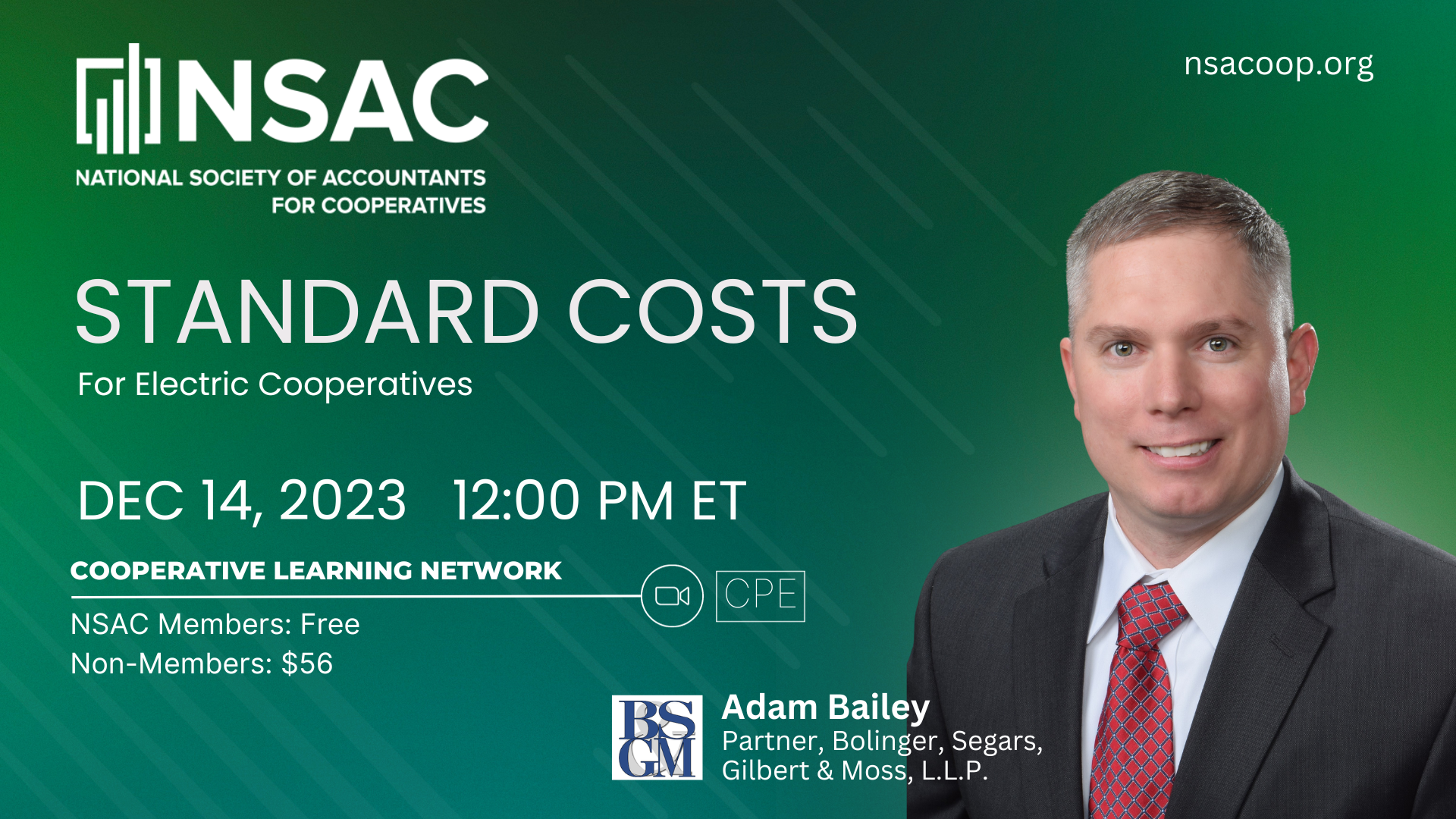 Standard Costs
December 14, 2023 12:00pm ET
Location Information:
Zoom

Cost(s): $0.00 Member / $56.00 Non-Member
Register Now
CPE: 1 Credit Hour
In the intricate landscape of financial management, precision is paramount, especially when it comes to the work order system. Join us for this knowledge-packed Zoom that delves into the vital realm of standard costs and their pivotal role in assigning accurate values to record units.
The use of standard costs in the work order system assigns costs to record units based on the expected costs of resources. Because outdated standard costs may result in understated aid to construction calculations when below current costs or may result in overcharges to potential members (which could result in the cancellation of a project all together) if when above actual costs, all of which impact rate base and ratemaking, effectively and accurately updating the standard costs on an annual basis is essential. As such, this session will focus on the annual calculation for updating standard costs and the collaboration needed among departments for obtaining the information and ultimate implementation of the updated costs.
Learning Objectives:
Upon completion, the participant will be able to understand and communicate the impact that updating assembly unit standard cost can have on the financial statements and rates of the cooperative.
Upon completion, the participant will be able to work with the various departments within the cooperative to update its standard cost on assembly units.
Upon completion, the participant will be able to pull together all of the information to calculate assembly unit standard cost including, labor, overhead, and materials and have the source documentation necessary to do so.
Presenter and Moderator Bios
Presenter: Adam R. Bailey, CPA, Partner, Bolinger, Segars, Gilbert & Moss, L.L.P.
Adam has been a partner at BSGM since 2018. He is a CPA and a 2004 graduate of Texas Tech University with dual degrees in accounting and finance. He is active in the firm's financial statement audit practice specializing in auditing electric cooperatives, financial institutions, and single audits associated with federal grants and awards.
In the course of performing an audit, Adam is very involved in working directly with various electric cooperative software vendors as a way for the firm to more efficiently conduct the audit. Through these efforts, he has assisted with developing specific reports tailored to the needs of auditors and electric cooperative clients alike. He is also involved in developing industry-specific audit programs and training for use by the firm's staff in conducting audits of electric cooperatives and financial institutions.

In his free time, Adam enjoys traveling to various parts of the country with friends and family, as well as attending various sporting events.
Moderator: Nicholas Smith, CPA, Director of Financial Planning & Analysis, DEMCO
Nicholas Smith currently holds the position of Director of Financial Planning & Analysis at DEMCO, located in Greenwell Springs, Louisiana. He joined the cooperative in May 2022, bringing with him a wealth of experience from the corporate sector. Prior to his foray into the cooperative realm, Nicholas honed his skills as an Associate Partner in the Client Advisory Services division at Hannis T. Bourgeois, and as an auditor with Ernst & Young.
He earned his Bachelor of Science in Accounting in 2014, followed by a Master of Accountancy in 2015, both from Louisiana State University. In addition to his academic achievements, he is a licensed Certified Public Accountant in the state of Louisiana. Nicholas is currently serving as the President of the Louisiana Accountants and Administrators Association at ALEC, Louisiana's Statewide Association.