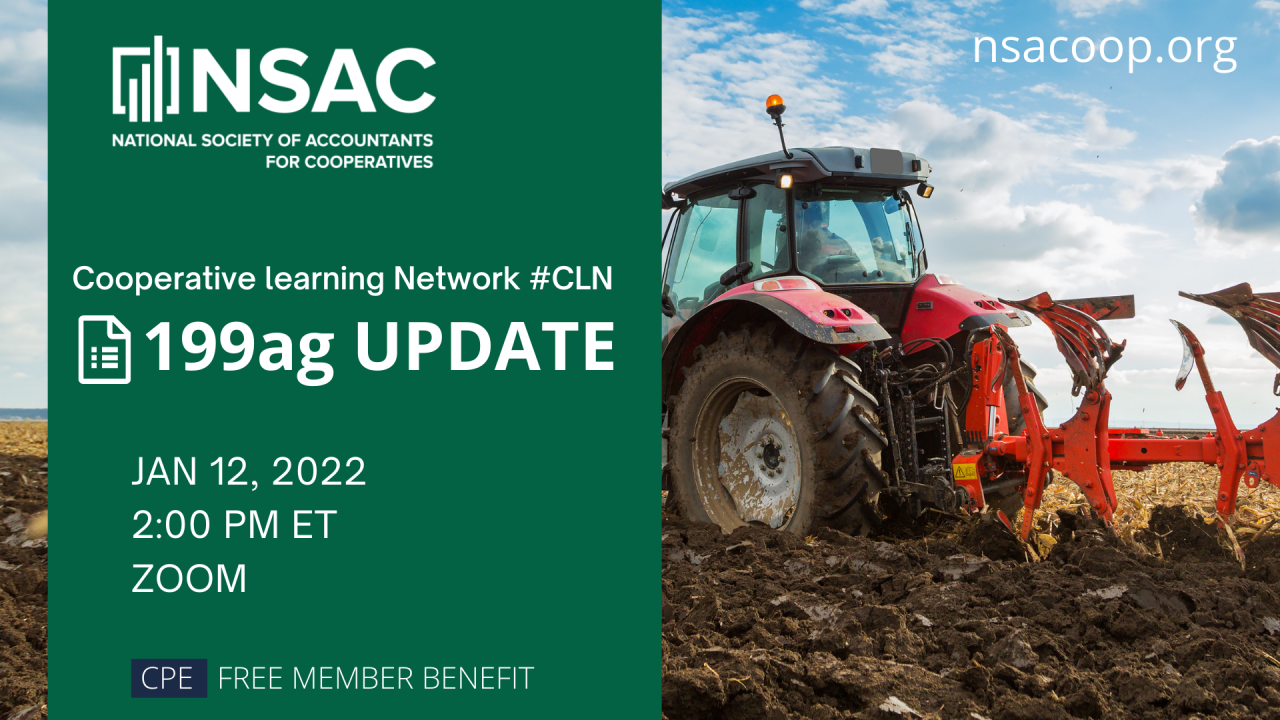 Section 199ag Updates
January 12, 2022 2:00pm ET
Location Information:
Zoom

Cost(s): $0.00 NSAC Member / $56.00 Non-Member
Register Now
Save the date for this webinar! In this sesison, Eric Kreinert, Partner at Moss Adams LLP, and Dave Antoni, National Director of Cooperative Tax Services at KPMG LLP, will discuss recent regulatory and legislative developments impacting cooperatives.


Eric Krienert, CPA – Partner, Moss Adams LLP
Eric Krienert, CPA has worked in public accounting since 1997. He is experienced in tax planning and consulting for large partnerships and corporations in the food and agriculture industries, but his specialty lies in cooperatives. He provides services related to patronage philosophy and formulating patronage allocation programs based on book, tax, and hybrid programs; equity planning; mergers and acquisitions, joint ventures, and other combinations; non-qualified equities; and domestic manufacturing deduction and taxation.
David F. Antoni, CPA
David F. Antoni, Managing Director, Tax, KPMG LLP, serves as National Director of Cooperative Tax Services. Dave is responsible for providing tax consulting and compliance services to cooperatives and non-cooperative enterprises in our Consumer & Industrial Markets practice. Dave also serves on KPMG's National ASC 740 (FAS 109) Network and has significant experience in the application of ASC 740 to both our cooperative and public company audit clients. Dave works with management and boards on tax considerations for capital and bylaws provisions and advises cooperatives on tax issues such as IRC section 199A(g), application of new Tax Reform legislation and tax accounting methods. Dave's professional accounting experience with KPMG spans over 34 years and 30 years serving cooperatives as a focus area. Dave holds a Bachelor of Science degree in Business Administration (cum laude) from La Salle University, Philadelphia, Pennsylvania, where he concentrated in Accounting and Computer Science and was a member of the Beta Alpha Accounting Society. Dave also has completed several graduate-level tax courses in Villanova University School of Law's Master of Science in Taxation program. Dave is currently a National Board Member, (and past treasurer) of the Atlantic Chapter of the National Society of Accountants for Cooperatives (NSAC), NSAC Executive Committee Member, National Vice President and served as immediate past Chair of its National Tax Committee. He is also a member of the Legal, Tax and Accounting Committee of the National Council of Farmer Cooperatives (NCFC), currently serving as a member of its Executive Committee and its past Chair and also currently serves as a Vice-Chair of the Subcommittee on Overview of New Tax, Other Legislation and Implementation Issues Affecting Farmer Cooperatives, and is a member of the American Institutes of Certified Public Accountants. Dave is a frequent speaker concerning tax issues related to cooperatives at annual meetings of NCFC and the NSAC and contributes articles to the Tax Fax Column of NSAC's The Cooperative Accountant publication. Dave author's KPMG's Tax News Flash – Cooperatives publication and hosts and facilitates discussions on cooperative tax topics at KPMG's Annual Cooperative Roundtable.

Josh Bakke, CPA – Senior Manager, Moss Adams
Josh has worked in public accounting since 2010, providing consulting and tax compliance services for food and beverage and agribusiness industries. Josh's clients include agricultural marketing and supply cooperatives, their producers, commodity brokers, food processors, private equity groups, and high net worth individuals. He provides consulting services related to managing cooperative patrons' equities, the Section 199A deduction for cooperatives and their members, and taxation.

Moderator: Bill Erlenbush, CPA, NSAC Director of Education
Bill spent his entire career working in cooperative accounting at GROWMARK. His work experience includes all aspects of order control and billing, accounts receivable/payable, financial accounting and tax. As compliance officer, he had responsibility for the administration of the compliance and ethics program at GROWMARK and its subsidiaries and retail divisions. In addition, he was been involved in negotiating major acquisitions for GROWMARK. His educational background includes a Bachelor of Science degree in Accountancy from the University of Illinois and an MBA from Illinois State University. He is a Certified Public Accountant. Bill is an active member in many industry, professional, and community organizations. He is past president of the Mclean County United Way Board of Directors as well as the past president of the Heartland Community College Foundation Board of Directors