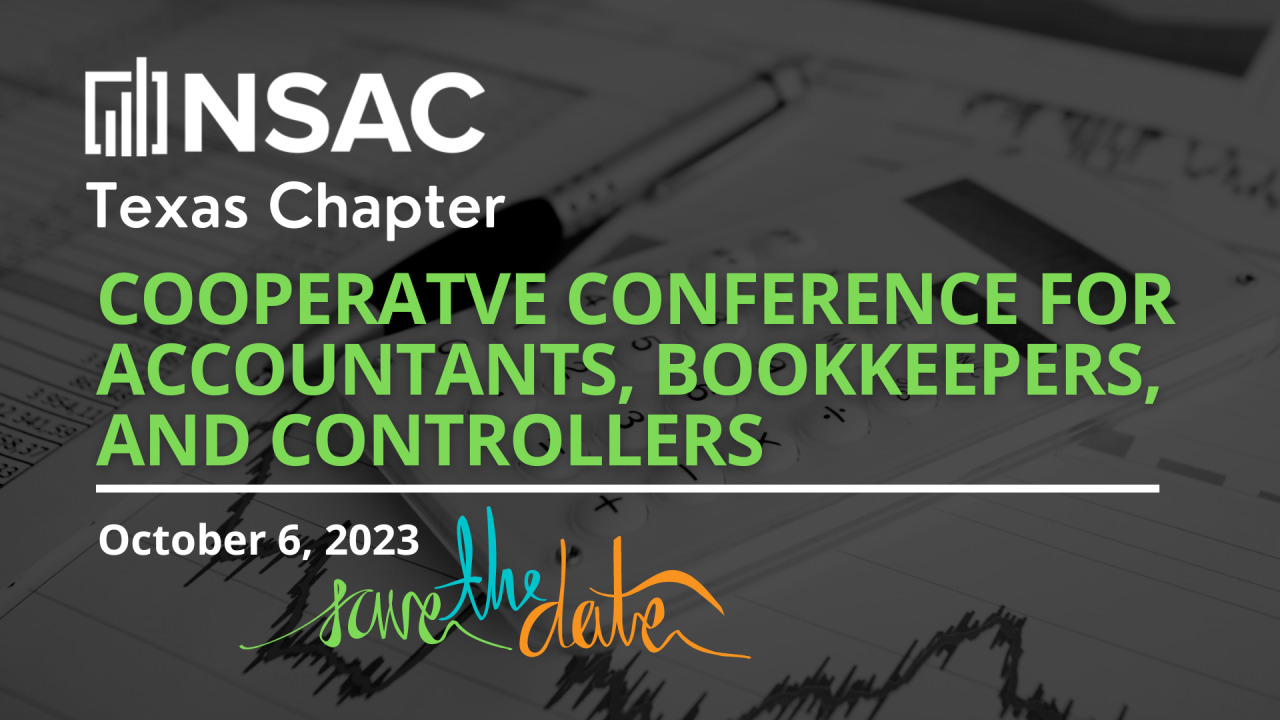 NSAC Texas Chapter: The Cooperative Conference for Accountants, Bookkeepers and Controllers
October 6, 2023 8:00am ET
Location Information:
PYCO Industries Cottonseed Cooperative & Milling
2901 Avenue A
Lubbock, TX 79404
United States

Cost(s): $150.00 NSAC Member / $175.00 Non-Member
Register Now
We are thrilled to announce the return of the highly anticipated 2023 NSAC Texas Chapter Seminar, tailored exclusively for cooperative personnel like you—accountants, bookkeepers, and controllers. This is your opportunity to gain valuable insights, network with industry experts, and earn 8 hours of CPE credits. Here's what you need to know:
Event Details:
Date: October 6, 2023
Location: PYCO Industries Cottonseed Cooperative & Milling, Lubbock, TX
But that's not all! Join us on the evening of October 5, 2023, from 6-8 p.m. for a lively social event at 4ORE Golf in Lubbock, TX. It's a fantastic chance to unwind, connect with peers, and tee off some fun.
Agenda:
Thursday, October 5
6:00-8:00 p.m.
Social Event at 4ORE Golf: Please RSVP using this link
Friday, October 6
7:30-8:00 a.m.
Breakfast
7:50-8:00 a.m.
Registration & Welcome
Russ DuBose, D. Williams & Co.
8:00-8:50 a.m.
Legal Update for Cooperatives
Gary McLaren, McLaren Law Firm, PLLC
CPE Credit Hours: 1
Field of Study: Business Law
Learning Objectives:
- Legal trends & issues impacting cooperatives
- Fiduciary duty issues with co-op directors
- Future legal challenges for co-ops
Gary McLaren is the most decorated co-op lawyer in Texas. Gary was born in Abilene, Texas. He practices general civil litigation in federal and state courts with experience representing clients involving business transactions, insurance defense, cooperatives, and agricultural matters. Gary holds a degree in finance from Texas Tech University and served as a commercial loan officer for eight years prior to obtaining his law degree from South Texas College of Law in Houston. He and his wife, Andra have two daughters and reside in Lubbock, Texas.
8:50-10:05 a.m.
An Update on the Agricultural Economy
Dr. Darren Hudson, Texas Tech University
CPE Credit Hours: 1.5
Field of Study: Economics
Learning Objectives:
- Understand the current state & drivers behind the agricultural economy
- Explore the impacts of inflation & supply chain issues on different industries within the agricultural sector
- Discuss potential impacts of the new farm bill
Darren Hudson is Professor and the Larry Combest Endowed Chair for Agricultural Competitiveness and Director of the International Center for Agricultural Competitiveness. Hudson earned his B.S. In Agribusiness from West Texas A&M University, and his M.S. and Ph.D. degrees in Agricultural and Applied Economics from Texas Tech University. He has been a Professor at Mississippi State University and a Farm Foundation Fellow. Hudson's research interests include agricultural policy and trade, economic development, marketing and consumer demand, and behavioral economics. He participates in the Food and Agricultural Policy Research Institute consortium producing annual baseline projections for cotton for the group. Hudson is a past-President of the Southern Agricultural Economics Association. He is married with two children.
10:05-10:20 a.m.
Break
10:20-11:35 a.m.
The ROI of Building Intentional Employee Culture
Heather Smith, Talent Elevated
CPE Credit Hours: 1.5
Field of Study: Personnel/Human Resources
Learning Objectives:
- Understand the correlation between employee culture, retention & productivity
- Identify the nine tenets of best-practice employee culture
- Apply learning through client case-studies to examine obstacles and opportunities for change
Heather Smith, founder of Talent Elevated, is an accomplished and recognized senior talent management leader with expertise in partnering with small to mid-sized businesses to intentionally build employee culture that accelerates business goals. She is committed to helping organizations achieve their mission and strategic vision through employees reaching their full potential. When employees reach their full potential, they lead lives with greater impact on all surrounding them -customers, family, friends, co-workers, etc. - positively impacting not only their organization but their entire community. Heather began her career for 17 years in the healthcare industry leading talent and learning for 5,000-120,000 employees and leaders. Now, she is bringing this expertise to her clients across the United States to help them build practical solutions to build and sustain culture. Her combination of operational knowledge within the organizational environment and cross-industry application to small businesses differentiates Heather among talent professionals and provides unique insight to her clients.
11:35 a.m.-12:35 p.m.
Lunch & Annual Meeting
Russ DuBose & Steven White, D. Williams & Co. & Farmers' Cooperative Compress
12:35-1:50 p.m.
Influencing Farm Policy – NSAC's Texas Chapters' Opportunity for You & Your Customer's Bottom Line
Kody Bessent, Plains Cotton Growers
CPE Credit Hours: 1.5
Field of Study: Specialized Knowledge
Learning Objectives:
- Will discuss ad hoc programs and their relevance on bottom line
- Farm bill proceedings
- Long term programs to help your customer base
Kody Bessent, a native of Acuff, Texas, currently serves as the Vice President of Operations and Legislative Affairs for Plains Cotton Growers, Inc., where he assists the PCG Executive VP, its Board of Directors, and staff with operations and on state and federal legislative matters. Additionally, Bessent administers and works to enhance the PCG political action committee.
1:50-3:05 p.m.
Making a Science of the Financial Landscape: Interest Rates & Lending
Clint Cryer, Capital Farm Credit
CPE Credit Hours: 1.5
Field of Study: .75 Economics, .75 Finance
Learning Objectives:
- Understand the dynamics of the current interest rate environment
- Review the impact that the current economy has had on lending & loan origination
- Discuss the influence that sustained economic activity levels might have on farm credit & the future of currency
Clint Cryer currently serves as Senior Vice President, Director of Retail Lending at Capital Farm Credit. In this role, he is responsible for the direction of retail lending and the Association's market leadership teams. He has been in ag lending for 22 years. Prior to joining Capital Farm Credit, Cryer served as the Director of Ag Lending at Plains Capital Bank, supervising production ag and commercial ag customer portfolios. Cryer is a graduate of Texas Tech University, with both a bachelor and master's degree in Agricultural Economics and Business with a Finance emphasis. Before his career at Plains Capital Bank, he served as Texas' regional agribusiness manager for CoBank. Cryer grew up in Wolfforth, Texas, where his family owned a wholesale fertilizer and micronutrient business, as well as a small alfalfa hay farm to help "build character." Cryer is an alumni of Texas Ag Lifetime Leadership (TALL), maintains memberships at numerous agricultural organizations and also remains involved at Texas Tech University.
3:05-3:20 p.m.
Break
3:20-4:10 p.m.
Accounting & Auditing Update
Greg Taylor, D. Williams & Co.
CPE Credit Hours: 1.5
Field of Study: .5 Accounting, .5 Auditing
Learning Objectives:
- Update concerning accounting principles and timely information to comply with upcoming standards
- Overview of auditing standards
- Review of tax code, tax regulation, and tax policy changes that could affect cooperatives in the coming year
Greg Taylor grew up on a six-hundred-acre cattle and cotton farm south of Ralls, Texas. He is a shareholder with D. Williams and Company, P.C. in Lubbock, and oversees the firm's assurance, litigation support and valuation services. He joined D. Williams and Company, P.C. in 1989 after working with Doshier, Pickens & Francis, P.C. in Amarillo, Texas and in the Lubbock office of KPMG Peat Marwick. Greg received his B.B.A. in finance and accounting from West Texas State University (now West Texas A&M University) in 1983 and his M.B.A. from West Texas State University in 1988. Greg served as the National President of NSAC in 2008-2009.

This presentation will discuss the meaning of return on equity ownership in the cooperative ownership structure, background and examples of the employee retention credit, and observations concerning overall changes in AGI categories by income demographic.
4:10-4:15 p.m.
Wrap-Up & Evaluations
To secure your spot, please complete the attached registration form and make your check payable to the "Texas Chapter-NSAC." Simply return it to the designated address provided on the form.
Don't miss out on this exceptional opportunity to enhance your knowledge, build connections, and earn those much-needed CPE credits. We look forward to welcoming you to the 2023 NSAC Texas Chapter Seminar!