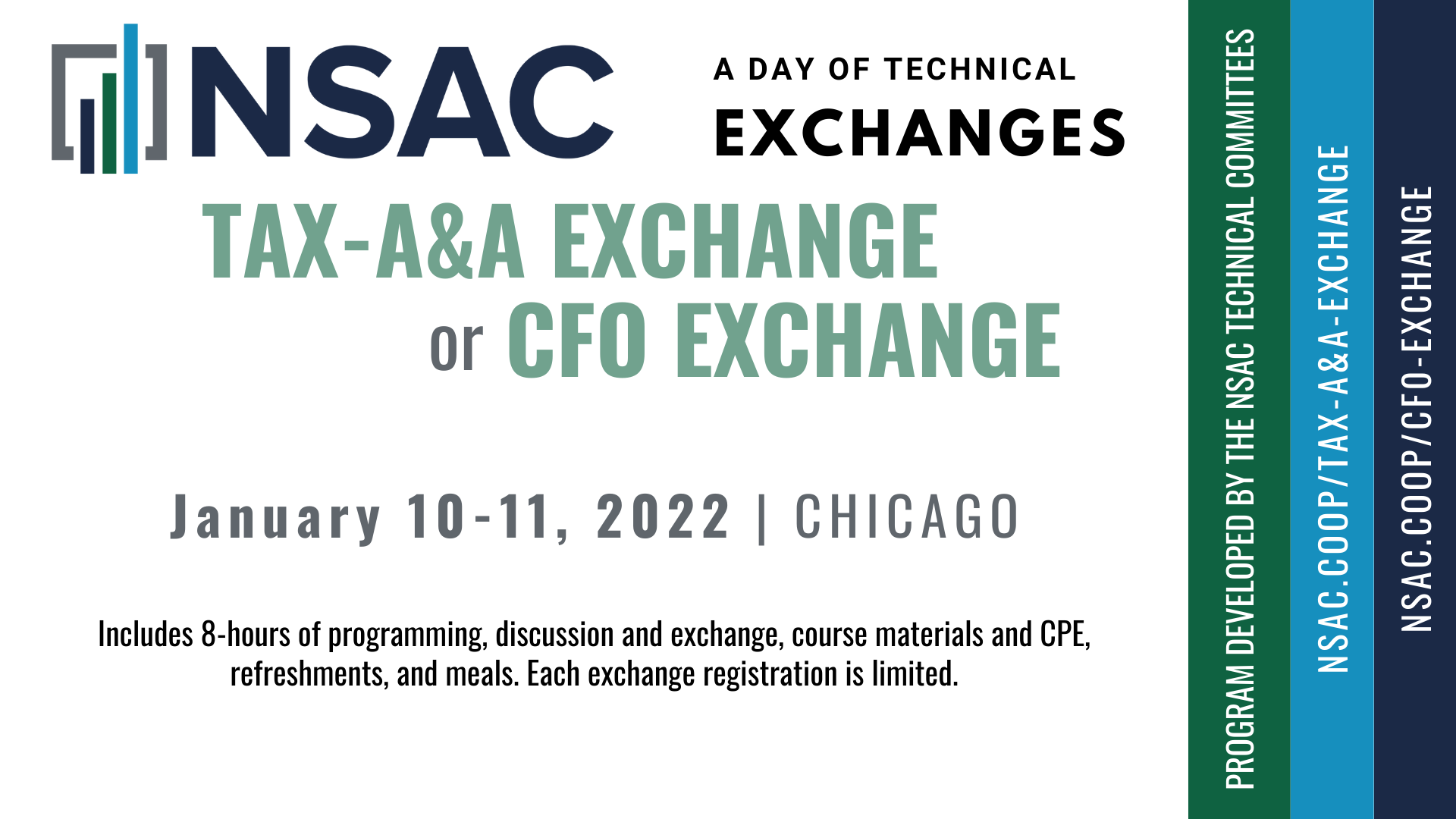 NSAC Technical Exchanges
January 10, 2022 8:01am - January 11, 2022 1:00pm ET
Location Information:
Hilton Chicago O'Hare Airport
O'Hare International Airport Chicago
Chicago, Il 60666
United States

Cost(s): $350.00 NSAC Member - Only open to members
This day-and-a half-day fly-in event will feature two technical-focused exchanges, and attendees can choose between the Tax+A&A Exchange or the CFO Exchange. This is an intense program with two separate exchanges for those dedicated to staying current on everything tax, finance, and accounting related to cooperatives.

This unique program won't involve a day of PowerPoint presentations but instead, roundtables and sessions where professionals will roll up their sleeves and discuss those challenges and issues that keep them up at night. The event includes over 8 hours of programming, discussion and exchange, course materials, CPE, and scheduled meals.

Each exchange is limited in number of registrants to keep them conversational. Once capacity is reached, you may request to be placed on the waiting list.

TAX+A&A EXCHANGE
Limited to 45 participants

This working roundtable will explore topics of specific interest to sub-Ts such as patronage vs non-patronage, Section 199A(g), book vs tax-basis patronage, and new 263A regulations. The attendees will control the flow and content of the exchange. We encourage you to bring challenges you are facing for discussion and actively engage in solution-based collaboration and strategy with your peers.

CFO EXCHANGE
Limited to 30 participants

The day will begin with an agenda beneficial to all CFOs in the cooperative environment with discussions in the realm of human resources, information technology, and accounting issues regardless of industry. The group will then split into smaller group breakouts with a deeper dive into industry-specific challenges and issues. However, the agenda and discussions will be driven by the attendees.


NETWORKING
Each Exchange will work through challenges and discussions separately but come together for networking during meals and breaks.

TENTATIVE SCHEDULE:
All times are Central Time
January 10, 2022
12:00 Noon Lunch
1:00 PM – 5:00 PM Exchanges
6:30 PM Dinner

January 11, 2022
8:00 AM Breakfast
9:00 AM – 1:00 PM Exchanges
1:00 PM Grab N Go Lunch/Eat In Lunch


REGISTRATION:
Tax+A&A Exchange will be limited to the first 45 people.
CFO Exchange will be limited to the first 30 people.
Registration Cost: $350 per person (does not include transportation, overnight accommodations or non-scheduled meals)
Hotel Registration: $119 + tax per night

HOTEL
Hilton Chicago O'Hare Airport
O'Hare International Airport Chicago
Chicago, Il 60666

To make reservations, please visit https://group.hilton.com/2q5hbu or call 877-865-5322 and mention Group Code: NSA to receive the discounted room rate.

Cut-off date for guestroom reservations is January 5, 2022.

REGISTER ONLINE