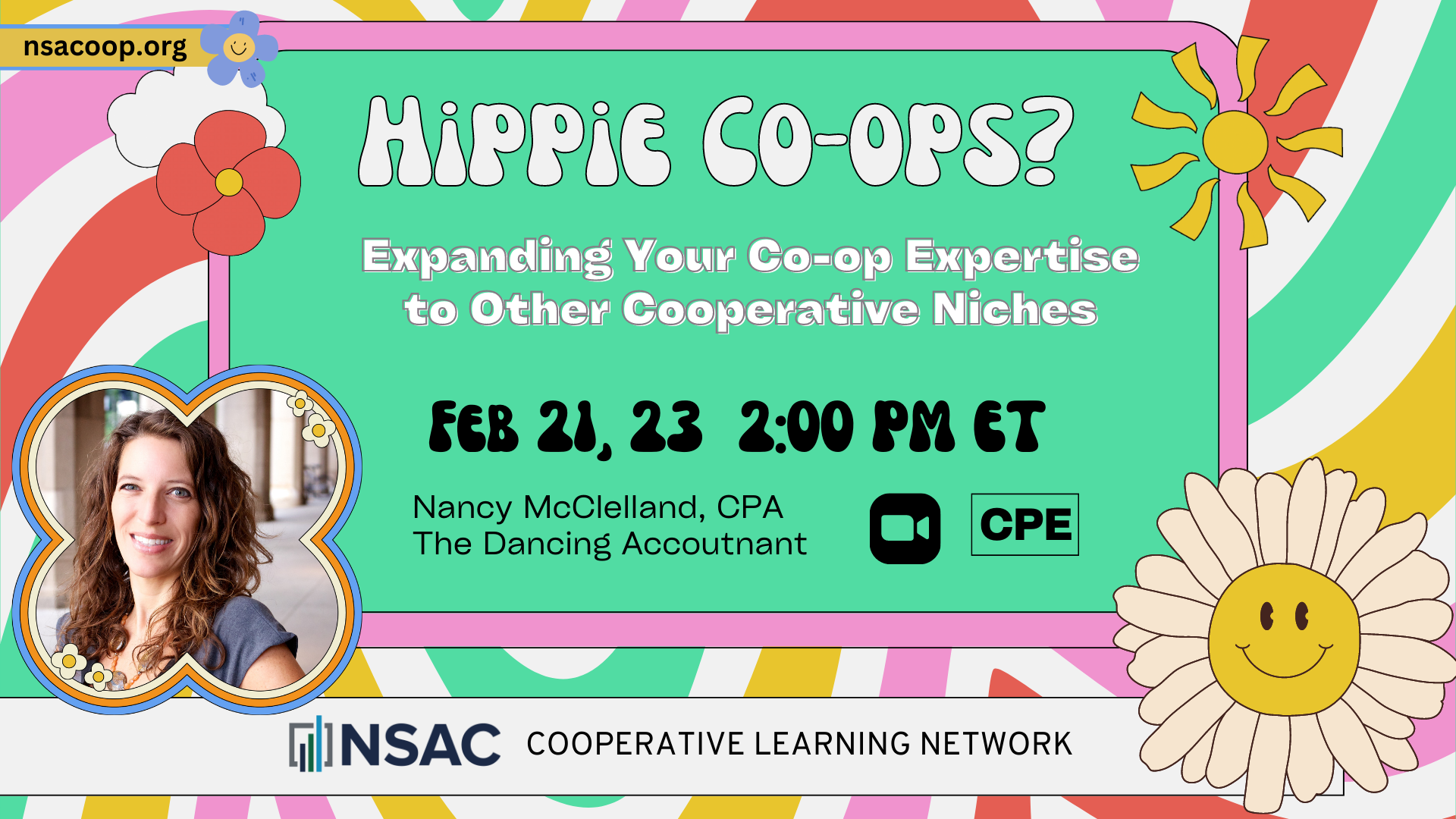 Hippie Co-ops? Expanding Your Co-op Expertise to Other Cooperative Niches
February 21, 2023 2:00pm ET
Location Information:
Zoom

Cost(s): $0.00 Member / $56.00 Non-Member
Register Now
CPE: 1 Credit Hour
Field of Study: Taxes

Consumer, Housing, and Worker Co-ops have been around for a long time and are experiencing a surge in popularity, but many experienced cooperative accountants know little about them. By introducing NSAC members to unfamiliar cooperative structures, they can leverage their existing expertise in areas common to all co-ops, and build on that knowledge. We will explore these three co-op types and more, and learn to recognize what they have in common with other co-ops, as well as explain the differences. Our goal is to help identify and create additional business opportunities for cooperative accountants to expand their scope and offerings.
Presenter and Moderator Bios
Presenter: Nancy McClelland, CPA, Principal, The Dancing Accountant
As principal at her firm The Dancing Accountant, CPA Nancy McClelland has been on a 20-year-long mission to provide affordable, quality accounting and advisory services to independent business owners. She believes the vibrancy and character of neighborhoods depend on thriving small businesses lending their unique visions to our communities.
Winner of AI's 2022 Best SME Accounting Services-USA, Nancy was recently named one of Ignition's "Top 50 Women in Accounting." She writes an award-winning blog with insights and resources for small businesses and accounting professionals and is a sought-after interviewee and conference speaker.
She is a member of three different dance troupes, and can be found on Chicago stages entertaining audiences that often include her clients.
Moderator: Wayne Sine, CPA, MBA, Director of Education, National Society of Accountants for Cooperatives
Wayne Sine is an experienced and highly knowledgeable professional in the field of Tax. Wayne recently retired as Tax Director from his company, Southern States Cooperative. He has extensive experience working with agricultural cooperatives and has been a long-time member of the NSAC. He is extremely active in the NSAC, serving as both past Chapter President of the Atlantic Chapter, and past Chair of the Tax Committee, and is currently serving as the NSAC Director of Education.. Wayne's career is marked by several accomplishments, and he has always been involved in many organizations, spreading his knowledge. Wayne is a member of the Legal, Tax, and Accounting (LTA) Committee for the National Council of Farmer Cooperatives. He is also Past Chair of both the Tax Committee of the Virginia Chamber of Commerce and the Virginia Manufacturers Association. Wayne also served on the Tax Policy Committee at the Virginia Society of CPAs and served as past Region Vice President for the Tax Executives Institute.