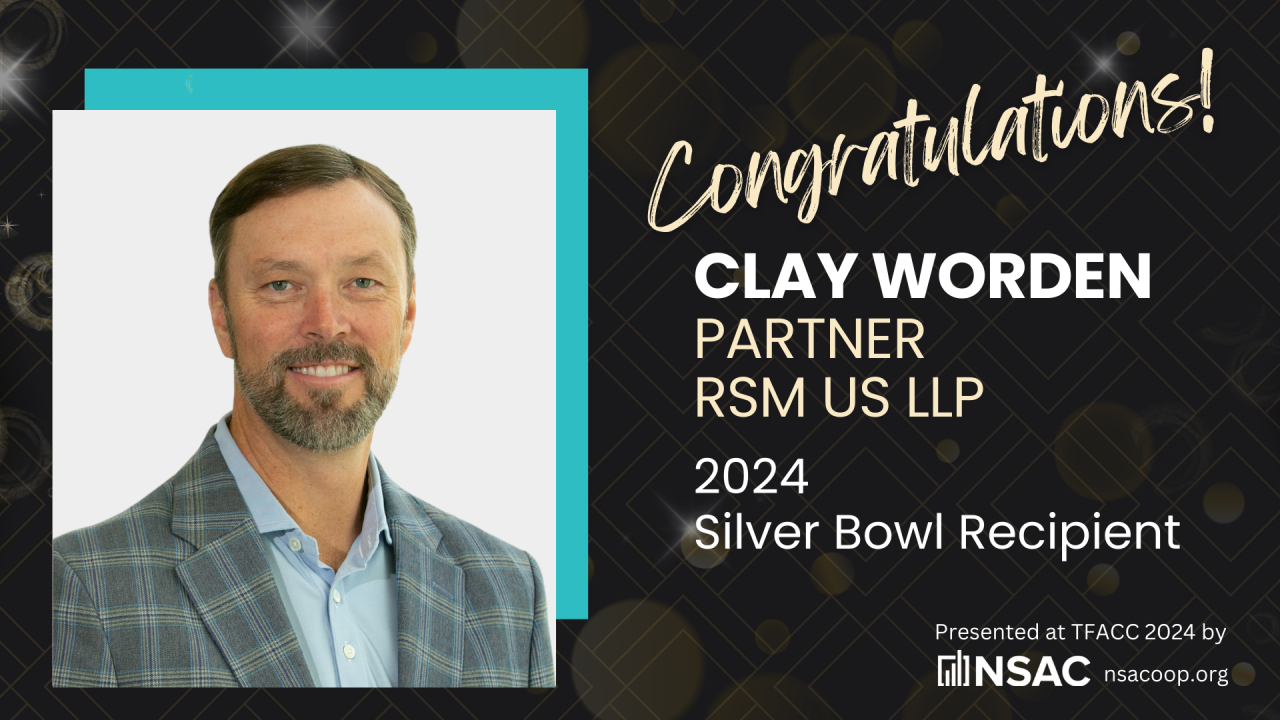 Financial Forecasting
October 28, 2021 11:00am ET
Location Information:
Zoom

Cost(s): $0.00 NSAC Member / $56.00 NSAC Non-Member
CPE: 1 Credit Hour
Field of Study: Finance
Program Level: Basic
Delivery Method: Group Internet-based

No advanced preparation or prerequisites are required for this course.

Event Description:
Is your cooperative forward looking? Is it preparing financial forecasts? Learn how to grow your business and establish attainable, data-driven goals by attending our upcoming CLN! Financial forecasting is essential to any business's long term success, because it gives insight into future performance based on current and past business decisions, market trends, and critical analysis. In this session, attendees will explore the value of financial forecasting, what tools and information are required to prepare one, and when it is beneficial to use one. Learn what decisions are profitable and which ones aren't, how to create accurate budgets, how to determine future expenses and revenue, and what steps you need to take to establish a clear direction for your company.
Learning Objectives:
Identify key information required to prepare a financial forecast.
Identify possible tools (software) to use in preparing a financial forecast.
Identify validation steps for a financial forecast.
Presenter Bios:
Lawrence G. Andrews, MBA CTP, Vice President, Corporate Services, Rappahannock Electric Cooperative
Larry Andrews is the Vice President of Corporate Services for Rappahannock Electric Cooperative (REC). Prior to his current position, Andrews served as Manager of Administrative Services for 4 years. Prior to that, he served as Director of Finance & Accounting for 6 years. Prior to that, he was REC's Treasury and Financial Services Specialist for over 8 years. He spent three years prior to being hired by REC as a coordinator of contracts and budgets for Intellisource, an information technology company that supported REC. Andrews gained valuable financial experience during the ten years prior to Intellisource by working in the savings and loan industry. Andrews holds a bachelor of science in business management from Virginia Tech. He earned his master of business administration from the University of Mary Washington in May 2011. He graduated from the Virginia Bankers Association School of Bank Management as an honor graduate in 1995. Andrews is a certified treasury professional (CTP) as designated by the Association of Financial Professionals. Andrews also serves on the National Society of Accountants for Cooperatives' Electric Cooperative Chapter Board. He is a competent communicator (CC) with Toastmasters International. Andrews lives in Locust Grove, Virginia, with his wife Kim. They have three grown children. In his spare time, Andrews enjoys golf, pickleball, and traveling with his wife.

Pat Kanda, Finance Manager, Grand Valley Power
Pat Kanda has Bachelor of Science Degree in Accounting and graduated Mesa State College in May of 1979. He is the Finance manager for Grand Valley Power in Grand Junction, Colorado and has held the position for 2 years. He is also a math tutor and substitute teacher in Mathematics at a local high school.
Bill Erlenbush, CPA, NSAC Director of Education
Bill Erlenbush spent his entire career working in cooperative accounting at GROWMARK. His work experience includes all aspects of order control and billing, accounts receivable/payable, financial accounting, and tax. As compliance officer, he had responsibility for the administration of the compliance and ethics program at GROWMARK and its subsidiaries and retail divisions. In addition, he was been involved in negotiating major acquisitions for GROWMARK. His educational background includes a Bachelor of Science degree in Accountancy from the University of Illinois and an MBA from Illinois State University. He is a Certified Public Accountant. Bill is an active member in many industry, professional, and community organizations. He is past president of the Mclean County United Way Board of Directors as well as the past president of the Heartland Community College Foundation Board of Directors.