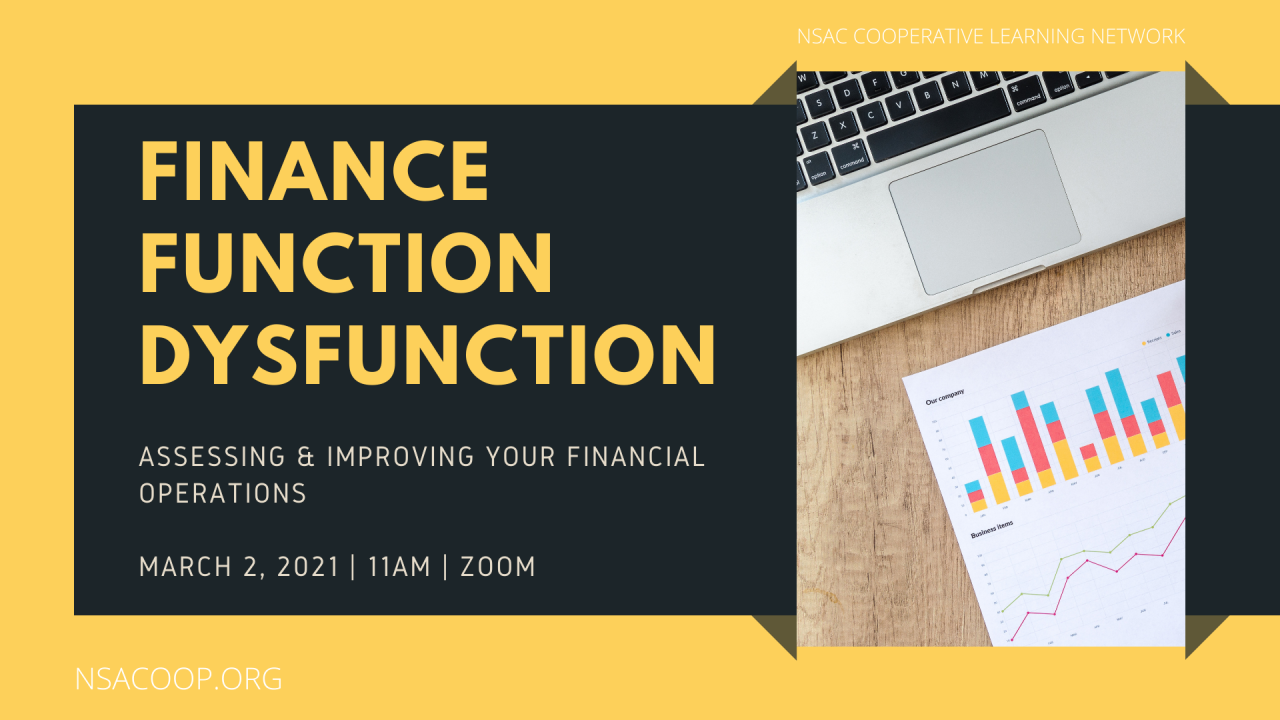 Finance Function Dysfunction: Assessing & Improving Your Financial Operations
March 2, 2021 11:00am
Location Information:
Online Event

Cost(s): $0.00 Member / $56.00 Non-Member
Having a strong and healthy finance function is important to every effective organization. But there are many challenges that can weaken an organization's finance function at its core including turnover in key positions, too few internal controls, doubtful data, too many time-consuming manual processes, having your best thinking depend on complicated Excel schedules, and finding it impossible to get financial statements done on time. Do any of these sound familiar? These pain points are often symptoms of deeper challenges within an organization's finance function. In this case study-based 60-minute session, participants will learn about a holistic approach they can take to assess the processes, controls, systems, and structure that their finance function uses to operate, and how to develop a road map to get them from today's challenges to the high-performing finance function of the future.
Kelsey Vatsaas is a Principal in CliftonLarsonAllen's consulting practice and leads the firm's national finance department assessment services. Kelsey works with organizations and companies across the country to evaluate their finance and accounting functions, and identify opportunities for improvement in team structures, systems, and processes. Kelsey also helps clients with strategic and business planning, organizational assessments, operational efficiency, financial reporting, and governance evaluations. Kelsey's experience includes planning, project management and executing projects including: conducting assessments of organizations and identifying opportunities to redesign future strategies and/or operations; reorganizing finance and operational departments for increased productivity, autonomy, and efficiency; improving clarity and accuracy of financial reporting to better inform board and managerial decisions; helping organizations think about and plan for their strategic and financial futures; providing market research and proven practices to challenge the status quo and revitalize operations; and performing financial analysis and benchmarking to highlight or support key issues and trending concerns.
NSAC provides access to CLNs to all members as part of their membership dues. For more information about membership, click here.