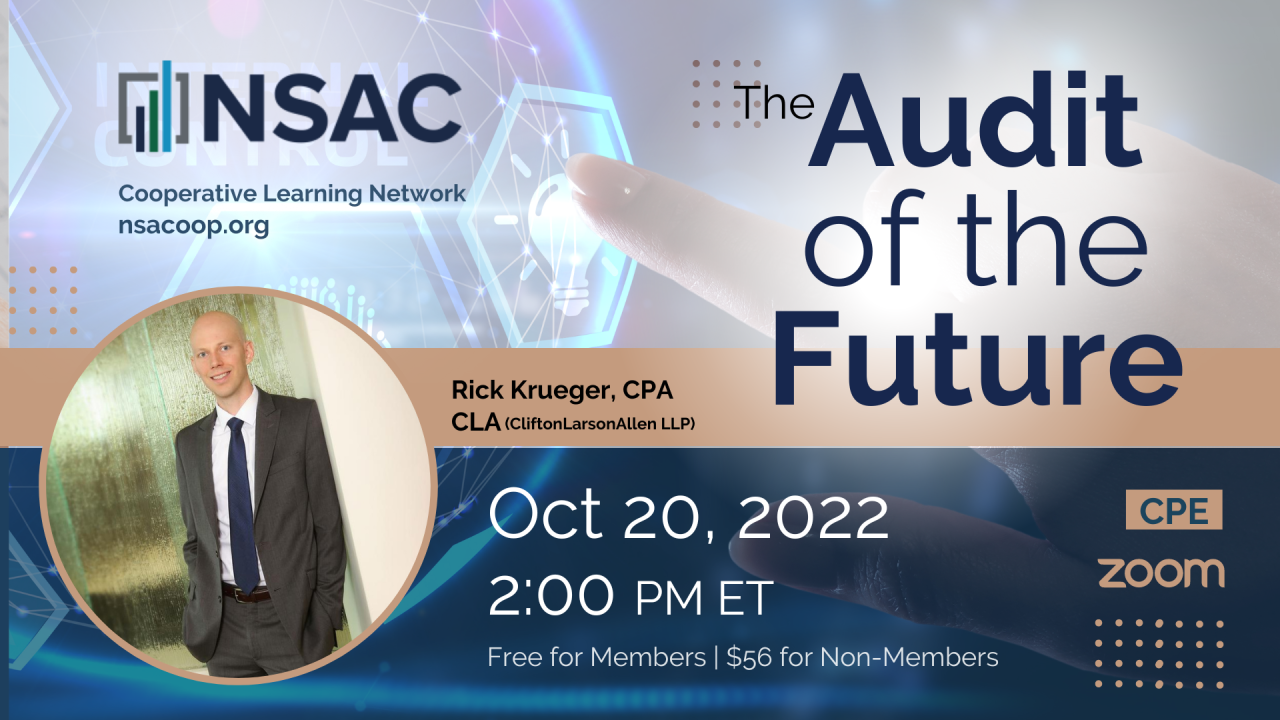 The Audit of the Future
October 20, 2022 2:00pm ET
Location Information:
Zoom

Cost(s): $0.00 Member / $56.00 Non-Member
1.0 CPE Credit
Field of Study: Auditing

Accounting, like almost every industry, is being disrupted by new and emerging technologies. Join us for this 60-minute webinar that examines how this disruption will affect auditing in a unique way. This session will share the most important changes, constants, and uncertainties for the future of audit. Learn why advancements in physical technologies will become more important for deployment in the field, while data analysis, AI, and quantum computing will be impactful when doing testing and sampling. Then discover why technology will be a critical lever for evaluating financial statements as part of audit and due diligence work—and how some things, including the goals of an independent audit, will remain unchanged.
Presenter and Moderator Bios
Presenter: Rick Krueger, CPA, Principal, CLA (CliftonLarsonAllen LLP)
Rick Krueger, Principal, CLA has 20 years of experience and is a member of CLA's National Assurance group. Rick leads the Assurance Innovation and Solutions Team, which oversees a portfolio of technology and process projects that focus on elevating both the client experience and CLA family member experience. Rick's technical expertise includes Health care entities, Nonprofit entities and Cooperatives, Employee benefit plans, and the Impact of COVID-19, including Paycheck Protection Program technical requirements. He received the Bachelor of Business Administration in Accounting with a minor in Spanish from the University of Wisconsin-Whitewater.
Moderator: Wayne Sine, CPA, Director of Education, National Society of Accountants for Cooperatives
Wayne Sine is an experienced and highly knowledgeable professional in the field of Tax. Wayne recently retired as Tax Director from his company, Southern States Cooperative. He has extensive experience working with agricultural cooperatives and has been a long-time member of the NSAC. He is extremely active in the NSAC, serving as both past Chapter President of the Atlantic Chapter, past Chair of the Tax Committee, and is currently serving as the NSAC Director of Education.. Wayne's career is marked with several accomplishments, and he has always been involved in many organizations, spreading his knowledge. Wayne is a member of the Legal, Tax, and Accounting (LTA) Committee for the National Council of Farmer Cooperatives. He is also Past Chair of both the Tax Committee of the Virginia Chamber of Commerce and the Virginia Manufacturers Association. Wayne also served on the Tax Policy Committee at the Virginia Society of CPAs, and served as past Region Vice President for the Tax Executives Institute.