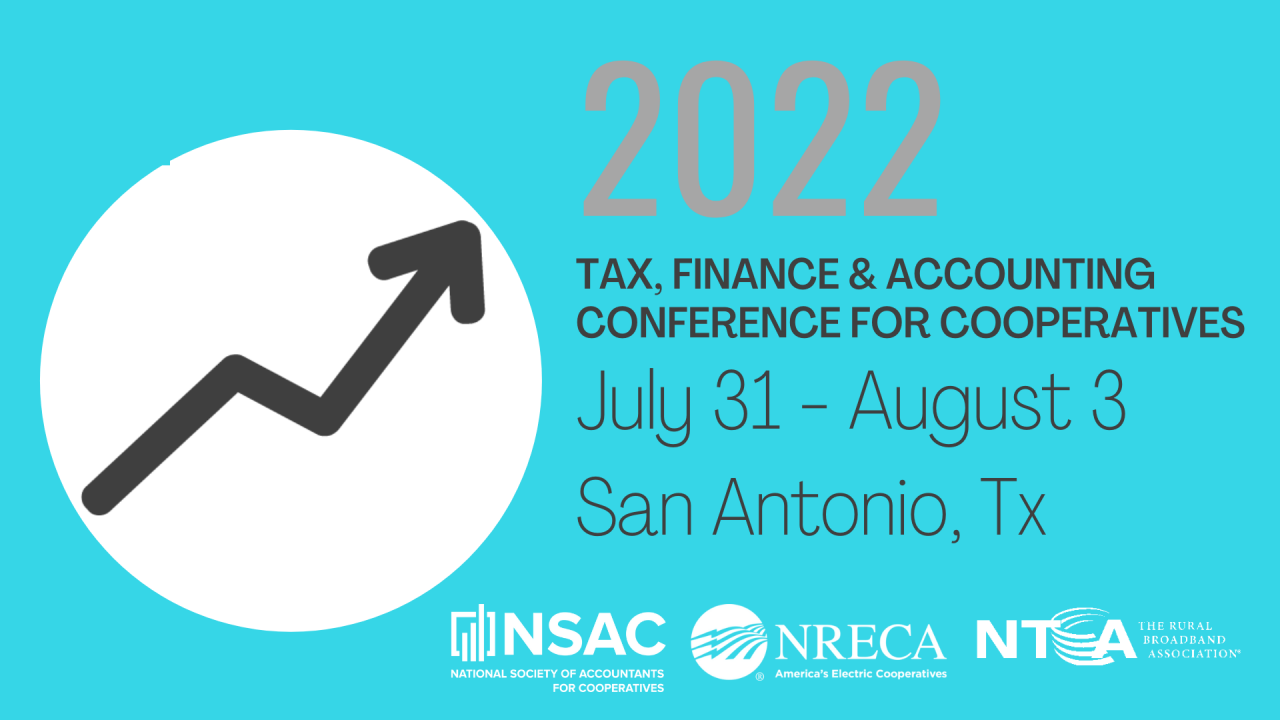 2022 Tax, Finance & Accounting Conference for Cooperatives
July 31, 2022 12:00am - August 3, 2022 12:00am ET
Location Information:
San Antonio Marriott Rivercenter (Virtual Option Available)
101 Bowie Street
San Antonio, TX 78205
United States

Collaboration Among Communities
Join us for the 2022 Tax, Finance & Accounting Conference for Cooperatives (TFACC), in-person in San Antonio or virtually from July 31-August 3, 2022. TFACC is the only conference uniquely tailored to providing education, resources and connections to professionals involved in the financial management and planning of cooperatives. TFACC offers proven strategies, tools and resources to help your co-op increase efficiencies, improve financial controls, streamline regulatory compliance and make transactions manageable. This three-day program is offered in collaboration with NSAC, NRECA, and NTCA.
The program is specifically designed to allow attendees the freedom to customize their conference experience to better serve their professional needs. Participants will have the opportunity to hear from industry experts, network with peers, learn about key developments within the accounting profession, share their ideas with others, and enhance both their professional and personal development. TFACC offers the opportunity to gain real hands-on experience and develop skills that cannot be taught online or in the office.
Who should Attend?
The conference is specifically designed for:
CFOs/COOs/Managers/Directors/Vice Presidents of Finance and Administration
CPAs/Controllers/Accountants
Other cooperative/company staff with accounting responsibilities
If you are involved in cooperative accounting and finance, you won't want to miss this conference. With over 60+ breakout sessions, there is something for everyone!
Riveting Keynotes and Can't-Miss Breakout Sessions!
JOHN GARRET
CPA-Turned-Culture Consultant on a Mission to Shatter the Stereotype
John Garrett is a nationally recognized speaker and emcee who draws on his condition as a recovering Big Four CPA to deliver messages that hit home with corporate audiences. This professional member of the National Speakers Association is on a mission to shatter the definition of "stereotypical professional" and in the meantime, show organizations how to create a stronger culture that attracts and then retains top talent. His book, What's Your "And"?: Unlock the Person Within the Professional, was released in 2020 by Page Two Publishing.
John's clean, customized performances and observations of everyday Corporate America help teams break down barriers, foster unity, and strengthen bonds. With over 2,000 performances, he consistently gets rave reviews from conference planners and organization leaders alike for his lasting impact on morale and culture.
Recognizing how consumed people are in their jobs, the hilarity of everyday Corporate America and how humor transforms the morale and camaraderie of those around him, John left his cubicle to speak at corporate events across the country. Since then, John has performed for leading companies ranging from "Big Four" accounting firms to banks to technology companies to professional associations seeking an outside-of-the-box way to engage their audiences.
Tracks from his comedy album, "Outside the Box," can be heard on several channels on SiriusXM Satellite Radio and Pandora. He's also been heard on The Bob & Tom Radio Network, featured in the New York Times, seen in concert with Train, opened for Louie Anderson at resort casinos and has been invited to perform at several comedy festivals. He's even written two Emmy-nominated awards shows!?
MARCI ROSSELL
Economist and Financial Expert
Marci Rossell is a world-renowned economist and financial expert who electrifies audiences nationwide, speaking candidly on the nexus of economics, politics, culture, and the media. She honed her animated style serving as the popular, lively Chief Economist for CNBC, where she became a household name and a must-watch source of financial news. The former co-host of the well-known "pre-market" morning news and talk show Squawk Box, Rossell is revered for taking complex economic issues, often dull in the button-down business press, and making them relevant to people's lives, families, and careers.
Exclusively represented by Leading Authorities speakers bureau, she discusses America's current and future role in the global economy, factors responsible for recessions, how Washington influences Wall Street and the markets, and the specific forecast for the U.S. economy over the course of the next 18-24 months. She is also well-versed in the stock market, investor behavior, consumer confidence, and what accountable capitalism looks like this year and beyond. With a knack for making complex topics more digestible, Rossell's authentic, high-energy talks deliver a stimulating and often optimistic economic outlook, providing an insider's perspective on key factors of economic disruption. Her creative, thought-provoking commentary will ring in the audience members' ears well after she leaves the stage.
Prior to her career in broadcast journalism, Marci served as Corporate Economist and Investment Spokesperson for OppenheimerFunds, one of the nation's largest mutual fund companies. Her success in the private sector led to her economic commentary being revered and ultimately her appointments on nationally syndicated talk shows. Before moving to Wall Street, she was an expert witness for Deloitte & Touche in court cases involving economic issues. Marci began her career as an economist with the Federal Reserve Bank of Dallas.
TFACC by the Numbers
5 General Sessions
60+ Breakout Sessions
11 Preconference Workshops
2 Networking Receptions
Up to 18 CPE Credits for In-Person Conference
Opportunity to Earn up to an Additional 8 CPE Credits for Preconference Workshops
See the full agenda
Continuing Professional Education Credits
?????2022 Tax, Finance & Accounting Conference for Cooperatives = up to 18 credit hours
Pre-Conference Workshops = up to 8 credit hours
2022 Tax, Finance & Accounting Conference for Cooperatives (TFACC) Online = up to 17 credit hours?
CPE tracking information will be provided on-site and to those attending virtually.
CPE credits are offered via NSAC. The National Society of Accountants for Cooperatives is registered with the National Association of State Boards of Accountancy (NASBA) as a sponsor of continuing professional education on the National Registry of CPE Sponsors (ID# 103068), State boards of accountancy have final authority on the acceptance of individual courses for CPE credit. Complaints regarding registered sponsors may be addressed to the National Registry of CPE Sponsors through its website: www.learningmarket.org.
No prerequisites and/or advance preparation is required for this program, and the program level is basic. Instructional delivery method is "Group Live" or "Group Internet". Contact NSAC at info@nsacoop.org if you have any questions.
Registration Fees
TFACC Conference registration fees include access to all conference general sessions, breakouts, conference-sponsored meal functions and conference materials. Pre-conference workshops are an additional charge.
TFACC Online registration fee includes access to live streaming of all general sessions and breakout sessions. It also includes access to the conference mobile app and all breakout session materials (PPTs, handouts).

REGISTER NOW
NRECA, NSAC and NTCA Member Full Conference Registration Fee
$795
Member One Day Registration Fee (Aug 1 or Aug 2)
$450
Non-Member Registration Fee (Join NSAC today and save $455 on registration fees)
$1,250
Non-Member One-Day Registration Fee (Aug 1 or Aug 2)
$650
Spouse/Guest Registration Fee
$200
(Spouse/Guest Fee includes access to breakfast on Monday, Tuesday and Wednesday as well as Sunday and Monday evening receptions). NOTE: Spouse/Guest Fee is NOT refundable after July 18, 2022.
Preconference Workshops – Sunday, July 31, 2022
8 a.m. - NOON
Using CFC's Compass Model for Financial Planning
$0
Intermediate Excel
$159
8 a.m. – 1 p.m.
The Accountant's Guide for Compliance and Tax Requirements for your Broadband Business
$159
8 a.m. – 5 p.m.
Plant Accounting: Work Orders
$299
CoBank's Beacon Financial Model for Electric Cooperatives
$0
10 a.m. – NOON
Why Ethics are Important
$99
1–3 p.m.
Ethics Behavior in the Accounting Profession
$99
Forming or Becoming a Cooperative
$99
1–5 p.m.
Forecasting the Impact of Non-Electric Lines of Business using CFC's Compass Model
$0
Current Developments in Internal Fraud Prevention and Detection
$159
1:30 – 4:30 p.m.
Federal Policy Impact on Telco Accounting
$159
Optional Activities
Sunday, July 31, 5:30 – 6:30 p.m.: Cooperative Kick-off Mixer
$0
Monday, Aug 1, 7–8 a.m.: Women Leaders in Finance Breakfast
$0
Monday, Aug 1, Noon – 1:45 p.m.: An Update on the Global and Rural US Economy
$0
(Lunch Sponsored by CoBank)
Monday, Aug 1, 6–7 p.m.: San Antonio Networking Reception
$0
Tuesday, Aug 2, 11:50 a.m. – 1:30 p.m.: NSAC Awards and Recognition Lunch
$0
Tuesday, Aug 2, 11:50 a.m. – 1:30 p.m.: NISC User Group Lunch
$0
Tuesday, Aug 2, 11:50 a.m. – 1:30 p.m.: Meridian User Group Lunch
$0
| | |
| --- | --- |
| 2022 TFACC Online Aug 1 – 3: Member fee | $795 |
| 2022 TFACC Online Aug 1 – 3: Non-member fee | $995 |
Hotel: San Antonio Marriott Rivercenter
101 Bowie St., San Antonio, TX 78205 210-223-1000

A city rich in history, home to the Alamo and the river walk, San Antonio is bursting with culture, and booming with modern attractions and invites visitors to discover what is old and explore what is new.

RATE$209 USD/Night + taxes
Make Your Reservation