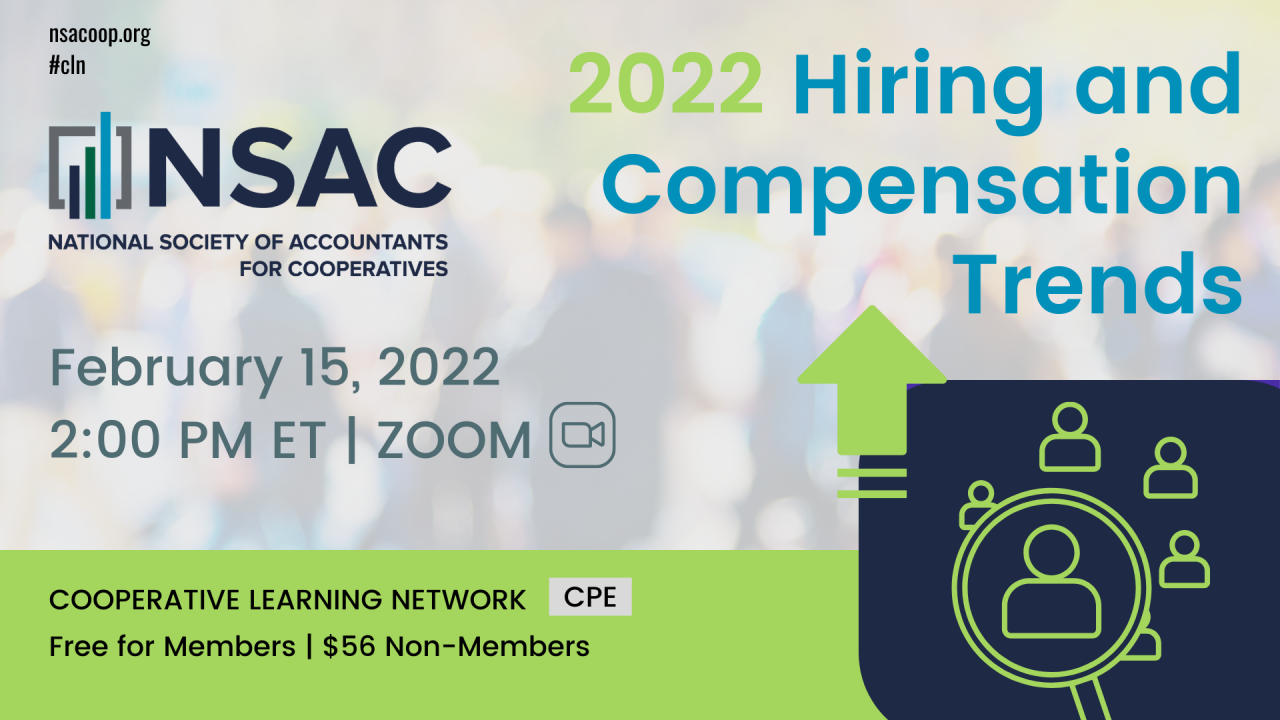 2022 Hiring and Compensation Trends
February 15, 2022 2:00pm ET
Location Information:
Zoom

Cost(s): $0.00 NSAC Member / $56.00 Non-Members
With the return to a candidate-driven market, is your coop prepared to face intense competition for skilled talent? In this session, attendees will examine the emerging hiring and compensation trends in 2022, so that they can make more strategic hiring and business decisions. Participants will learn how to adapt to new ways of doing business with the labor market in a COVID-world, and what companies are doing to retain talent, hire talent, and differentiate themselves in the hiring process. Attendees will walk away with insight into how compensation and benefits are changing as a result of the hiring climate as the country gets back to business.
Learning Objectives:
How remote work is impacting the workforce

What organizations can do to retain current employees and hire new employees in today's labor market

Compensation & Benefit Trends
Speaker: Kyle Duex, AVP, Practice Director – Contract Finance & Accounting Practice, Robert Half
Kyle has worked at Robert Half for almost 3 years, starting in the St. Paul office for the first 2.5 years. This July, he transitioned to lead the Contract Finance & Accounting team for the Minnetonka office. His experience is primarily rooted in building client relationships and talent coordination. He has had 193 positions filled for his clients since starting with Robert Half and has placed 326 candidates into contract roles. All-in-all, he's directly tied to over 400 accounting & finance contract roles in his tenure. Kyle holds a BA in Economics from Lawrence University.
Speaker: Kelly Pease, AVP, Practice Director – Contract Finance & Accounting Practice, Robert Half
Kelly started her career in an Accounting position with a small organization for 8 years prior to moving to Robert Half. She has worked at Robert half since 2016 in a variety of roles. Most recently transitioning from recruiting for our Accounting and Finance Loan Staff Practice to a Practice Director overseeing the Contract Finance & Accounting team for the Bloomington office where she will be moving back into the client facing side of the business building relationships and talent coordination. She has successfully recruited 306 people, helped coordinate 537 positions and has been directly tied to over 1,000 accounting & finance contract roles in her tenure. Kelly holds a BA in Finance from the University of St. Thomas.
Moderator: Bill Erlenbush, CPA, NSAC Director of Education
Bill spent his entire career working in cooperative accounting at GROWMARK. His work experience includes all aspects of order control and billing, accounts receivable/payable, financial accounting and tax. As compliance officer, he had responsibility for the administration of the compliance and ethics program at GROWMARK and its subsidiaries and retail divisions. In addition, he was been involved in negotiating major acquisitions for GROWMARK. His educational background includes a Bachelor of Science degree in Accountancy from the University of Illinois and an MBA from Illinois State University. He is a Certified Public Accountant. Bill is an active member in many industry, professional, and community organizations. He is past president of the Mclean County United Way Board of Directors as well as the past president of the Heartland Community College Foundation Board of Directors.