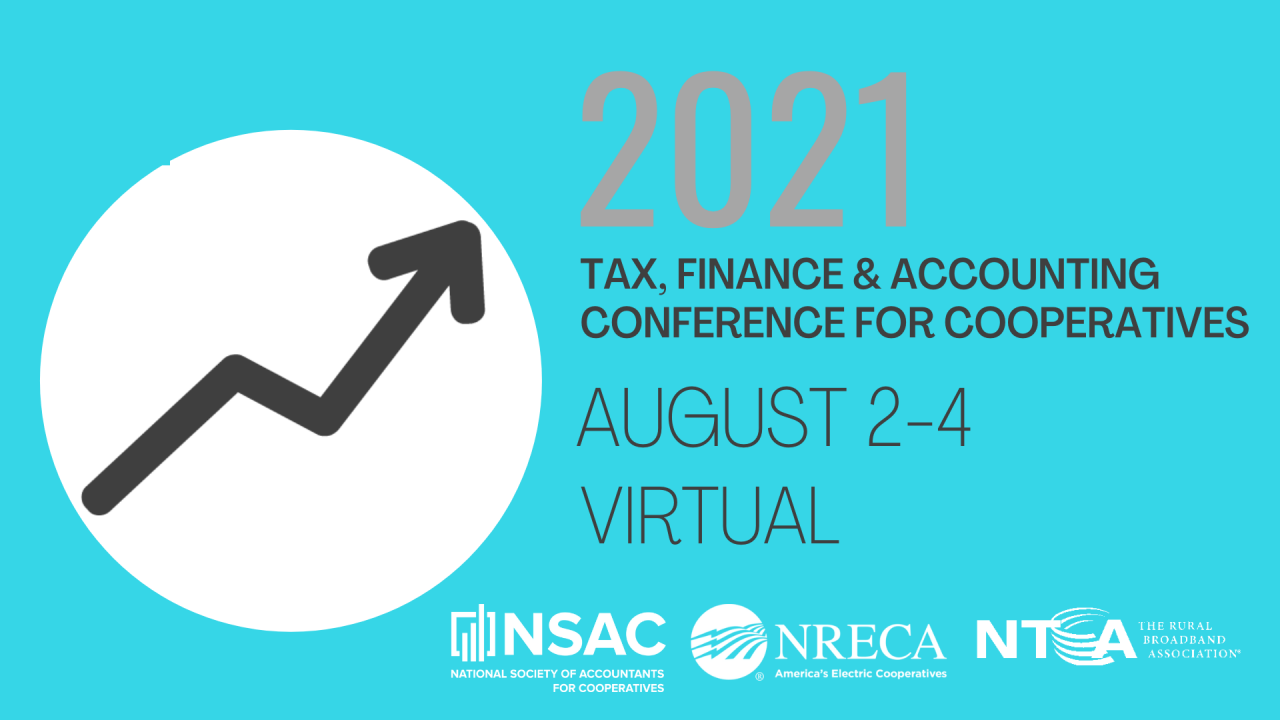 2021 Tax Finance & Accounting Conference for Cooperatives
August 4, 2021 8:00am
Location Information:
Virtual

COLLABORATION AMONG COMMUNITIES
2021 Tax Finance & Accounting Conference for Cooperatives (TFACC) offered in partnership with National Rural Electric Cooperative Association (NRECA) and NTCA–The Rural Broadband Association is the premier national conference for cooperative tax, finance and accounting professionals. This virtual program offers proven strategies, tools and resources to help your co-op increase efficiencies, improve financial controls, streamline regulatory compliance and make transactions manageable.
Exciting Lineup of Speakers and Riveting, Can't-Miss Sessions

Frank Abagnale, Cybersecurity and Fraud Prevention Expert
Frank Abagnale is one of the world's most respected authorities on forgery, embezzlement, and secure documents. Mr. Abagnale's rare blend of knowledge and expertise began more than 50 years ago when he was known as one of the world's most famous con men. His riveting story provided the inspiration for Steven Spielberg's 2002 film, Catch Me If You Can, starring Leonardo DiCaprio as Abagnale and Tom Hanks as the FBI agent fast on his heels.
In this unique presentation, The Art of the Steal, con man turned crime-stopper Frank Abagnale provides the latest information to protect institutions, associations and corporations from embezzlement, forgery, counterfeit currency, check fraud, identity theft, and Internet fraud. He describes white-collar crime techniques, liability concerns under the new Uniform Commercial Code, and demonstrates the latest document features and equipment. Abagnale combines his expertise with anecdotes from his time as one of the world's most successful con men.
John "Gucci" Foley, Former Lead Solo Pilot of the Blue Angels, "Top Ten Carrier Pilot," a best-selling author and an expert on high-performance teams.
Operational excellence requires a process and a mindset that makes high performance repeatable and transferable. The Glad to Be Here® keynote galvanizes people and creates deep human connections that increase trust and execution, closing performance gaps and driving teams forward with a newfound purpose. In these welcoming Remarks, discover how to elevate your team's belief in what is possible, then use that energy to create high-trust contracts and precise execution.
Kelly McDonald, McDonald Marketing
Kelly McDonald is considered one of the nation's top experts in diversity, equity & inclusion (DE&I), leadership, marketing and sales to people "not like you", consumer trends, and leveraging the customer experience. Kelly is a 3X bestselling author and renowned professional speaker. Marketing and advertising specialist Kelly McDonald will lead the discussion on How to Work With & Lead People Not Like You. The people you work with may be from a different generation, different culture, different race, different gender, or just a different philosophy toward work and life in general, but you need to work together toward a common goal. Discover how to dial down the differences, smooth out the friction, and play upon each other's strengths to become more effective, more productive, and less stressed. The keys are to find the common ground and identify hidden conflicts that are hurting productivity.

In addition, there will be over 40 break-out sessions to choose from!

Optional Pre-Conference Workshops on Monday 8/2
The Accountant's Guide to Planning and Managing Your Broadband Business
Mastering Advanced Excel Functions
FCC Rules for Rural Telecom Carriers
Who Should Attend?
The conference is specifically designed for:
CFOs/Managers/Directors/Vice Presidents of Finance and Administration
Accountants
Other cooperative staff with accounting??? responsibilities
Fees
2- Day Conference - Aug 3-4, 2021
NRECA, NSAC and NTCA Member Fee: $495
Non-Member: $695

Optional Preconference workshops – Aug 2, 2021
9:00 AM - 5:00 PM
The Accountant's Guide to Planning and Managing your Broadband Business
Cost with conference registration: $159
Cost without conference registration: $229

9:30 AM – 12:30 PM
Mastering Advanced Excel Functions
Cost with conference registration: $99
Cost without conference registration: $159
1:30 – 4:30 PM
FCC Rules for Rural Telecom Carriers
Cost with conference registration: $99
Cost without conference registration: $159