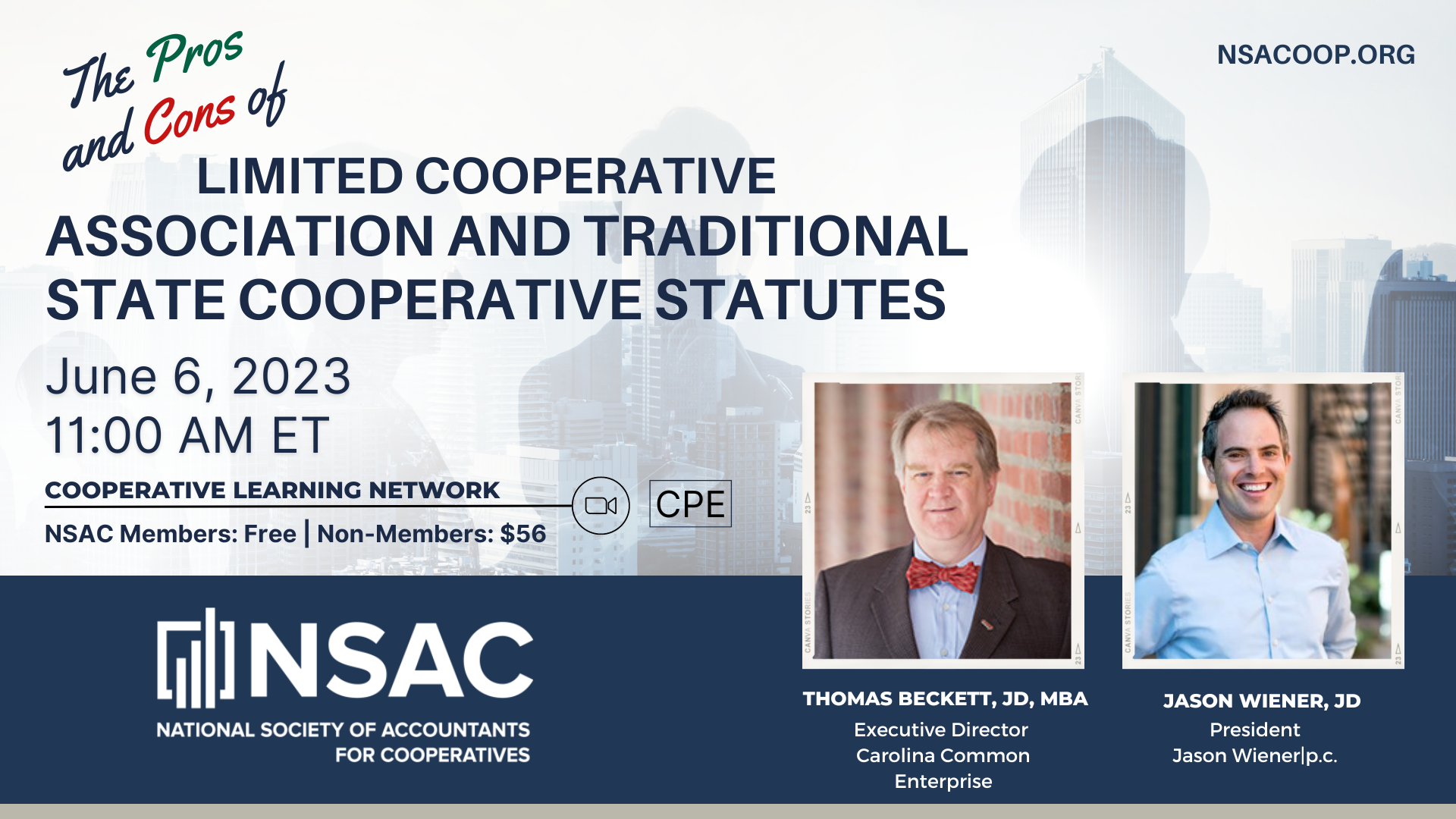 The Pros and Cons of Limited Cooperative Association and Traditional State Cooperative Statutes
June 6, 2023 11:00am ET
Location Information:
Zoom

Cost(s): $0.00 Member / $56.00 Non-Member
CPE: 1 Credit Hour

Traditional state cooperative statutes have long served as the foundation for cooperative practice, embodying key principles such as member patronage, democratic control, member benefit, and restrictions on dividends to investors. However, these statutes can sometimes limit the potential for innovative cooperative structures.
In this insightful webinar, join us as Thomas Beckett, JD, MBA of Carolina Common Enterprise, and Jason Wiener, JD of Jason Wiener P.C., delve into the intricacies of cooperative statutes and shed light on the advantages and drawbacks of two key models: the traditional cooperative statute and the Limited Cooperative Association (LCA) statute.
The session will explore how traditional cooperative statutes have shaped the cooperative landscape and the benefits they offer to member-owned enterprises. Participants will gain an understanding of the core elements and historical context of traditional cooperative statutes.
Our esteemed presenters will then shift the discussion to the LCA statute that retains the essential cooperative principles while also allowing for greater investor involvement and financial returns. They will highlight the various ways in which LCA statutes enable cooperatives to attract investment, offer member benefits, and explore innovative financing options.
By attending this webinar, you will:
Gain a comprehensive understanding of the key principles embodied in traditional cooperative statutes and their significance in a cooperative practice.

Discover the benefits and possibilities offered by Limited Cooperative Association statutes, including enhanced investor involvement, financial returns, and creative financing opportunities.

Understand the pros and cons of each model and how they can impact cooperative enterprises.

Engage in an interactive Q&A session with our experienced presenters to address specific questions and concerns.
Join us for this thought-provoking webinar and equip yourself with the knowledge and insights needed to navigate the complex landscape of cooperative statutes.
Presenter and Moderator Bios
Presenter: Thomas Beckett, JD, MBA, Executive Director, of Carolina Common Enterprise
Thomas Beckett has been a co-op member for most of his life but really became focused on cooperative development during the banking collapse of 2007-08. At that time, he was practicing small business law in Western North Carolina and had taken on incorporating some immigrant worker co-ops as a pro bono project. As the financial crisis unfolded, the need to redesign the economy at a local and human scale became clear. The cooperative business model is just that.
Education and Training
Duke University – B.A. in Public Policy
University of North Carolina School of Law – Juris Doctor
UNC Kenan-Flagler Business School – MBA
CooperationWorks – cooperative business development training
Kauffman Foundation – entrepreneurial development training
Thomas sits on the board of directors of a few co-op organizations, including Shared Capital Cooperative and the Weaver Community Housing Associations. Thomas takes up opportunities to volunteer in the community with his family.
Presenter: Jason Wiener, JD, President, Jason Wiener P.C.
Jason Wiener enjoys the challenge of creatively designing legal and business solutions to persistent social and environmental challenges. Jason comes to this work with a wide range of experience as an entrepreneur, litigator, activist, organizer, and worker-owner. With more than a dozen years of experience as an attorney – including several years in BigLaw litigation, and as a labor lawyer – Jason's range of expertise and experience brings an innovative approach to solving client issues. Jason has walked in the shoes of his clients, as a social entrepreneur in his own right, on the board of non-profits, cooperatives, and corporations. Jason has served on executive strategy, human resources, finance and other management-level teams. Jason has been a thought, do and practice leader in the cooperative, employee ownership, impact finance and capital, and teal lawyering movements. Jason's client work and public speaking have charted a new and grander course for the potential of democratized economic structures to re-calibrate the hazardous course set by "business as usual."
Jason has published more than six scholarly law review articles on international, human rights, and renewable energy topics and speaks regularly about worker-owned and cooperative business model, non-extractive finance, the future of work, the contemporary and teal practice of law, distributed solar policy and sharing economy legal issues. Jason is an adjunct professor in Colorado State University's Global Sustainability and Social Enterprise program, where he teaches an MBA course on business law and ethics. He is also a guest lecturer at the University of Colorado Law School's Entrepreneurial Law Clinic.
His hobbies include mountain biking, yoga, hiking, running, walking his two dogs, coffee, cooking and traveling, and raising his two young children with his amazing wife, Meghan.
Areas of Expertise:
Business Model Architecture and Design
Social Enterprise Entity Formation
Basic Tax
Equity Allocations and Equity Incentive Plans
Founders Agreements
Financing and Capitalization; Securities Compliance
Employment, Consulting, and Independent Contractor Agreements
Corporate Governance
Custom Transactional Support
Employment Compliance
Mergers & Acquisitions
General Outside Counsel
Cooperative Development
Training, Organizational Development, and Public Speaking
Moderator: Meegan Moriarty, Senior Legal Policy Analyst, USDA Rural Business-Cooperative Service
As a senior legal policy analyst for USDA Rural Development Cooperative Programs, Meegan Moriarty tracks and advises on cooperative legal policy developments in state and federal tax, antitrust, securities, and agricultural law areas. She leads a congressionally mandated interagency working group on cooperative development that was created to assist with coordination among federal agencies and private sector cooperative stakeholders on cooperative policy. She leads a nationwide project researching and comparing state cooperative statutes. She is also a national point of contact for Rural Development grant, loan, and guarantee programs that apply to cooperatives. Meegan advocates for cooperative development through speeches, webinars, and written publications. Previously she worked in the National Tax office of Ernst and Young analyzing federal tax legislation and regulations and consulting with clients on business opportunities presented by tax law changes. She has a JD from Georgetown University Law Center and a BA from the University of Notre Dame.