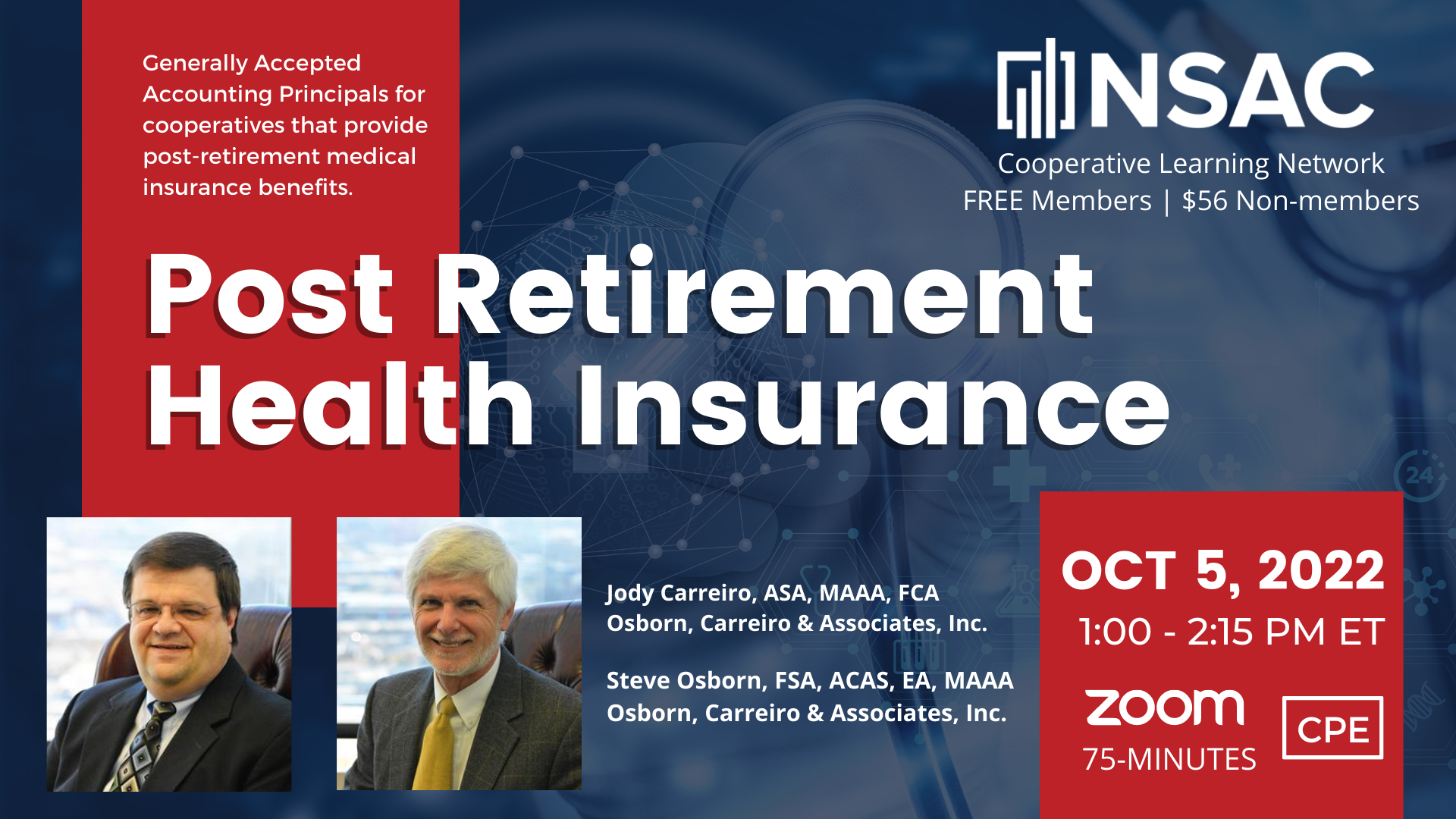 Post Retirement Medical Insurance
October 5, 2022 1:00pm ET
Location Information:
Zoom

Cost(s): $0.00 Member / $56.00 Non-Member
1.5 CPE Credit Hours
Field of Study: Accounting

Join us for the 75-minute zoom designed for cooperatives that provide post-retirement medical insurance benefits. During this session, Jody Carreiro, ASA, MAAA, FCA and Steve Osborn, FSA, ACAS, EA, MAAA, Actuary, from Osborn, Carreiro & Associates, Inc. will discuss the accounting principles generally accepted in the U. S. which require this liability to be estimated and accrued. Depending on the size of the entity, number of participating employees and the level of benefits provided, this accrual results in one of the largest liabilities, outside of long-term debt, on the balance sheet. In order to help cooperatives better understand how this liability is calculated, this session will provide an illustrative calculation and address the following questions:
What are the primary assumptions within the control of the Cooperative?
How do changes in these assumptions impact the liability? For example, what impact does the inflation rate and long-term interest rates have on the liability? Also, what is a reasonable interest rate and/or earnings rate that should be used in today's environment?
How have other entities attempted to curtail these plans as a way to fix or limit the growth of the liability?
What are advantages and disadvantages of funding this liability?
Presenter and Moderator Bios
Presenter: Jody Carreiro, ASA, MAAA, FCA, Actuary, Vice-President, Osborn, Carreiro & Associates, Inc.
Jody Carreiro is an actuary and vice president of Osborn, Carreiro & Associates. He received a B.S.E. in 1980, and a M.S. degree in 1981 in Mathematics from Arkansas State University. He began his career working for several insurance companies and joined Osborn, Carreiro & Associates in 1988. He attained Associate of the Society of Actuaries in 1992 and became a Member of the American Academy of Actuaries that same year. He earned status as an Enrolled Actuary in 1996. Jody recognized as a Fellow of the Conference of Consulting Actuaries in 2010 and is a member of the Public Plans Committee of that organization. Jody volunteers with the public schools and served on the Little Rock School District Board from 2008-2014. He currently serves as a board member of City Year Little Rock and Wildwood Park for the Arts. He is part of the team that performs actuarial valuations for corporate and public employer pension plans, including the post-retirement health benefits calculations for many of them. They also work for several Taft Hartley health plans completing post retirement calculations for them as well. Their group completes post-retirement health benefit calculations for about 10 Electric Cooperatives. Jody has over 30 years of experience in actuarial valuations for pension and post-retirement health benefit plans.
Presenter: Steve Osborn, FSA, ACAS, EA, MAAA, Actuary, President, Osborn, Carreiro & Associates, Inc.
Steve Osborn is president of the firm, Carreiro & Associates, Inc. A graduate of Subiaco Academy, he earned a B.S. degree in Mathematics from Christian Brothers College in Memphis in 1977, following up with a M.S. degree in Mathematics from the University of New Orleans in 1981. In 1977 Mr. Osborn joined Richard F. Camus & Associates in New Orleans, beginning his actuarial training. In 1981 he joined the Dallas office of Peat, Marwick, Mitchell & Co., ultimately reaching the Manager level. In 1986 he rejoined Richard F. Camus & Associates, opening their Little Rock office.
Steve became a Fellow of the Society of Actuaries in 1984, and he served on the Examination Committee for the Part P-461U exam (pension specialty) of the Society. Other professional credentials include Membership in the American Academy of Actuaries (1980), Associateship in the Casualty Actuarial Society (1993), and status as an Enrolled Actuary (1979). He has volunteered and coached youth baseball for over twenty years. Mr. Osborn is an Eagle Scout.


Moderator: Wayne Sine, CPA, Director of Education, National Society of Accountant for Cooperatives
Wayne Sine is an experienced and highly knowledgeable professional in the field of Tax. Wayne recently retired as Tax Director from his company, Southern States Cooperative. He has extensive experience working with agricultural cooperatives and has been a long time member of the NSAC. He is extremely active in the NSAC, serving as both past Chapter President of the Atlantic Chapter, past Chair of the Tax Committee, and is currently serving as the NSAC Director of Education.. Wayne's career is marked with several accomplishments, and he has always been involved in many organizations, spreading his knowledge. Wayne is a member of the Legal, Tax, and Accounting (LTA) Committee for the National Council of Farmer Cooperatives. He is also Past Chair of both the Tax Committee of the Virginia Chamber of Commerce and the Virginia Manufacturers Association. Wayne also served on the Tax Policy Committee at the Virginia Society of CPAs, and served as past Region Vice President for the Tax Executives Institute.