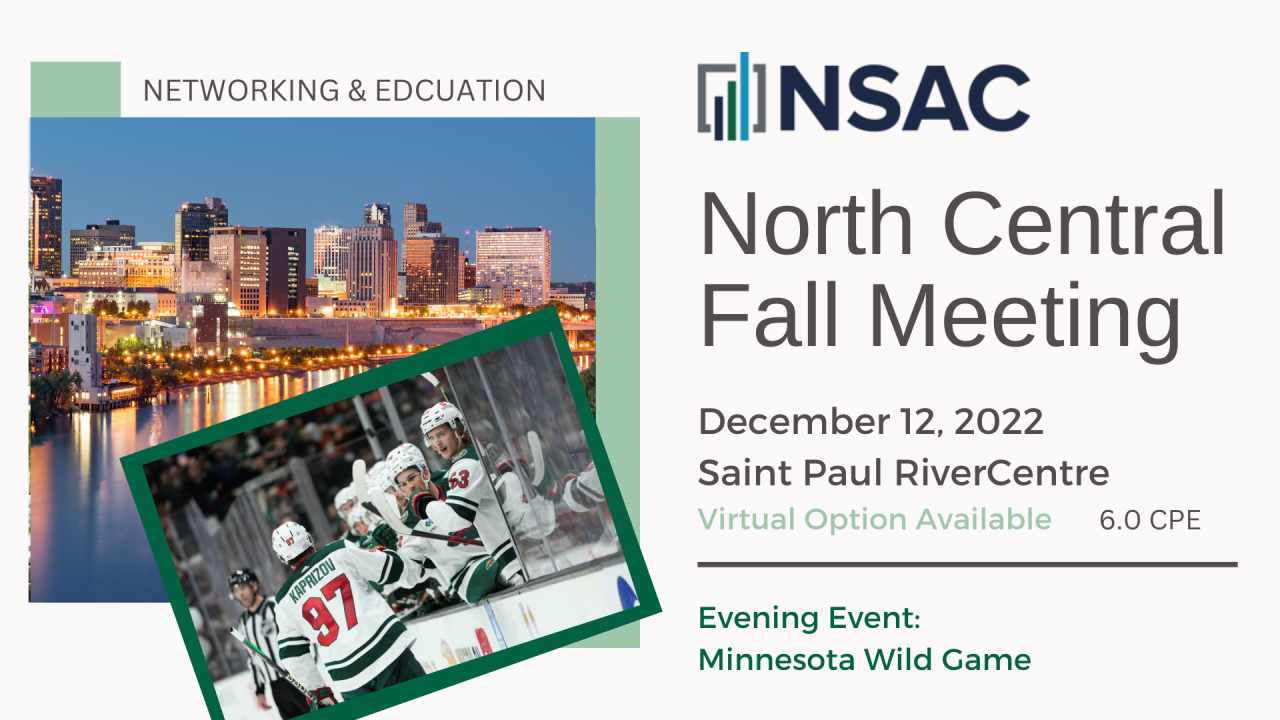 North Central 2022 Fall Meeting
December 12, 2022 8:30am CT
Location Information:
Saint Paul RiverCentre
175 Kellogg Blvd West
St Paul, MN 55102
United States

Cost(s): $100.00 In-person / $75.00 Virtual
The North Central Chapter is hosting its fall meeting on Monday, December 12, 2022, at the Saint Paul RiverCentre in St. Paul, MN. We will be offering 6 hours of CPE! Topics include How to Become a Person of Influence, Economic Outlook, 401(k) and Secure Act, Inflation Reduction Act, and Tax Update, as well as ESG for Cooperatives. That evening we will attend the Minnesota Wild game as they take on the Edmonton Oilers. Join us for a great day filled with education and networking connections!
Date:
Monday, December 12, 2022
Registration begins at 8:30, meeting from 9:00 am until 4:15 pm
Registration prices:
$100 in person conference attendance
$75 virtual conference attendance
$60 Minnesota Wild game
Agenda
Time
Topic

Speaker

CPE Area

8:30 - 9:00 CT
Registration and Continental Breakfast
9:00 - 9:10 CT
Welcome and early bird prizes
9:15 - 10:30 CT
Tax Update

Jacob Forseth
CliftonLarsonAllen

Taxes

10:30 - 11:20 CT
Fiduciary Responsibilities and Secure Acts Update

Andy Schieldt and Charles Clark
Milliman

Specialized Knowledge

11:30 - 12:30 CT
Lunch
12:30 - 1:20 CT
Economic Update

Laura Bordelon
Minnesota Chamber

Economics

1:20 - 2:10 CT
Environmental, Social and Governance for Cooperatives

Rita Bielinski
Land O'Lakes, Inc

Specialized Knowledge

2:15 - 2:45 CT
Business Meeting
2:45 - 3:00 CT
Break
3:00 - 4:15 CT
How to Become a Person of Influence

Jason Hunt
Influencing for Impact

Personal Development

2:45 - 3:00 CT
Minnesota Wild game vs. Edmonton Oilers
Learning Objective: Enable participants to become more effective accounting, tax, and legal employees working for and with cooperatives by providing a professional forum for the discussion of cooperative accounting, tax, and other business issues.
Delivery Method: Lecture and group discussion.
Program Level: Beginning and intermediate update for accounting, tax, and legal employees working for and with cooperatives:
Prerequisites: None
Advanced Preparation: None

Earn six CPE Credits (1 – Economics, 1.5 – Personal Development, 2 – Specialized Knowledge, 1.5 – Taxes)
ABOUT THE PRESENTERS
Jacob Forseth – CliftonLarsonAllen
Tax Manager
Jacob is a tax manager at CliftonLarsonAllen. He has more than seven years of experience, specializing in accounting, consulting, and tax for corporations, partnerships and individuals. He has a bachelor's degree in Accounting and Finance from the University of Wisconsin-La Crosse and is a certified public accountant.
Charles Clark – Milliman
Principal & Director – Employee Benefits Research Group
Charles J. Clark is director of the Employee Benefits Research Group at Milliman.
Charlie serves Milliman's Employee Benefits practice by providing analysis of legislation, regulations, accounting standards, and formal and informal agency guidance for implications on employee benefits. He manages the training of consultants on developing employee benefits and technical issues and assists in producing Milliman publications and technical resources.
Throughout his career, Charlie has worked extensively with colleagues, plan sponsors, leaders of Washington, D.C., employee benefits trade groups, and lawmakers on employee benefit program strategy, design, pricing, communications, and interpretation. He is recognized for his ability to develop and clearly articulate plan sponsor strategies from complex and technical IRS and FASB rules. He was appointed as the actuary on the Department of Labor's ERISA Advisory Council from 2004 to 2006 and as a delegate to the National Savers Summit in 2006. He has made presentations at the White House, the Treasury, the Pension Benefit Guaranty Corporation, and at highly respected Washington trade group benefits committee venues. Charlie graduated from the State University of New York at Albany.
Andy Schieldt – Milliman
Consultant & Relationship Manager
Andy Schieldt is a relationship manager with the Employee Benefits Administration Practice. He joined the firm in 2010. Currently, Andy is on the Milliman Co-op 401(k) team and serves the Midwestern territory. He has been in the retirement industry since 2005.
Andy is currently responsible for managing the Co-op 401(k) plan along with a large team of professionals. He travels all across the Midwest to serve his clientele and bring in new business. Andy has a bachelor's degree in Accounting and Business Administration from Lakeland University in Plymouth, WI as well as education in Dairy Farm Management and Crops and Soils from the University of Wisconsin-Madison. He is a Certified Family Business Specialist.
Laura Bordelon – Minnesota Chamber of Commerce
Senior Vice President– Advocacy
Laura Bordelon is senior vice president for advocacy at the Minnesota Chamber of Commerce, a position she has held since November 2011. In her role, she leads the organization's public policy, grassroots and political engagement strategies. She directed the Minnesota Chamber's education, telecommunications and energy policy from 2000-2004. She was a policy director for Governor Tim Pawlenty from 2004 to 2005 and then was named director of legislative and cabinet affairs in 2006. She most recently was director of corporate state government affairs for Medtronic Inc.
She graduated with a bachelor of arts degree from the University of Minnesota. Her community involvement includes being a board member of the Minnesota Government Relations Council and the Minnesota Zoo.
Rita Bielinski – Land O'Lakes, Inc
Director – Operations Sustainability
Rita Bielinski is the Director of Operations Sustainability at Land O'Lakes. She leads the enterprise ESG goals and measurements, supply chain sustainability, and the annual publication of the corporate ESG Report. She's part of several external working groups on greenhouse gas accounting, plastics reduction, and water efficiency for national and even global partnerships in tackling these challenging areas.
Rita's past experience includes 30 years of supply chain roles at Land O'Lakes, Target, and General Mills. She holds a Bachelor's in Chemical Engineering from the University of Minnesota.
Jason Hunt – Eye Squared Leadership
Founder and Chief Executive Officer
Jason Hunt makes it easier for people to like and follow their leaders. He is the founder and CEO of Eye Squared Leadership and he has had the pleasure of working over 15,000 people in organizations large and small. Jason's first major leadership role was to run a branch of 100 church members in outer Siberia when he was 19. Since then, he has served in a number of leadership positions, including principal of a school.
Jason has a master's degree in leadership, is certified by the John Maxwell Leadership Institute, and is the author of five books. Jason lives in Owatonna, Minnesota with his wife and four kids.
CPE
The National Society of Accountants for Cooperatives is registered with the National Association of State Boards of Accountancy (NASBA), National Registry of CPE Sponsor identification number 103068, as a sponsor of continuing professional education. State boards of accountancy have final authority on the acceptance of individual courses for CPE credit. Complaints regarding registered sponsors may be addressed to the National Registry of CPE Sponsors, 150 Fourth Ave., N., Nashville, TN, 37219-2417. Web site: www.nasba.org. In accordance with the standards of the National Registry, CPE credits are granted based on a 50-minute hour.

QUESTIONS?
Questions can be directed to Julia Sevald at jmsevald@landolakes.com or Abby Williamson at abbyw@carlsonsv.com.