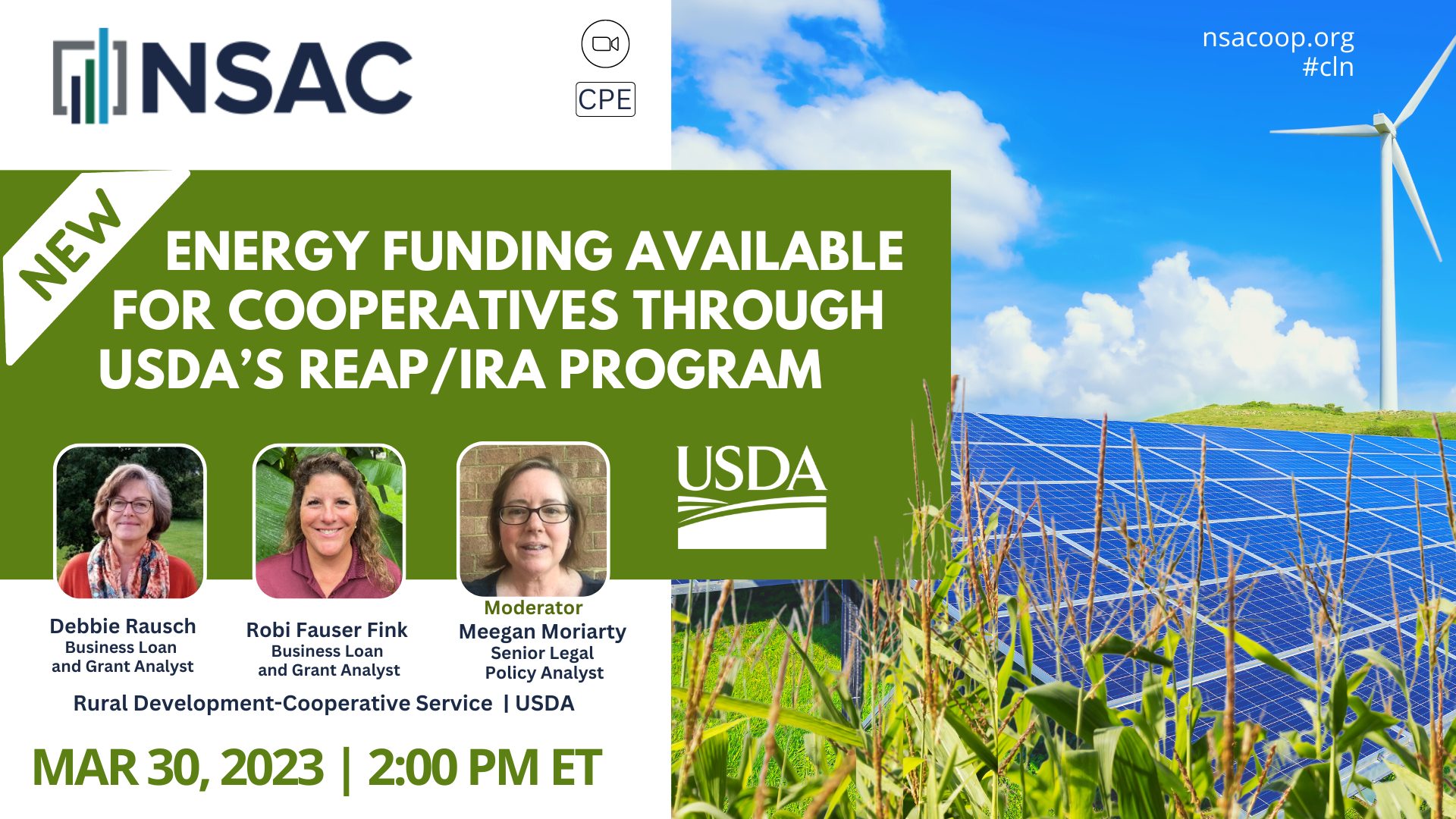 New Energy Funding Available for Cooperatives Through USDA's REAP/IRA Program
March 30, 2023 2:00pm ET
Location Information:
Zoom

Cost(s): $0.00 Member / $56.00 Non-Member
Want to learn more about USDA Rural Energy for America Program Renewable Energy Systems & Energy Efficiency Improvement Guaranteed Loans & Grants? What does the program do and who may apply for this program? Join us for this 60-minute zoom to find out how rural cooperatives can benefit from grants and guaranteed loans to finance renewable and energy efficiency upgrades through the USDA's IRA Rural Energy for America Program. Agricultural producers and small businesses may be able to access energy improvements including:
• Insulation, heating, and/or cooling
• Lighting and/or automated control systems
• Doors and windows
• Solar, wind, geothermal, and/or hydroelectric
• Anaerobic digesters
• Biomass
• Wave/ocean power
Agricultural producers may apply for new energy-efficient equipment and new system loans for agricultural production and processing.
Rural electric cooperatives can apply for the grant to provide energy audits and technical assistance to rural small businesses and agricultural producers.
The Inflation Reduction Act provided an additional $2 billion for the Rural Energy for America Program (REAP). USDA made $300 million available in the first round; while the application deadline is March 31, look for additional notices of funding availability to be published in the future.
Presenter and Moderator Bios
Presenter: Robi Fauser Fink, Business Loan and Grant Analyst, Rural Development | Business Development Division/Cooperative Services Branch, United States Department of Agriculture
Robi Fauser Fink started with USDA Rural Development (RD) for the state of Kentucky in 2011 in the Single Family Housing department and transferred to the Rural Business Cooperative Service in 2014 where she learned over 20+ programs that could assist rural residents. In 2022 she transitioned to USDA's Cooperative Services Branch where she is deepening her knowledge of co-op structures and acts as a resource to connect co-ops with programs at USDA Rural Development and other federal agencies which cooperatives may access.
Presenter: Debbie Rausch, Business Loan and Grant Analyst, Cooperative Services Branch, Business Development Division Rural Business-Cooperative Service | Rural Development United States Department of Agriculture
Debbie has been with USDA since May of 1999. In January 2021, she accepted a position as part of the National Office Staff in the Cooperative Services Division. Prior to that she served as a Business Program Specialist for the Business and Cooperative Services Programs in the Ohio State Office. She was responsible for direct and guaranteed loan making and servicing. She also provided technical assistance regarding loan and grant programs within Rural Development. Prior to joining USDA, Debbie worked for Cooperative Extension in an eight-county area of Northwest Ohio focused on farm management and business planning. She also worked at the Cornell Cooperative Extension of St. Lawrence County New York as a dairy and livestock agent. Debbie received her Bachelor of Science in Dairy Science and a Master of Science in Agricultural Economics both from Ohio State University. She and her husband are currently the 4th generation to steward the family farm in Central Ohio. We are so happy to have Debbie with us today to tell us about grant and loan opportunities at USDA Rural Development.
Moderator: Meegan Moriarty, Senior Legal Policy Analyst, USDA Rural Business-Cooperative Service
As a senior legal policy analyst for USDA Rural Development Cooperative Programs, Meegan Moriarty tracks and advises on cooperative legal policy developments in state and federal tax, antitrust, securities, and agricultural law areas. She leads a congressionally mandated interagency working group on cooperative development that was created to assist with coordination among federal agencies and private sector cooperative stakeholders on cooperative policy. She leads a nationwide project researching and comparing state cooperative statutes. She is also a national point of contact for Rural Development grant, loan, and guarantee programs that apply to cooperatives. Meegan advocates for cooperative development through speeches, webinars, and written publications. Previously she worked in the National Tax office of Ernst and Young analyzing federal tax legislation and regulations and consulting with clients on business opportunities presented by tax law changes. She has a JD from Georgetown University Law Center and a BA from the University of Notre Dame.
Moderator: Wayne Sine, CPA, MBA, Director of Education, National Society of Accountants for Cooperatives
Wayne Sine is an experienced and highly knowledgeable professional in the field of Tax. Wayne recently retired as Tax Director from his company, Southern States Cooperative. He has extensive experience working with agricultural cooperatives and has been a long-time member of the NSAC. He is extremely active in the NSAC, serving as both past Chapter President of the Atlantic Chapter, and past Chair of the Tax Committee, and is currently serving as the NSAC Director of Education.. Wayne's career is marked by several accomplishments, and he has always been involved in many organizations, spreading his knowledge. Wayne is a member of the Legal, Tax, and Accounting (LTA) Committee for the National Council of Farmer Cooperatives. He is also Past Chair of both the Tax Committee of the Virginia Chamber of Commerce and the Virginia Manufacturers Association. Wayne also served on the Tax Policy Committee at the Virginia Society of CPAs and served as past Region Vice President for the Tax Executives Institute.