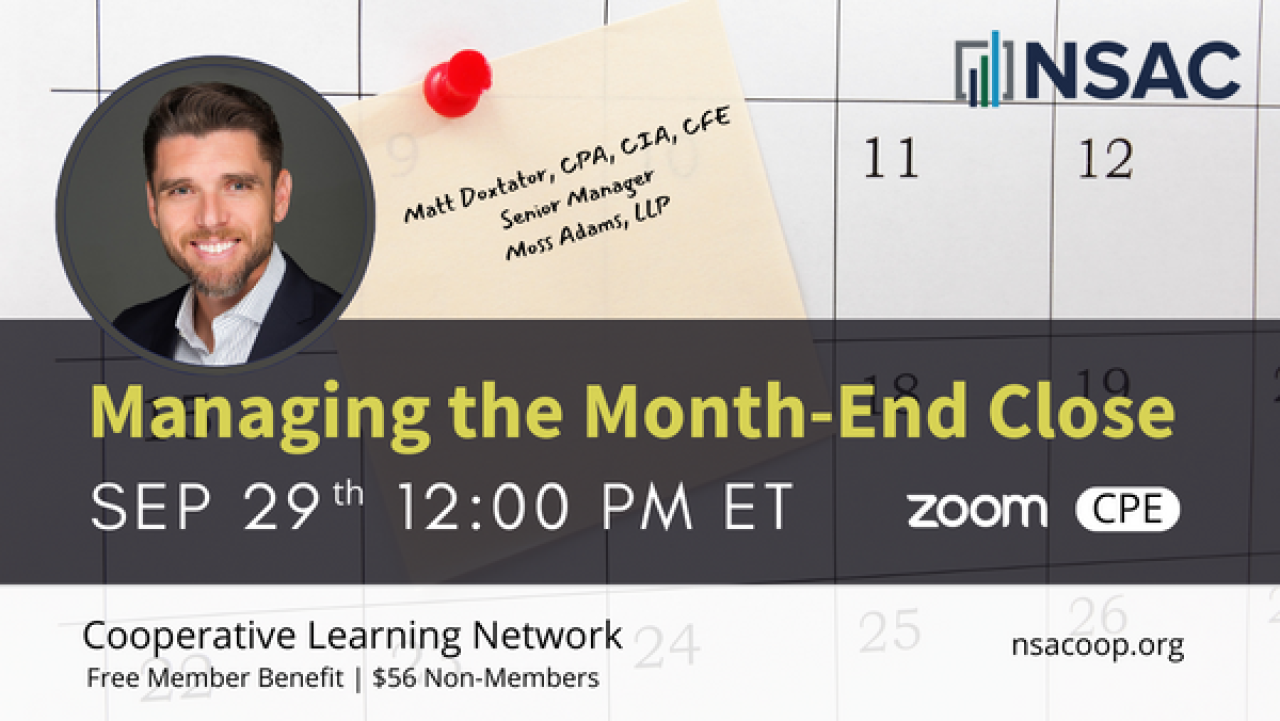 Managing the Month-End Close
September 29, 2022 12:00pm ET
Location Information:
Zoom

Cost(s): $0.00 Member / $56.00 Non-Member
1.0 CPE Credit
Field of Study: Accounting

The need for real-time financial information continues to increase as the operating environment is rapidly changing. This session will discuss strategies to improve the timeliness of your organization's closing procedures and ability to produce financial statements earlier in the month. The strategies and processes associated with month-ending closings are vital routines that should be implemented and continually refined and improved within an organization. Participants will take away several tips and time-saving ideas from this session such as implementing a calendar system to improve the timeliness of monthly close, evaluating existing accrual processes and implement changes to expedite the close process, and additional methods to improve the monthly close process.
Presenter and Moderator Bios
Presenter: Matt Doxtator, CPA, CIA, CFE, Senior Manager, Moss Adams LLP
Matt Doxtator has provided outsourced management consulting and internal audit services across multiple industries since 2005. In addition to serving clients in public accounting and consulting, he's held Sarbanes–Oxley Act (SOX) and internal audit leadership positions for organizations subject to SOX 404(b) requirements.
Matt also leads fraud investigations for companies of various sizes and has experience coordinating with legal counsel as well as federal and local law enforcement.
Matt is a frequent presenter on internal audit and fraud topics, and he's a former adjunct faculty member at the University of New Mexico. There, he taught internal and financial statement audit classes at both the undergraduate and graduate levels.
Moderator: Wayne Sine, CPA, Director of Education, National Society of Accountant for Cooperatives
Wayne Sine is an experienced and highly knowledgeable professional in the field of Tax. Wayne ecently retired as Tax Director from his company, Southern States Cooperative. He has extensive experience working with agricultural cooperatives and has been a long time member of the NSAC. He is extremely active in the NSAC, serving as both past Chapter President of the Atlantic Chapter, past Chair of the Tax Committee, and is currently serving as the NSAC Director of Education.. Wayne's career is marked with several accomplishments, and he has always been involved in many organizations, spreading his knowledge. Wayne is a member of the Legal, Tax, and Accounting (LTA) Committee for the National Council of Farmer Cooperatives. He is also Past Chair of both the Tax Committee of the Virginia Chamber of Commerce and the Virginia Manufacturers Association. Wayne also served on the Tax Policy Committee at the Virginia Society of CPAs, and served as past Region Vice President for the Tax Executives Institute.