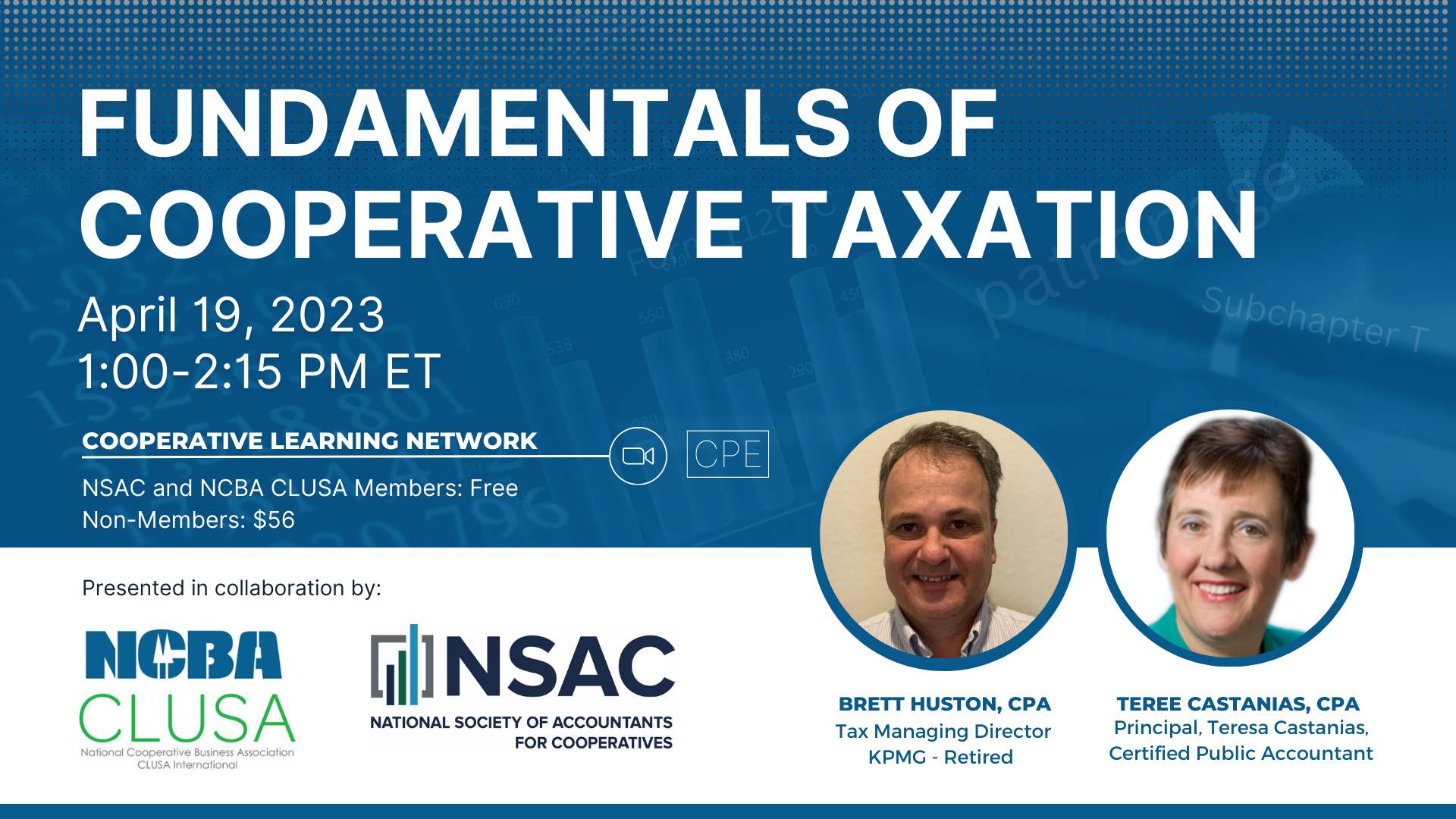 Fundamentals of Cooperative Taxation
April 19, 2023 1:00pm ET
Location Information:
Zoom

Cost(s): $0.00 Member / $56.00 Non-Member
1.5 CPE Credit Hours
Free for NSAC and NCBA Members | $56 Non-Members

We are excited to announce that Teree Castanias and Brett Huston, both CPAs with a combined experience of over 72 years in cooperative taxation, will present the basic rules of Subchapter T of the Internal Revenue Code and describe how those rules affect a cooperative's tax return, Form 1120-C.
This 75-minute zoom will dive into how to operate on a cooperative basis for tax purposes, and how a company must meet specific tax rules in Subchapter T of the Internal Revenue Code. Attendees will gain an understanding of the basic rules that must be met under Subchapter T.

Our panel of experts will explain the definition of a patronage dividend and how it can be computed and distributed to members/patrons, the taxation of the member/patron, and the Form 1120-C that is used by Subchapter T cooperatives for filing its tax return.
This session will be helpful for anyone who wants to know what tax rules are required for a cooperative.
Presenter and Moderator Bios
Presenter: Teree Castanias, CPA, Principal, Teresa Castanias, CPA
Teree is a CPA and has been working with cooperatives for over 40 years. She retired from KPMG in September 2009 after 32 years where she was a Tax Partner and the firm's National Director for Cooperatives. She has worked with many types of cooperatives over the years, including large and small agricultural marketing and supply cooperatives, wholesale grocery, specialty supply, rural electric, Farm Credit agricultural lending, consumer grocery, and worker cooperatives of various types. She has assisted cooperatives from inception throughout their corporate life. Teree has been active in legislative issues affecting cooperatives, including Section 199 in 2005 and its predecessor provision, Section 199A, in 2017. Teree is active in several cooperative organizations - National Council of Farmer Cooperatives, National Society of Accountants for Cooperatives, and recently Cooperative Professional Guild. She has been in leadership positions in NCFC and NSAC, and is a frequent speaker at webinars and conferences of all of these organizations.
Teree continues to provide cooperative consulting and litigation support services to all types of cooperatives in her own firm from October 2009 to present.
Teree recently retired from the Farm Credit West board of directors upon its merger with Northwest Farm Credit Services which became AgWest Farm Credit. She also served on the board of directors of California Center for Cooperative Development in Davis, California for over 15 years. Currently she is serving as a board advisor to Wine Service Cooperative in Napa, California, and as a Finance Committee member for Davis Food Cooperative in Davis, California.
Presenter: Brett Huston, CPA, Tax Managing Director, Associate National Director of Cooperative Tax Services, KPMG - retired
Brett is a CPA located in Auburn California. He has been working with cooperatives for over 32 years. He will be retired from KPMG in February 2023 and will continue to work with cooperatives in retirement. Brett was a Tax Managing Director with KPMG and the Associate National Director of cooperative tax services for KPMG working out of the Sacramento office. He has worked with agriculture marketing, supply, rural electric, consumer and Farm credit cooperatives. He has experience in providing tax compliance and consulting services to cooperatives including consultation regarding Section 199A, patronage and nonpatronage allocations, cooperative bylaw review, and state and local cooperative issues. He is currently a tax member of the National Council of Farmer Cooperatives and the National Society of Accountants for Cooperatives.
Moderator: Wayne Sine, CPA, MBA, Director of Education, National Society of Accountants for Cooperatives
Wayne Sine is an experienced and highly knowledgeable professional in the field of Tax. Wayne recently retired as Tax Director from his company, Southern States Cooperative. He has extensive experience working with agricultural cooperatives and has been a long-time member of the NSAC. He is extremely active in the NSAC, serving as both past Chapter President of the Atlantic Chapter, and past Chair of the Tax Committee, and is currently serving as the NSAC Director of Education.. Wayne's career is marked by several accomplishments, and he has always been involved in many organizations, spreading his knowledge. Wayne is a member of the Legal, Tax, and Accounting (LTA) Committee for the National Council of Farmer Cooperatives. He is also Past Chair of both the Tax Committee of the Virginia Chamber of Commerce and the Virginia Manufacturers Association. Wayne also served on the Tax Policy Committee at the Virginia Society of CPAs and served as past Region Vice President for the Tax Executives Institute.