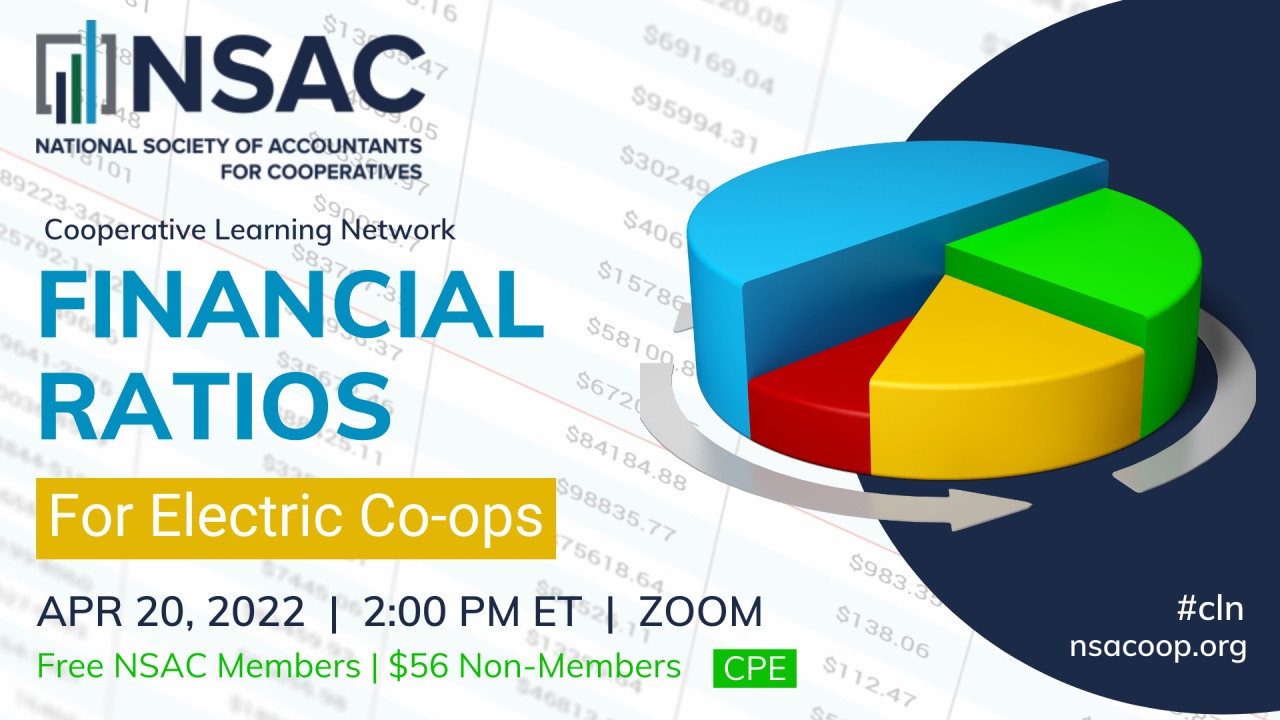 Financial Ratios for Electric Co-ops
April 20, 2022 2:00pm ET
Location Information:
Zoom

Cost(s): $0.00 NSAC Member / $56.00 Non-Member
Register Now
NOTE: If you wish to register for Financial Ratios for Agricultural Co-ops, please click here.

Field of Study: Finance
CPE: 1 Credit Hour
Designed specifically for Electric Co-ops, this session will demonstrate a quantitative method of gaining insight into a company's performance from an evaluation of its financial statements and introduce ratios used in the financial analysis of cooperatively structured organizations. Learn what to look for when comparing an electric co-op to its peers and to industry norms, and how to analyze company performance compared to strategic business objectives.
Learning Objectives:
To introduce financial ratios used in the financial analysis of an electric co-op

To compare a company to its peers and to industry norms

To analyze company performance compared to strategic business objectives

To identify what the ratios will and will not reveal

Jim Halvorsen, CPA , Principal, CLA

A graduate of University of Wisconsin Eau Claire, Jim has more than twenty-three years of experience in public accounting. He specializes in providing auditing, accounting, and consulting services for cooperatives and agribusiness organizations. Jim is a member of the firm wide agribusiness and cooperative (ABC) group leadership team and is involved with providing direction and education for the ABC group to ensure clients receive the quality services they expect and deserve. Jim has worked directly with clients to improve their internal accounting functions, controls, and financial statement reporting processes. He has been involved with assisting management and board of directors in improving their evaluation and review of month-to-month financial statements. Jim has assisted grain elevators in understanding the impact on their margins related to price fluctuations and basis movement. His involvement in various local and national organizations allows him to be a resource for the clients he serves.

Bill Erlenbush, CPA, NSAC Director of Education
Bill Erlenbush spent his entire career working in cooperative accounting at GROWMARK. His work experience includes all aspects of order control and billing, accounts receivable/payable, financial accounting, and tax. As compliance officer, he had responsibility for the administration of the compliance and ethics program at GROWMARK and its subsidiaries and retail divisions. In addition, he was been involved in negotiating major acquisitions for GROWMARK. His educational background includes a Bachelor of Science degree in Accountancy from the University of Illinois and an MBA from Illinois State University. He is a Certified Public Accountant. Bill is an active member in many industry, professional, and community organizations. He is past president of the Mclean County United Way Board of Directors as well as the past president of the Heartland Community College Foundation Board of Directors.