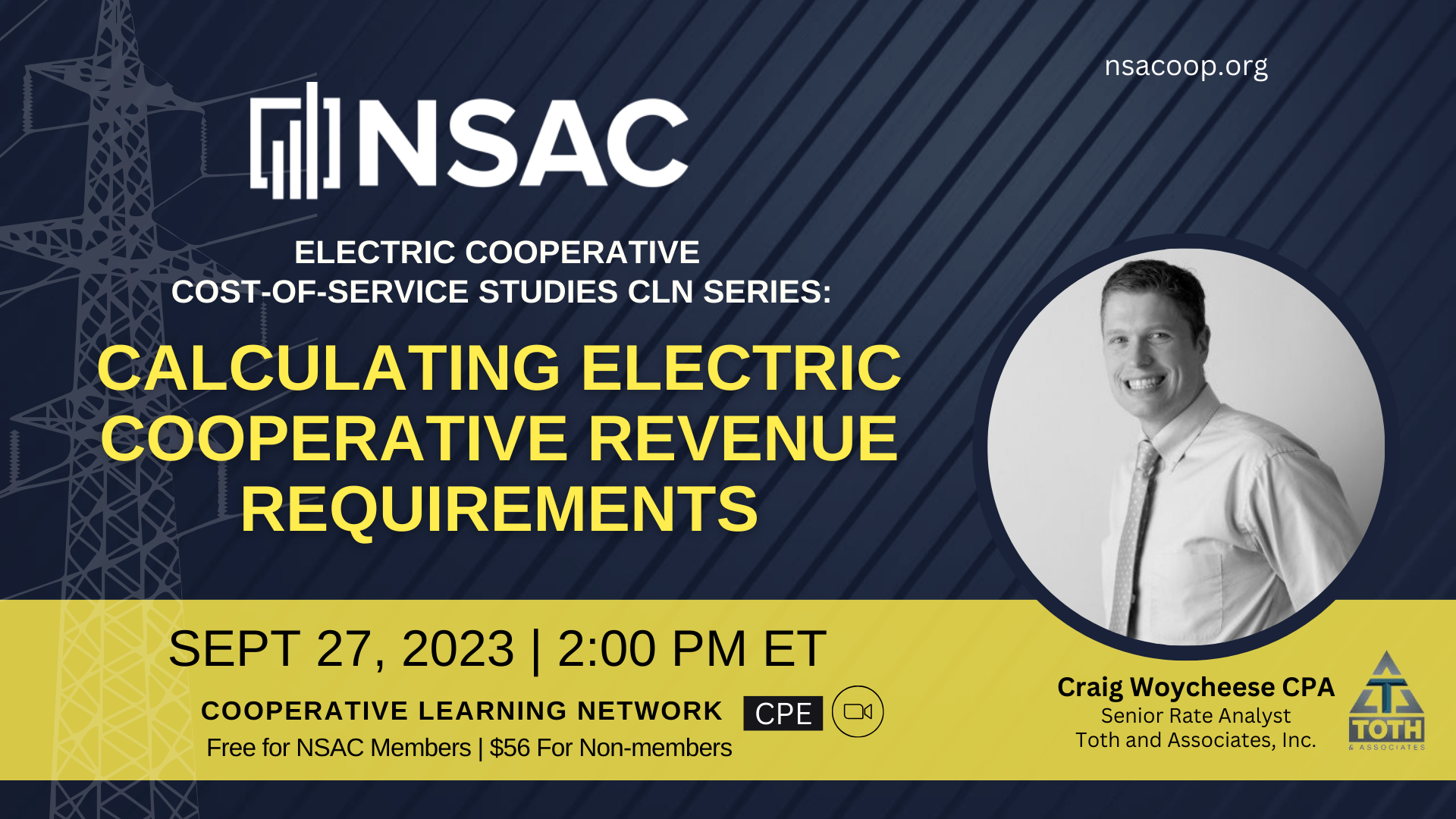 Calculating Electric Cooperative Revenue Requirements
September 27, 2023 2:00pm ET
Location Information:
Zoom

Cost(s): $0.00 Member / $56.00 Non-Member
CPE: 1.5 Hours Credit Hours

Join us for this exclusive 75-minute webinar, an essential guide to mastering the financial aspects of electric cooperative management. In this power-packed session, Craig Woycheese, Senior Rate Analyst, Toth and Associates, will deep dive into the nuts and bolts of electric cooperative finance, equipping you with the knowledge and skills to define revenue requirements, analyze operating expenses, navigate debt service and capital investment, and grasp the essentials of Return on Equity (ROE) and Rate of Return. Join us as we illuminate the path to financial success in the dynamic world of electric cooperatives.

Webinar Highlights:
Section 1: Introduction to Electric Cooperative Finance
Upon completing this section, attendees should be able to:
Define the concept of revenue requirements in the context of electric cooperatives.
Explain the importance of calculating revenue requirements for the financial sustainability of electric cooperatives.
Identify the key components that contribute to an electric cooperative's revenue requirements.
Section 2: Analyzing Operating Expenses
After completing this section, attendees should be able to:
Analyze and categorize the various operating expenses typically incurred by electric cooperatives.
Describe the factors that may influence changes in operating expenses over time.
Project future operating expenses based on historical data and relevant economic factors.
Section 3: Debt Service and Capital Investment
Upon completing this section, attendees should be able to:
Calculate the blended cost of long-term debt.
Understand the role of debt and equity financing in meeting capital investment needs.
Section 4: Return on Equity and Rate of Return
After completing this section, attendees should be able to:
Define Return on Equity (ROE) and its significance in calculating revenue requirements.
Calculate the desired return on equity for an electric cooperative.
Understand the relationship between the cooperative's equity capital and its revenue requirements.
Presenter and Moderator Bios
Presenter: Craig Woycheese, Senior Rate Analyst, Toth and Associates
Craig Woycheese is a Senior Rate Analyst at Toth and Associates. His work experience with planning for electric power systems has included all facets of load forecasting, customer usage data verification, and economic analysis. His other responsibilities in rate analysis and cost of service analysis include plant and expense allocations, revenue projections, determination of rate of return by rate class, and final rate design.
He has provided cost of service and rate assistance for electric utilities across the Midwest, including Missouri, Arkansas, Oklahoma, and Iowa. Craig is skilled in presenting study results to utility management, plus document preparation, and supporting testimony for Public Service Commissions.
Affiliations and Honors:
Association of Government Accountants Member
American Public Power Association Member
Education:
Bachelor of Arts in Business & Accounting ? Drury University
Master of Business Administration ? Missouri State University
Publications:
A. L. Toth, C. R. Woycheese and J. B. Chapman, "Rate Considerations Related to Solar Distributed Generation," 2018 IEEE Rural Electric Power Conference (REPC), Memphis, TN, USA, 2018, pp. 50-60. doi: 10.1109/REPC.2018.00017
Moderator: Peggy Maranan, CPA, DBA, MBA, Vice President, Finance, DEMCO
Peggy Maranan joined DEMCO in February, 2021 and serves as VP, Finance. DEMCO is located in Greenwell Springs, LA. Prior to that time, Peggy worked at Lee County Electric Cooperative, Inc. in North Ft. Myers, FL for twelve years as Manager, Financial Accounting.
She received a B.S. in Accounting from DeSales University in Center Valley, PA, an MBA from Wilkes University in Wilkes-Barre, PA, and a doctorate degree in business administration (DBA) in 2015 from Argosy University, Sarasota, FL. Peggy holds a CPA license in Florida.
Peggy served on the National Society of Accountants for Cooperatives (NSAC) Electric Cooperative Chapter (ECC) Board, and currently serves as the Immediate Past-President. Peggy authors accounting and finance articles in the NSAC industry publication "The Cooperative Accountant".
She is mother to four children, has seven grandchildren, and enjoys family-time activities.