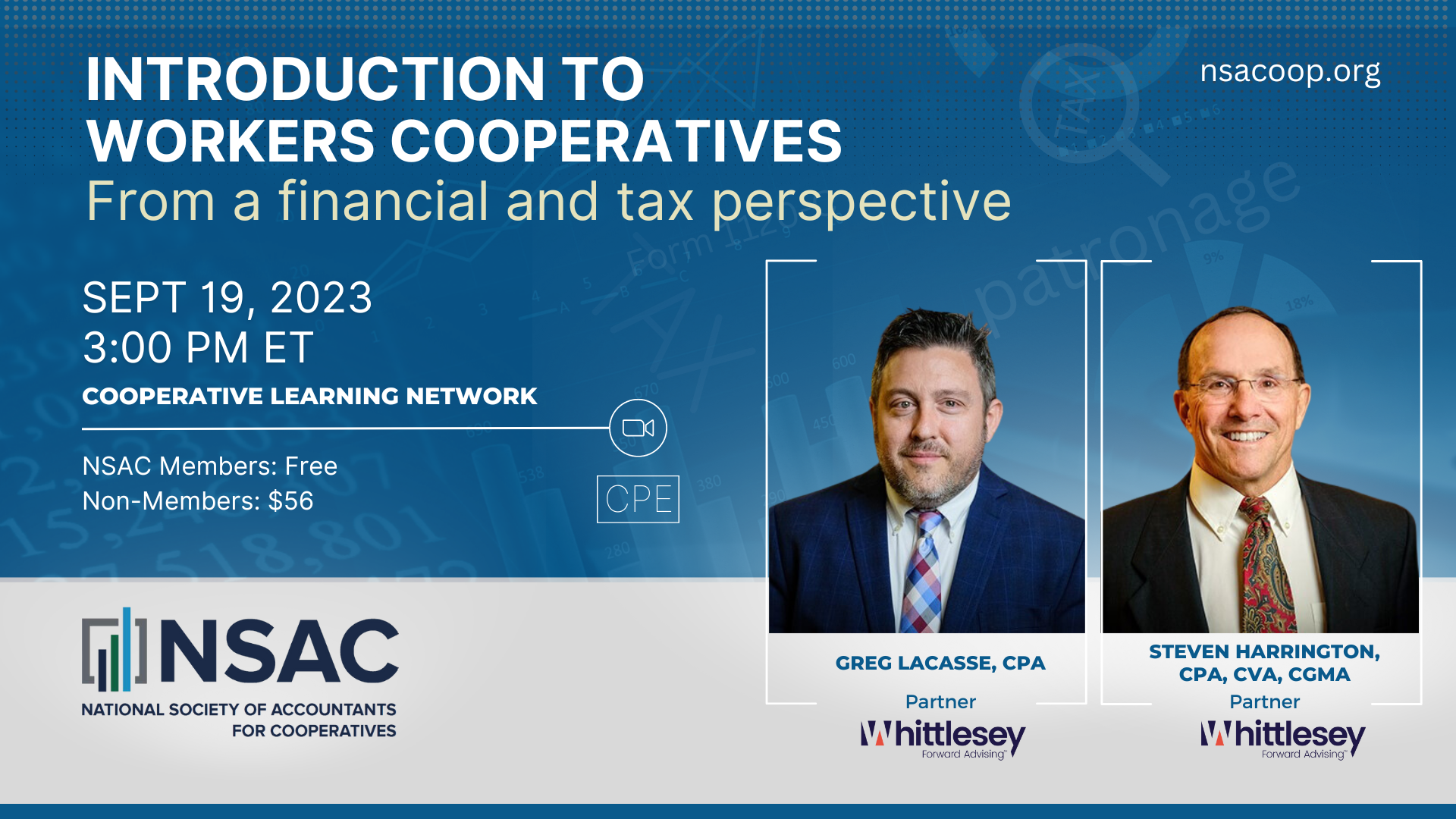 Introduction to Workers Cooperatives: From a Financial and Tax Perspective
September 19, 2023 3:00pm ET
Location Information:
Zoom

Cost(s): $0.00 Member / $56.00 Non-Member
Join us for this comprehensive webinar tailored for cooperative accountants and tax professionals. Steven Harrington and Greg LaCasse, both CPAs and Partners with Whittlesey, will dive deep into the core of workers cooperatives, shedding light on their unique benefits and intricacies from financial and tax perspectives. Our expert panel will delve into the heart of workers cooperatives. You'll discover the distinctive advantages and gain insights into what makes these cooperatives unique. With a specialized focus on cooperative taxation, we'll unravel the nuanced aspects that pertain to these dynamic entities. The discussion will focus on the mechanisms through which profits are shared within workers cooperatives, gaining a profound comprehension of their intricate accounting and capital structures. Our webinar dissects the complexities of profit sharing and taxation, equipping you with a crystal-clear grasp of tax reporting responsibilities and the meticulous upkeep of capital accounts. Emerge from this webinar empowered with expertise that caters specifically to the tax, accounting, and financial management of worker cooperatives.
Presenter and Moderator Bios
Presenter: Steven Harrington, CPA, CVA, CGMA, Partner, Whittlesey
Steven Harrington joined Whittlesey in 2021 and was formerly a partner with a Massachusetts CPA firm, Bova, Harrington, & Associates, P.C. He has over 35 years of experience in business advisory, tax, and financial statement services to closely-held businesses in various industries, as well as tax planning and preparation for individuals. Previously Steve was Treasurer and on the Board of Northampton YMCA and on the board of the Pioneer Valley Habitat for Humanity, 7 and 6 years respectively. He is a licensed Certified Public Accountant with the State of Massachusetts and holds a Certified Valuation Analyst (CVA) designation from NACVA and the Chartered Global Management Association (CGMA) designation from the AICPA.
Steve is a member of the American Institute of Certified Public Accountants (AICPA) and the Massachusetts Society of Certified Public Accountants (MSCPA), and The National Society of Accountants for Cooperatives (NSAC) and holds a Bachelor of Science degree in Accounting from Oral Roberts University.
Presenter: Greg LaCasse, CPA, Partner, Whittlesey
Greg LaCasse is a Partner at Whittlesey at the Holyoke, Massachusetts office. Greg joined the Firm in 2017 and has 30 years of experience in public and private accounting, including roles with the Big 4, as well as serving as the Chief Financial Officer for an international IT consulting firm. Greg is an active member of the Firm's real estate, construction, and manufacturing niche and specializes in providing tax and advisory services to both businesses and individuals with a focus on working with clients in the professional service, medical, real estate, retail, wholesale, and manufacturing and distribution industries.
Greg holds a Bachelor of Science in Accounting from Central Connecticut State University and a Master of Science in Taxation from the University of Hartford. He also pursues continuing professional education in taxation and business advisory services. Greg is an active member of the American Institute of Certified Public Accountants (AICPA) and the Connecticut Society of Certified Public Accountants (CTCPA).
Moderator: Wayne Sine, CPA, MBA, Director of Education, National Society of Accountants for Cooperatives
Wayne Sine is an experienced and highly knowledgeable professional in the field of Tax. Wayne recently retired as Tax Director from his company, Southern States Cooperative. He has extensive experience working with agricultural cooperatives and has been a long-time member of the NSAC. He is extremely active in the NSAC, serving as both past Chapter President of the Atlantic Chapter, and past Chair of the Tax Committee, and is currently serving as the NSAC Director of Education.. Wayne's career is marked by several accomplishments, and he has always been involved in many organizations, spreading his knowledge. Wayne is a member of the Legal, Tax, and Accounting (LTA) Committee for the National Council of Farmer Cooperatives. He is also Past Chair of both the Tax Committee of the Virginia Chamber of Commerce and the Virginia Manufacturers Association. Wayne also served on the Tax Policy Committee at the Virginia Society of CPAs and served as past Region Vice President for the Tax Executives Institute.