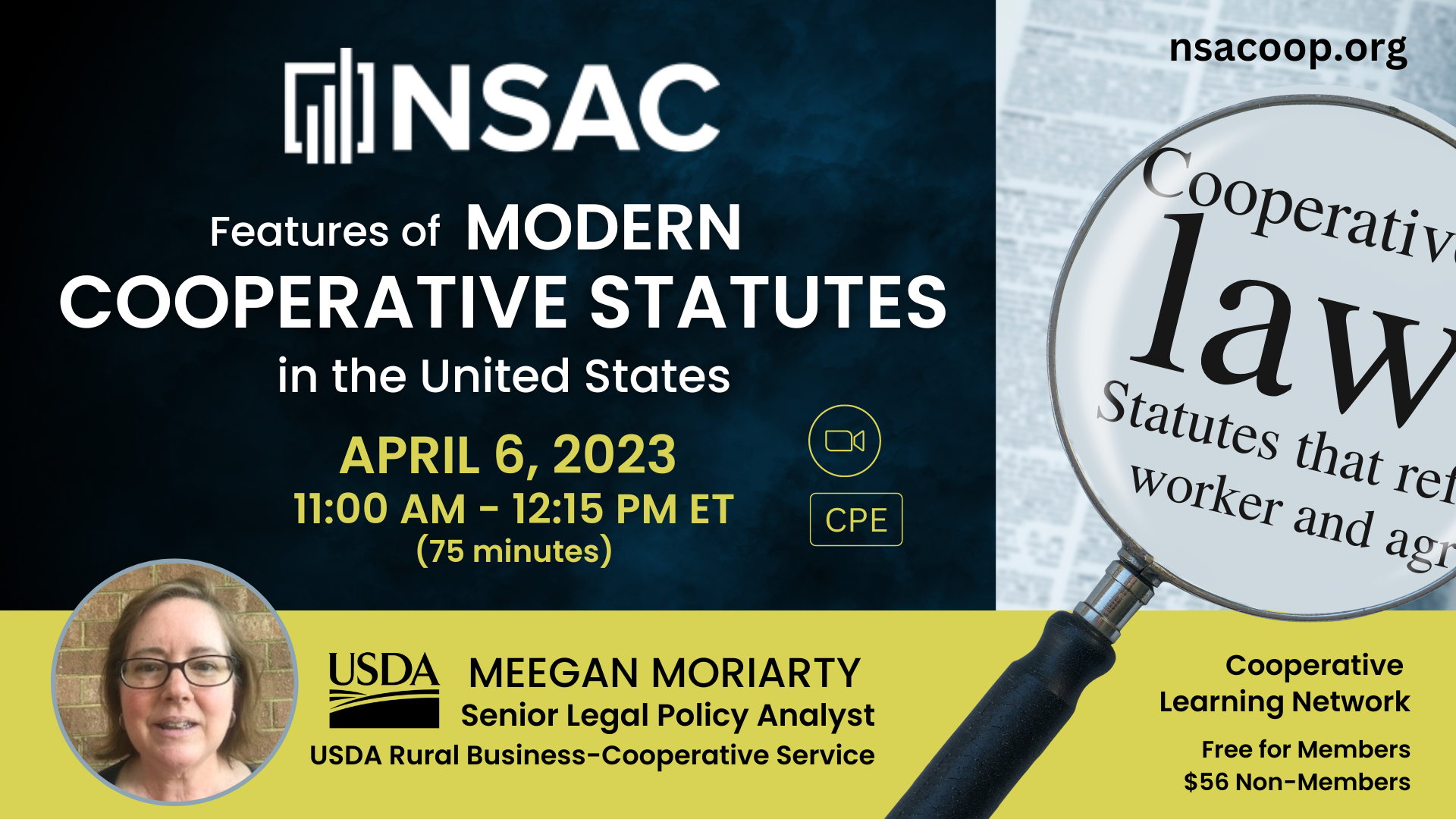 Features of Modern Cooperative Statutes in the United States
April 6, 2023 11:00am ET
Location Information:
Zoom

Cost(s): $0.00 Member / $56.00 Non-Member
CPE: 1.5 Credit Hours

Do you want to gain a better understanding of the types of cooperative laws across the United States? While practitioners may wish for uniform cooperative laws or even a "Delaware for Cooperatives," U.S. cooperative statutes continue to vary greatly. Join us for this 75-minute webinar for a discussion on the common and novel features of general purpose, agricultural, and worker cooperative statutes across the United States including statutes based on a limited association model. We will consider which statutory features best accommodate the needs of cooperative businesses and their members, which state statutes have furthered successful cooperative ecosystems, and what provisions could be drafted to make cooperative statutes even more effective.
Presenter and Moderator Bios
Presenter: Meegan Moriarty, Senior Legal Policy Analyst, USDA Rural Business-Cooperative Service
As a senior legal policy analyst for USDA Rural Development Cooperative Programs, Meegan Moriarty tracks and advises on cooperative legal policy developments in state and federal tax, antitrust, securities, and agricultural law areas. She leads a congressionally mandated interagency working group on cooperative development that was created to assist with coordination among federal agencies and private sector cooperative stakeholders on cooperative policy. She leads a nationwide project researching and comparing state cooperative statutes. She is also a national point of contact for Rural Development grant, loan, and guarantee programs that apply to cooperatives. Meegan advocates for cooperative development through speeches, webinars, and written publications. Previously she worked in the National Tax office of Ernst and Young analyzing federal tax legislation and regulations and consulting with clients on business opportunities presented by tax law changes. She has a JD from Georgetown University Law Center and a BA from the University of Notre Dame.
Moderator: Wayne Sine, CPA, MBA, Director of Education, National Society of Accountants for Cooperatives
Wayne Sine is an experienced and highly knowledgeable professional in the field of Tax. Wayne recently retired as Tax Director from his company, Southern States Cooperative. He has extensive experience working with agricultural cooperatives and has been a long-time member of the NSAC. He is extremely active in the NSAC, serving as both past Chapter President of the Atlantic Chapter, and past Chair of the Tax Committee, and is currently serving as the NSAC Director of Education.. Wayne's career is marked by several accomplishments, and he has always been involved in many organizations, spreading his knowledge. Wayne is a member of the Legal, Tax, and Accounting (LTA) Committee for the National Council of Farmer Cooperatives. He is also Past Chair of both the Tax Committee of the Virginia Chamber of Commerce and the Virginia Manufacturers Association. Wayne also served on the Tax Policy Committee at the Virginia Society of CPAs and served as past Region Vice President for the Tax Executives Institute.