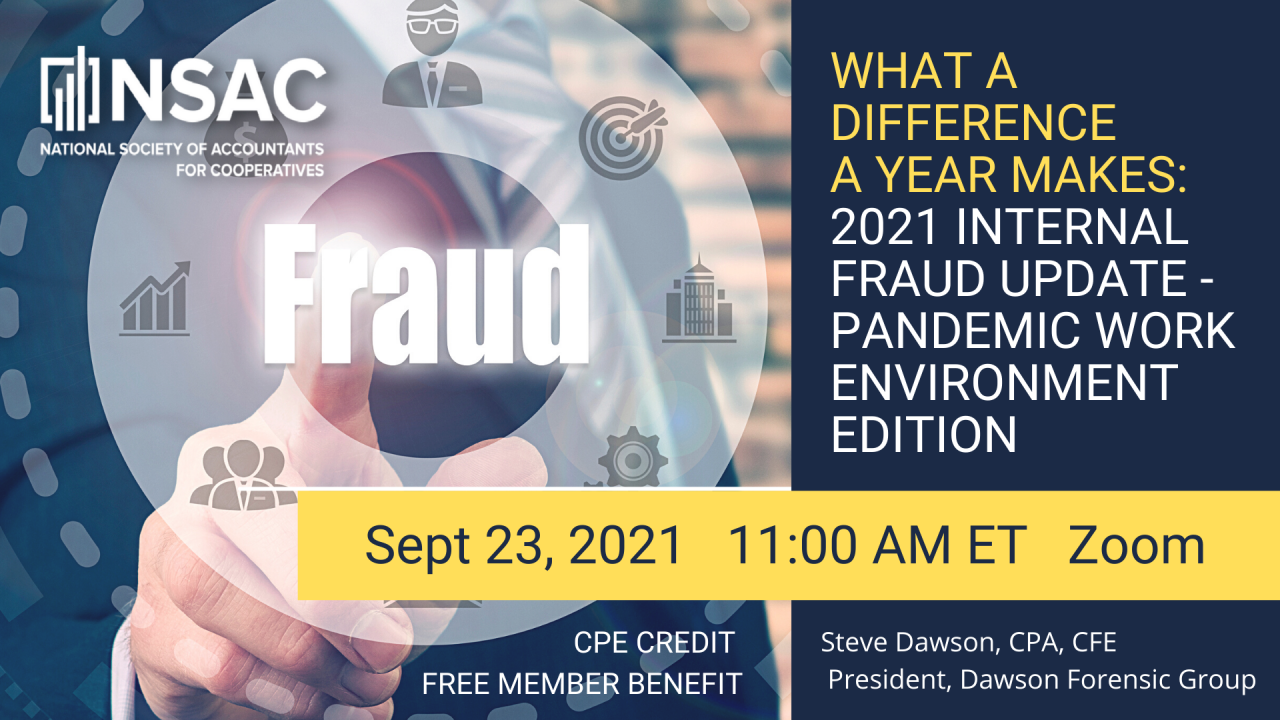 What a Difference a Year Makes: 2021 Internal Fraud Update – Pandemic Work Environment Edition
September 23, 2021 11:00am
Location Information:
Zoom

Cost(s): $0.00 NSAC Members / $56.00 NSAC Non-Members
Join us for this 60-minute zoom on September 23, 2021, to discover how the Coronavirus Pandemic has significantly changed companies' operating environments, and the types of fraud that are occurring. The pandemic is the perfect storm for fraud, and this CLN session focuses specifically on the types of fraud most prevalent in this new environment and those controls and control changes necessary to address these new types of concerns. Most importantly, participants will gain knowledge about the specific controls designed to address these specific types of fraud as well as understand certain relevant detection and monitoring methods that address these specific fraud concerns.

Presenter: Steve Dawson, CPA, CFE – President, Dawson Forensic Group

Steve Dawson CPA, CFE is the President of the Dawson Forensic Group and for over 35 years has performed forensic investigations, internal control design consulting, accounting records reconstruction, litigation support services, and forensic training services for agricultural and electric cooperatives, along with various other industries through the United States Securities and Exchange Commission, the FDIC, the FBI, and other state and federal regulatory and law enforcement agencies. His book "Internal Control/Anti-Fraud Program Design for the Small Business" was published through Wiley Business Publishing. He is a graduate of Texas Tech University with a degree in Accounting and holds a Certified Public Accountant certificate in Texas. He also holds a certificate as a Certified Fraud Examiner.

Moderator: Bill Erlenbush, CPA, NSAC Director of Education

Bill Erlenbush spent his entire career working in cooperative accounting at GROWMARK. His work experience includes all aspects of order control and billing, accounts receivable/payable, financial accounting, and tax. As compliance officer, he had responsibility for the administration of the compliance and ethics program at GROWMARK and its subsidiaries and retail divisions. In addition, he was been involved in negotiating major acquisitions for GROWMARK. His educational background includes a Bachelor of Science degree in Accountancy from the University of Illinois and an MBA from Illinois State University. He is a Certified Public Accountant. Bill is an active member in many industry, professional, and community organizations. He is past president of the Mclean County United Way Board of Directors as well as the past president of the Heartland Community College Foundation Board of Directors.