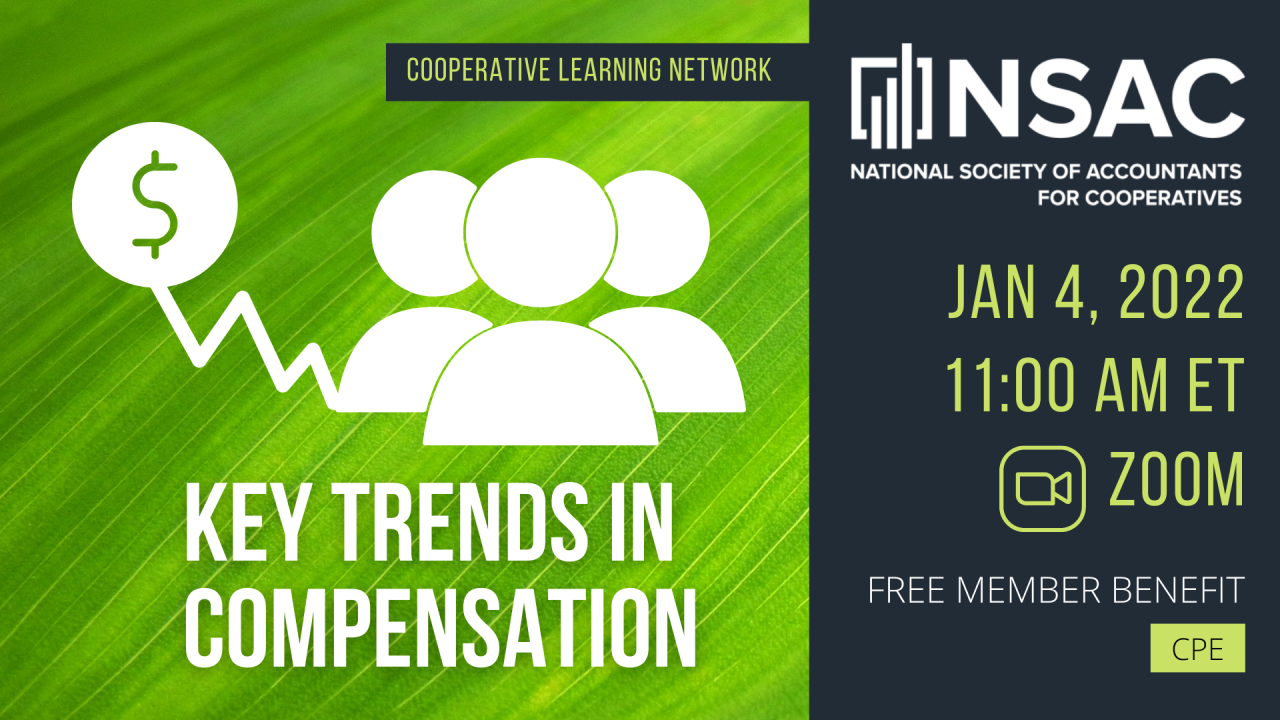 Key Trends in Compensation
January 4, 2022 11:00am ET
Location Information:
Zoom

Cost(s): $0.00 NSAC Members / $56.00 Non Members
Field of Study: Personnel/Human Resources
CPE: 1 Credit Hour
During the midst of the Covid-19 pandemic, HR has played a pivotal role in steering the direction of coops. However, with this demand comes new challenges and responsibilities. Compensation managers are now struggling to determine a measured response for managing costs, while still attracting and retaining employees. In this session, attendees will explore emerging trends in compensation, as well as warning signs that their compensation system needs an update. Participants will walk away with insight into the current labor market climate, and discover new ways they can appeal to current and prospective employees by remaining competitive and current.
Attendees will be able to identify and know regulatory requirements for:
Key trends in compensation

Attracting and retaining employees

Auditing their compensation plan for effectiveness and legal compliance
Speaker: Michael Frizzell, Principal Consultant and Owner, MDF Human Resources Consulting

Michael Frizzell has been serving the Electric Cooperative program for the last two decades. He provides custom Human Resources solutions to cooperatives ranging from 13 to over 400 employees. His services include but are not limited to Compensation Systems, Automated Performance Management, Group Incentive Plans, Executive Compensation, and Strategic Planning. Since 2001 he has provided services to over 200 systems in 37 states. Prior to serving the cooperative market, he was consultant primarily serving government entities. During that time he worked with federal agencies including: Department of Defense, Internal Revenue Service, Department of Agriculture, and the Federal Emergency Management Agency. He has also been a Human Resources manager in various industries including Publishing, State Government, and High Technology. He holds a Master's degree in Industrial and Organizational Psychology, and a Bachelor's in Psychology and Human Resources Management. When not crossing the country serving clients he resides in Winston-Salem, NC with his wife of 33 years Jolynn.
Moderator: Bill Erlenbush, CPA, NSAC Director of Education
Bill Erlenbush spent his entire career working in cooperative accounting at GROWMARK. His work experience includes all aspects of order control and billing, accounts receivable/payable, financial accounting, and tax. As compliance officer, he had responsibility for the administration of the compliance and ethics program at GROWMARK and its subsidiaries and retail divisions. In addition, he was been involved in negotiating major acquisitions for GROWMARK. His educational background includes a Bachelor of Science degree in Accountancy from the University of Illinois and an MBA from Illinois State University. He is a Certified Public Accountant. Bill is an active member in many industry, professional, and community organizations. He is past president of the Mclean County United Way Board of Directors as well as the past president of the Heartland Community College Foundation Board of Directors.