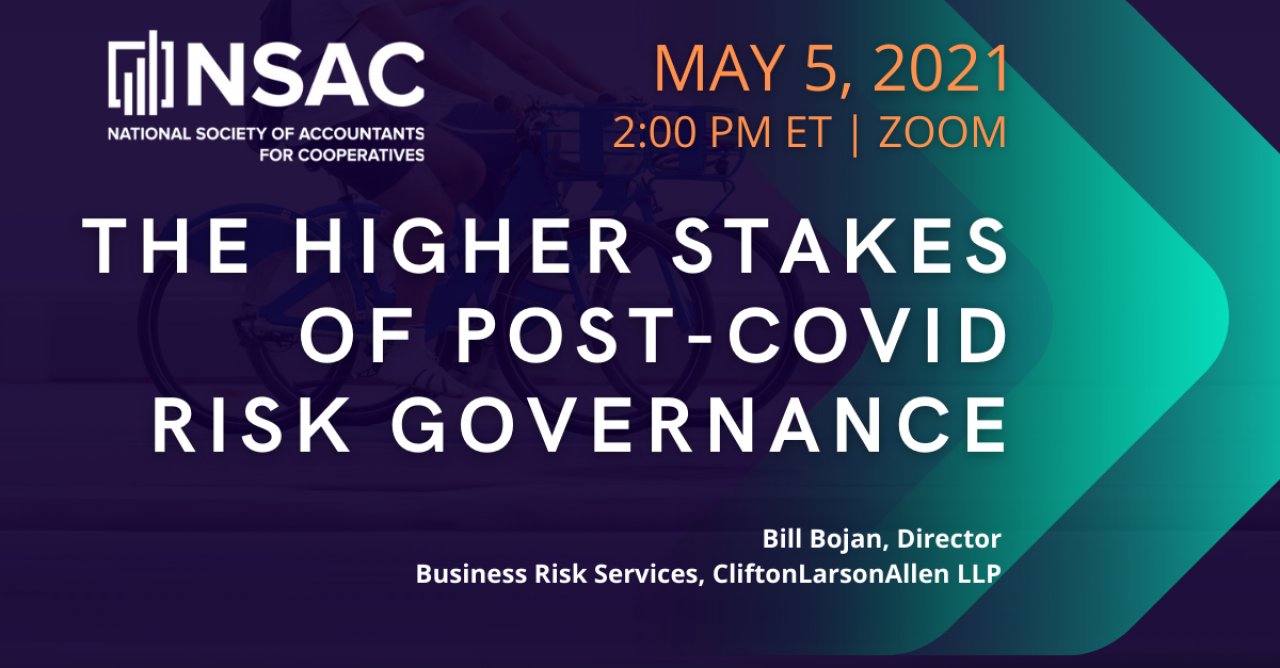 The Higher Stakes of Post-COVID Risk Governance
May 5, 2021 2:00pm
Location Information:
Zoom

Cost(s): $0.00 Member / $56.00 Non-Member
May 05, 2021
2:00 PM ET / 1:00 PM CT / 12:00 PM MT / 11:00 AM PT

In this 60-minute zoom, you'll discover the importance of strong risk governance in successfully and safely navigating today's cooperative organizations. This requires good alignment and transparency between the board/trustees, management, and the monitoring disciplines of the organization. Sufficient connection and alignment must be maintained across governance, strategy, risk management, operations, ethical culture, and performance to address today's complexities and realities:
• A speed of doing business that demands a new level of responsiveness;
• A pace of change that demands a new level of agility;
• Industry disruption that demands a new level of innovative thinking;
• New and more challenging risks that demand a new level of proactivity; and
• Higher levels of stress on organizations that demand strong, ethical cultures of integrity.

Bill Bojan, Director, Business Risk Services, CliftonLarsonAllen LLP
Bill is a Director with CliftonLarsonAllen's Governance Advisory & Business Risk Services group and has 30 years of experience serving primarily the health care, financial institutions, and non-profit industries, both in the private sector and in an advisory capacity.
In the private sector, Bill has served as a Chief Risk Officer, Chief Ethics Officer, and General Auditor for a Fortune 30 health care company, and as a board member, board chair, and governance committee chair for several large nonprofit organizations.
Bill's advisory experience extends to all aspects of an organization's corporate governance, including: board operations and effectiveness, enterprise risk management (ERM), ethics, and strategy. Bill has assisted the board and executive team of various organizations in staying healthy and successfully getting back on track after an organizational crisis or ethical breakdown.